Bird watching tours in Sri Lanka
"Today, 90 to 95 percent of the time we can see all 34 endemic birds."
Prasanjith Caldera, founder of our partner, Sri Lanka birdwatching specialists Walk With Jith, is part of a massive conservation success story for the country's native birdlife. Sri Lanka has 34 endemic bird species and the big reason to go on a 
birdwatching holiday
here is to try and see all of them in one go.
This wasn't always an easy task.
"When I started my career, around 2005, there was around a 50 percent chance of seeing all the birds," says Jith.

This is the hidden part of tourism – that it is a kind of conservation

There's been a remarkable upswing in sightings on Jith's tours.

"This is the hidden part of tourism – that it is a kind of conservation," explains Jith. He attributes the success to the passion of his expert guides, who have developed their local knowledge over the years – but also, crucially, to the vigilance of local people.

"They start to find birds for themselves. They know these birds are income to them. They try not to destroy their habitats. When we go to places, local people help you find birds. It's teamwork."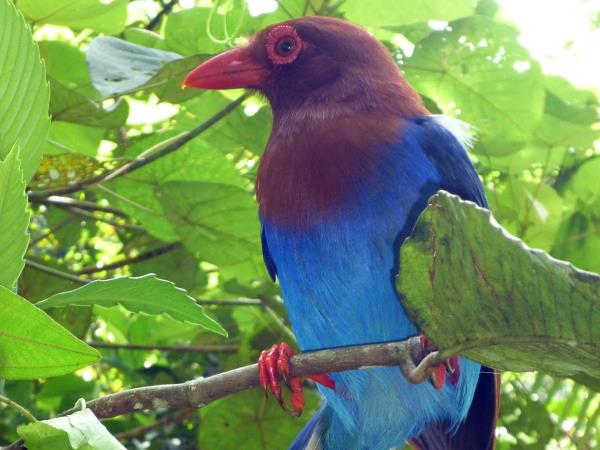 Sri Lankan Endemic Birds & Flagship Mammals
From
£1130
10 days
ex flights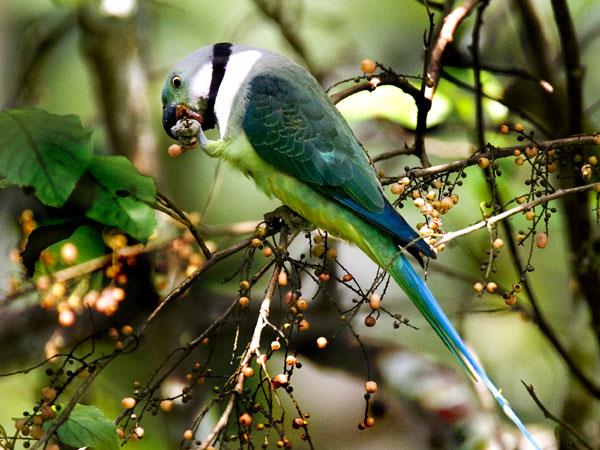 Western Ghats and Sri Lanka endemic bird watching tour
From
US $2500
15 days
ex flights
If you'd like to chat about Bird watching or need help finding a holiday to suit you we're very happy to help.

Conservation in Sri Lanka
Sri Lanka has a long tradition of conservation. Its monarchy used to ban tree felling in the forests. The first national park – Yala – was founded in 1900 and legislation for wild bird protection followed in the 20th century. Population expansion, and subsequent deforestation, have clouded this legacy, and deforestation remains a huge environmental concern in the country.
In the recent past, wildlife has not always been highly prized. "When I was a kid, my parents didn't know anything about conservation or environmental protection. They did not teach us anything about these things. But when my son was a small kid there were so many awareness programmes." Jith's son is in his twenties now – "My son's generation is better than us," Jith says.
There is renewed interest in conservation – if you know where to look. Sri Lanka is on track to be the first nation in the world to replant all of its ecosystem-boosting
mangrove forests
, with help from Seacology, a Californian conservation charity. There are large scale projects to remove invasive species from national parks. There are local projects too. Diyasaru Nature Club – promoted by the environment ministry – is a local group for young people that meets to protect Colombo's urban wetland.
And, as Jith says, tourism can play its part, too, by paying park fees and spending money in local communities, and in this way putting money in the hands of those with the power to conserve.

Flycatchers, wagtails, babblers and barbets: trip itineraries tends to dissolve into lists of birds.

What birds can I see in Sri Lanka?
Danger – peacocks ahead:
travelling on the southern expressway between Colombo and Matara, this road sign is your introduction to Sri Lanka's birdlife; there's much more to come.
There are 70 important birdwatching areas in the country. Some of the largest include Nuwara Eliya, Sri Lanka's tea-producing centre; Yala National Park, where lucky birders might even spot leopards whilst they peer through their binoculars, and the 20,000-hectare Sinharaja region – the best place in Sri Lanka for spotting endemic birds.
As well as endemic species, there are birds that you can also see on the Indian Subcontinent, plus plenty of migrating birds that stop here. Some come from as far away as Siberia.
According to Fat Birder, a reputed birding website, a two-week birdwatching trip in Sri Lanka will allow you to see up to 225 species if you go with a good guide. A 
ten-day tour
will reveal close to 200.
"If you went to India and tried to cover it in a proper birdwatching tour it would take three to four months because it is a vast area – 60 times bigger than Sri Lanka. But here in just two weeks you can cover all the important birds, all the endemics. That is very unique I think," says Jith.
What endemic birds are there in Sri Lanka?
Sri Lanka's endemic birds include the beautiful Sri Lankan junglefowl, who, with their colourful comb and purple-black tail, is a direct ancestor of the domestic chicken. There's the endangered whistling thrush and the spot-winged thrush with its pretty call, and the exceptionally hard-to-spot Serendib scops owl.

Other colourful characters include hanging parrots – bright green, with stubby tails, and dapper blue and burgundy Sri Lankan magpies, far more flamboyant than their monochrome-suited European counterparts.

Endemic birds appear on all denominations of the current series of Sri Lankan banknotes: the Sri Lankan Dull Blue Flycatcher on the blue fifty Rupee note; a Sri Lankan Orange Billed Babbler on the orange hundred Rupee note. But nothing beats seeing them in real life.

When you visit archaeological sites and national parks, the wildlife is there too.

Temples and twitchers
Serious birdwatchers will be in their element on a tour like this, but of course not all birders are travelling with other birders. That's when Sri Lanka plays its second trump card: its culture.

Sri Lanka can give you historical and cultural riches directly alongside the wildlife, "when you visit archaeological sites and national parks, the wildlife is there too," explains Jith.

Kandy, a city in the rolling tea plantation hills, is known for the Temple of the Sacred Tooth Relic – but the temple practically backs onto the Udawattakele Forest Reserve, a rainforest in the middle of the city, where you can go birdwatching.

Sigiriya Rock Fortress is a famous archaeological site, but the raptors gliding overhead should clue you in to the other treasure here – 65 bird species can be found in the forests at the foot of the fortress, in what is now Sigiriya Forest Sanctuary.

Victoria Park, in the city centre of Nuwara Eliya is another unexpected birdwatching spot, whilst just a ten-minute drive out of town is the Hakgala Botanical Garden. Twenty miles from the city are the renowned Horton Plains, fantastic for birdlife.
Village guides
"I was accompanied by an expert guide, Dammika Utraji Jayasundara. He was knowledgeable, friendly and also very patient. He knew the local people at each destination and he had a positive relationship with everyone."

As Mike Gilding, a recent traveller on one of Jith's tour's discovered, you don't just get one guide on a Sri Lanka birdwatching tour, but hundreds. With a local operator, who has built up excellent relationships with the villages they visit, you get the benefit of scores of wildlife spotters on location.

Tipping in villages provides extra income to the people living in them – and an incentive to continue preserving wildlife – "the birds are an asset to them," Jith explains.
Local operators
Tourism in Sri Lanka has fluctuated in recent decades; the country has seen several recent periods of unrest. It was one such period in the noughties when Jith, having lost his job transferring tourists from the airport to their hotel and back again, decided to specialise – first in trekking, and then in being a wildlife guide. At last, he set up his own company.

"There are very few guides who like trekking because it is hard work – you're walking 20km-25km a day," says Jith. Eventually, he taught himself about wildlife. "I learnt by myself. I read by myself, and I also went out and walked, and learnt from nature."

Jith went on to study Wildlife Conservation and Management at the Open University of Sri Lanka. He now employs seven wildlife guides – all Sri Lankan – to run the tours. These are specialist guides who can identify hundreds of birds by sight, and by their calls.

Whilst it might beat being a trekking guide, the life of a birder can be unglamorous; take the leech socks – plastic tubing for your legs – that you'll probably want to don if you want to walk in Sinharaja. But the rewards, of spotting a green-billed coucal – a cuckoo-like endemic bird – or the strange, grumpy-looking frogmouth, are worth it.

As we chat, Jith describes bird calls, "the drongo has a very loud alarm call", lists off species with incredible fluency, but struggles to pick his favourite bird, "I like them all. Even the crow is a very special for me. They are very intelligent birds."

You can hear the street noise outside as Jith talks – he is based near Colombo.

"But we cannot talk about the conservation just from Colombo, just from five star hotels," he says. His tours walk the walk – they go to the villages, bringing money, and spreading a love of birds as they go. "They should feel the benefit of conservation, otherwise it is a failure."
Where can you see birds in Sri Lanka?
Kitulgala rainforest
The River Kelani, which runs through this wet and wild rainforest, is a popular white-water rafting spot, and the filming location of 1957 war film The Bridge on the River Kwai. The bridge is no longer here, but the birds are: this is the forest in which the Serendip scops owl was first heard; it was only sighted in 2001.
Sinharaja Forest Reserve
This UNESCO World Heritage-listed forest has the greatest proportion of endemic birds of any area of the country, making it a must-visit on any Sri Lanka birdwatching holiday. By day, the rainforest erupts with bird calls as 
mixed species feeding flocks
– waves of birds from different species – feed and move together through the forest. A night birdwatching tour of the park reveals a whole flock of other species, and a chance to spot rare endemic owls.
Udawalawe National Park
Some 210 bird species have been recorded in Udawalawe National Park. The open areas of the park are good places to see birds of prey: sea eagles and snake eagles, perhaps perched on the top of a lone tree on the plain. Down below, the grasslands rumble with life; this is one of the best places to see elephants in the country.
Bundala National Park
A vital haven for migratory birds who spend their winters here, Bundala National Park's wetlands is a Ramsar site (wetland of international importance). The park is great for spotting shorebirds and waders. There are flocks of flamingos, and pink water lilies on the lagoons – and under the surface of the water, lots of crocodiles.
Yala National Park
This massive reserve isn't just good for birds, and peacocks and storks in particular, but is also famous for sloth bears, elephants, buffalo and leopards. Spotting a leopard here is an amazing highlight. You'll also have no problem spotting other jeeps taking tourists around; this is the most visited national park in Sri Lanka.
Horton Plains National Park
Anything but plain: the high plateau of Horton Plains is home to many birds. The grasslands and sweeping montane forests – a habitat type that has been largely threatened around the world by deforestation – hide plenty of secrets. As you look out for birds, large herds of Sri Lanka sambar deer will observe you from the tall grass.
What do the tours entail?
Birdwatching tours tend to be tailor made – so that the itinerary can be shaped to spot the birds that are on your personal "life list".
The best time to see the greatest variety of birds in Sri Lanka is from September to April, when migrating species will have arrived.
In two weeks you have a good chance of seeing all of Sri Lanka's endemic birds – as well as countless others. People report seeing hundreds of species on their trips.
The early birder catches the bird: expect early starts to see the best wildlife.
Expert local guides will amaze you with their sharp eyes and keen ears – and their ability to identify scores of different bird calls.
Be prepared to bring money to tip local villagers when you visit; they can be an invaluable source of local birdwatching knowledge.
If you're accompanying a keen birder, but bulbuls and babblers aren't your bag, there's no need to be apprehensive. Trips can be tailored to include culture and wildlife watching too.
Birdwatching holidays in Sri Lanka can be combined with tours of the Western Ghats, the mountain range on the west coast of India. Thattekkad in the state of Kerala is one of the best birdwatching spots in the region, and a great place to see many endemic birds.
You may wish to book a few extra days on the end of your tour just to relax on the beach – or head down to Mirissa or Galle and complement spotting blue flycatchers with watching blue whales.
More Bird watching articles