Botswana & Zimbabwe travel guide
Visiting both Zimbabwe and Botswana, offers a fascinating contrast, but while their recent histories couldn't be more different – Botswana is politically stable and peaceful – the two countries share many wonderful similarities. There are superb national parks filled with game, including huge herds of elephants and endangered white rhino. Botswana has the Okavango Delta, while Zimbabwe has ancient rock art, the ruins of the Kingdom of Zimbabwe, the Victoria Falls and the amazing stacked boulders and granite outcrops of Matobo National Park.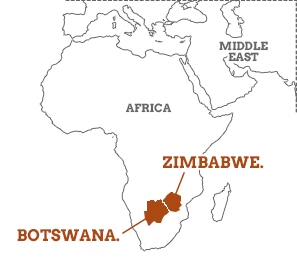 Zimbabweans are still affected by unemployment, poverty and shortages, but your visit brings vital revenue and contributes to the country's recovery.

While Botswana has been on the tourist map for several decades, and a regional pioneer in conservation and responsible tourism, Zimbabwe is still emerging as a destination. Since the ousting of Robert Mugabe as leader in November 2017, tourism has steadily grown. Combining both countries on a single trip makes for a rich travel experience, with the occasional slow border crossing the tiniest price to pay for a bumper serving of natural, cultural and historical treats. Find out more in our Botswana and Zimbabwe travel guide.
Botswana and Zimbabwe are…
perfect partners on a single trip. Awesome wildlife in both, but Zimbabwe adds the Victoria Falls, ancient settlements and complex recent history to the mix.
Botswana and Zimbabwe aren't…
identical. Visiting both reveals a range of landscapes, wildlife and culture.
Botswana & Zimbabwe
map & highlights
With Zimbabwe still emerging as a tourist destination, joining an organised tour that combines Botswana is the easiest way to visit both countries. Trips of 15 or 16 days focus on the game rich northeast of Botswana and western Zimbabwe. Victoria Falls is often the start and end point for circular overland tours – there's an airport here – but it's also possible to fly into Kasane and out of Maun, both in Botswana. Some trips include short flights, between Chobe National Park and the Okavango Delta for example, but otherwise you'll be travelling overland, with some long journeys, and often slow border crossings. Enjoy bush walks with local guides, river cruises and mokoro canoe rides in the Delta, too.
1. Chobe National Park
Botswana's oldest national park, Chobe has both the Chobe and Linyanti Rivers flowing through it and attracts wildlife in epic numbers. Over 50,000 elephants live here during the dry winter months, congregating along the riverbank in herds of 80 plus, alongside thousands of buffalo and zebra. Big predators are commonly sighted, too, plus giraffe, hippo and over 450 species of birds.
Great Zimbabwe National Monument
2. Great Zimbabwe National Monument
Built between the 11th and 14th centuries, this is the ruins of the ancient Kingdom of Zimbabwe. Covering 722 hectares, this stone city is thought to have once housed 18,000 people. In fact, Zimbabwe means 'Houses of Stone' and replaced the country's colonial name of Rhodesia after independence. Excellent local guides bring the site to life, and you can wander freely around it.
3. Hwange National Park
Hwange is Zimbabwe's biggest national park, famed for its massive population of elephants, thanks in part to its unfenced connection with Botswana, the Chobe River and Namibia, which leads to sightings of huge herds on the move. There is a wide variety of habitats here, from the western regions on the edge of the Kalahari, to large grass plains and the forested woodland in east Hwange.
4. Makgadikgadi Pan
The Makgadikgadi Pan covers over 16,000sq km and forms the bed of an ancient 'super lake', now dried up, which once spread as far as the Okavango Delta. Today, water covers the pan only seasonally, luring wildebeest, zebra and flamingoes into this surreal, salt desert. Sunsets on the pan are some of the best on the continent.
5. Matobo National Park
One of Zimbabwe's lesser known parks, Matobo is a landscape of undulating valleys, studded with kopjes – giant boulders which seem to be precariously balanced on top of one another. It's home to some of the last rhino in Zimbabwe and you can take game walks to see them, discovering ancient Bushmen rock paintings and admiring the landscapes from World's View, the site of Cecil John Rhodes' grave.
6. Moremi Game Reserve
Beautiful Moremi is part of the Okavango Delta, a diverse landscape of waterways, islands, woodland and grassland. A fantastic variety of wildlife lives here, with lechwe, hippos and crocs favouring the wetlands, plus zebra, elephant, leopards, lions, and rare cats such as servals. Tourism is well controlled here and the reserve's ecosystems remain unspoiled.
7. Okavango Delta
Africa's largest inland delta pours life into Botswana's parched Kalahari Desert, and supports a huge variety of wildlife, including the Big Five and over 400 species of birds. There are numerous reserves, lodges and camps here and you can gain a unique insight through game drives, a dugout mokoro canoe ride and on bush walks, lead by a local community guide.
8. Victoria Falls
You can tell when you're approaching Victoria Falls – the air cools from the spray in it and you can hear the sound of thundering water. Suddenly, its local name Mosi oa Tunya or 'the smoke that thunders' makes sense. Views from the Zimbabwe side are the best, with a huge section of the Falls viewable – stand and gawp as the Zambezi River plummets over 100m, sending up clouds of spray.
Our Botswana & Zimbabwe Holidays
If you'd like to chat about Botswana & Zimbabwe or need help finding a holiday to suit you we're very happy to help.

More about Botswana & Zimbabwe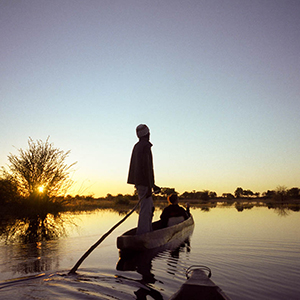 The best time to visit Botswana and Zimbabwe is during the winter, from May to September, when the weather is dry and the game viewing is great.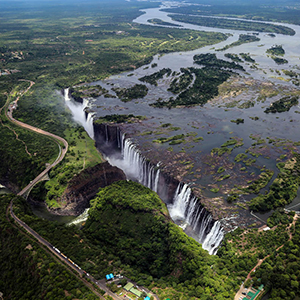 Victoria Falls is one of the Seven Natural Wonders of the World, a huge curtain of water measuring 1.7km wide, plunging off a plateau into a deep gorge below.