Zimbabwe travel guide
---
2 minute summary
Zimbabwe's trump card is its whopping great swathes of wonderful wilderness packed full of game and birdlife. Its five fantastic national parks are a nature lover's nirvana, each one offering a safari experience unique to the next, and contrary to inaccurate rumours of resistance, Zimbabwe's people are some of the world's friendliest and have a renewed enthusiasm for tourist interest – the only arms you'll be greeted with will be open ones.
With frequent headlines highlighting the country's troubled economy and political disharmony, publicity-wise, Zimbabwe's taken a bit of a battering over the past decade, but it's time to change that narrative. Yes, the country has been through its fair share of strife, but it's now embracing something of a tourism reawakening – travel warnings have long been lifted, there is a fairer government in place and, crucially, the economy has stabilised thanks to dollarisation – really, there's never been a better time to go.
Zimbabwe is...
a reborn destination
; the country's made a steady recovery and is the midst of a tourism renaissance.
Zimbabwe isn't...
unfriendly or dangerous
– it's a beautiful and resilient place of huge, untouched nature.
Hello.
If you'd like to chat about Zimbabwe or need help finding a holiday to suit you we're very happy to help.
Rosy & team
01273 823 700
What we rate & what we don't
---
RESPONSIBLE TRAVEL'S BEST & WORST
Underrated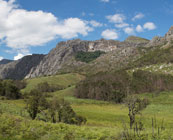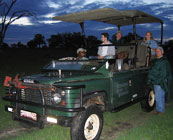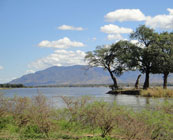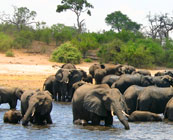 Hiking
To date, a lot of trips to Zimbabwe are carried out in trucks, as part of epic overland journeys coming all the way from Cape Town. However, what is less known is that Zimbabwe has the most superb network of trekking trails. The secret is, of course, is to have the best walking guides to lead you up the likes of Mt. Nyangani, the country's highest mountain, or through the Chimanimani Mountains.
Family travel
The fact that it isn't well known as a family destination is to Zimbabwe's advantage. Chat with a specialist in tailor made family holidays here to discover a world where you can track rhino one day and go rafting on the Zambezi the next. Go on a nighttime game drive in Hwange or be sprayed by Victoria Falls. It is also worth checking out three-country overland trips specialising in families.
Mana Pools National Park
One of the country's lesser known national parks, it boasts habitat for elephants and lions drinking on the banks of the Lower Zambezi. Its name means 'four' in the Shona language, because of the four inland pools that are the remnants of oxbow lakes. These spots attract hippo, crocodiles and a vast array of birdlife, making this a UNESCO World Heritage Site too. Mana from heaven.
Peace parks
Zimbabwe is a member of the pan African Peace Parks Foundation which has created Trans Frontier Conservation Areas (TFCAs) which protect wildlife corridors across borders. Zimbabwe is a member of two TFCAs (with more in the pipeline): Kavango-Zambezi TFCA and the Great Limpopo Trans Frontier Park in the SE, helping the vital movement of many animals, especially elephants.
Rated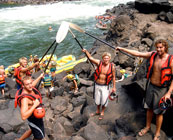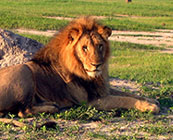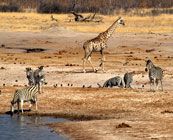 Victoria Falls
You can bungee them, zipline them, swim in the Devil's Pool above them, fish in them, fly over them and take a sunset cruise alongside them. Or you can just let nature create its own adrenaline and let the sound of this most powerfully beautiful sight get your heart beating all on its own. Because no matter how you experience this spectacle, it's deep.
River Zambezi
There are many ways to experience it and just watching it plummet over Victoria Falls is the favourite way. However, you can also canoe on its gentler waters and, if you travel with expert guides you can paddle through wildlife paradise seeing hippo, elephants and buffalo along the way. For adrenaline seekers, the white water rafting is also second to none on the Zambezi. Always raft responsibly.
Hwange National Park
The country's biggest national park, and only a stone's throw from Victoria Falls (relatively speaking), it has a thriving elephant population, and you can spot four out of the Big Five here. It is also linked with protected landscapes in Botswana and Namibia, so wildlife on the move is a feature here. And with public and private camping facilities in the park, 24/7 wildlife viewing is possible.
Wildlife
Biodiverse and beautiful, Zimbabwe is at the juncture of tropical Central Africa and temperate Southern Africa, as well as offering vital waterholes for wildlife at the Zambezi River, Mana Pools and Lake Kariba. And so, hello zebra, elephant, lion, leopard, buffalo, giraffe, cheetah, impala… the list goes on and on.
Overrated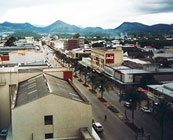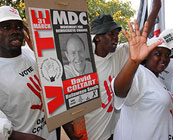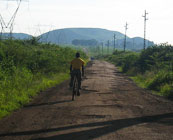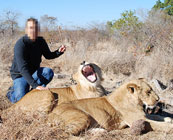 The cities
It's unusual not to have at least one town or city in our travel guides, but the Zimbabwe urban offering is, frankly, pretty ugly. In their heyday they were clean and neat. Now, not so much and with little funding around, the parks and museums are shabby. Use your time getting out into nature which is the antithesis of ugly. Utopia in fact.
The news
Hopefully the news is getting better now in Zimbabwe, post Mugabe era. However, like anywhere, the bad news has often upstaged the good. The vast, untouched wilderness, the mountains, the friendliness of Zimbabweans. Even the police at road blocks are polite. They value the new surge in tourism and welcome visitors.
Doing it all at once
It's a tough country to get around, so plan carefully or go on a small group tour or tailor made trip by experts who know that, for example, Lake Kariba, is surrounded by such deteriorated roads that a journey along its banks will take you two days instead of half a day. Or that in most cases, it is unrealistic to fit Vic Falls, Hwange and Gonarezhou into one trip too.
Canned hunting
Like in South Africa, this horrific 'sport' still happens in Zimbabwe. We don't support canned hunting at Responsible Travel, a lucrative industry where animals are bred specifically to be shot dead. Petting, cuddling or walking with lions is equally a big no no. If you see this anywhere, just walk well away.
Food, shopping & people
---
DISCOVER ZIMBABWE LIKE A LOCAL
Eating & drinking
---
The local typical meal is sadza (corn paste) and tsunga (stew).
Beware nut allergy sufferers, as peanuts are everywhere. In porridge even. Dovi, or chicken stew with lashings of peanut butter, is a favourite.
Lake Tanganyika sardines, or kapenta, are very popular, especially fried with onions, tomatoes and groundnut (yep, peanut) powder.
They love to clap in Zimbabwe.
Clapping twice is a way of saying thank you
, and if your hands are full, clap your free hand on your chest.
People & language
---
The majority of people, over 70 percent, identify as Shona, which is a collective name for the Manyika, Zezuru, Karanga, Korekore, Rozwi and Ndau groups. The Ndebele and Kalanga groups make up about 20 percent and live mostly in the west. Most people speak Shona, and the Ndebele and Kalanga people speak Sindebele. Both are official languages, as is English. Here are a few easy and essential Shona phrases.

Kanjan = Hi
Mhoro = Hello
Tatenda = Thanks
Ndini... = I am…
Gifts & shopping
---
Zimbabwe is famous for its expert Shona carvers, and so don't overlook the local artisans thinking they are tourist tat. Chapungu village near Harare is a well known spot to buy quality Shona work.
In Bulawayo, many of the gift shops stock wonderful artefacts crafted out of Land Rover parts created by local craftspeople.
Patrick Mavros is an internationally celebrated silver jewellery maker, with stars from across the globe donning his wares. All made from local silver, you can also buy them in his Harare store, with 10 percent going to
local charities.
Of all my travel in Africa,
the people I met in Zimbabwe were the friendliest I have encountered on the continent
despite years of economic hardship.
– Andrew Appleyard from our supplier, Exodus
How much does it cost?
---
Bottle of
local beer = £1.60
Bottle of water = £0.80
First class sleeper train Bulawayo -
Vic Falls = £10.00
National park entry fees = £25 - 30
Lunch in standard restaurant = £3 - 8
Loaf of bread = £0.50
- 0.80
A Brief History
---
There is so much emphasis on life in Zimbabwe post-independence in 1980, and in particular the decades-long reign of Robert Mugabe, that it is easy to overlook the incredible history of this country. Make 'Great Zimbabwe' one of the must-sees of your tour and it will open the history books and your eyes.
Read more ▼