Our Zimbabwe safari holidays
Zimbabwe boasts some of Africa's most beautiful landscapes and flourishing wildlife populations, including huge numbers of elephants. Our small group & tailor made safari holidays in Zimbabwe take you from national parks such as Hwange to Victoria Falls, and sometimes over the border into neighbouring Botswana. And whether you're tracking rhinos in Matusadona, or visiting a village to purchase unique handicrafts and understand tribal life, there's no finer companion than a local guide. No one knows Zimbabwe's landscapes, wildlife, nature and communities better, and equally there's no one better placed to help you get to know them.
Our top Zimbabwe holidays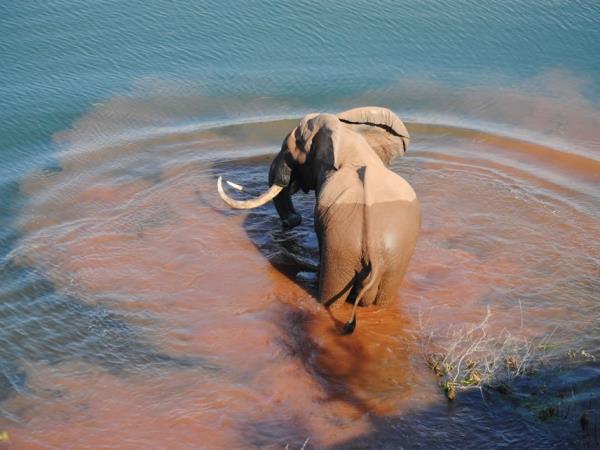 8 days
ex flights
Safari combining some of the most diverse areas of Zimbabwe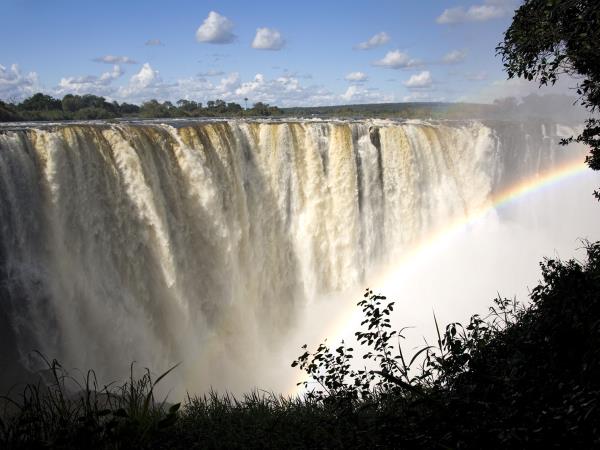 10 days
ex flights
A captivating trip visiting some of the gems of Zimbabwe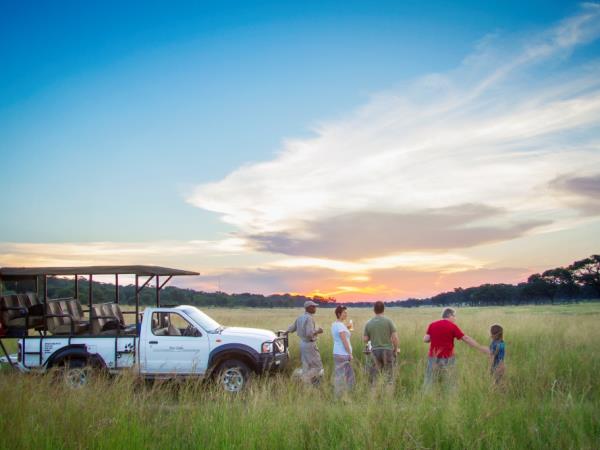 From
US $3709

to

US $4093
9 days
ex flights
Discover magnificent Matopos and Hwange National Park
Best time to go on safari to Zimbabwe
The best time to go to Zimbabwe depends on whether you prefer heat, rain or more temperate conditions. The ideal time for safaris is May-November, although the latter part of this season sees temperatures soar into the 30°Cs. July-August hovers in the mid-20°s, but can get pretty chilly at night. Some camps around Hwange National Park close during the rainy season (December-March), but the animals are still very much there, as are the guides who need their jobs. Zimbabwe's storms can be incredibly atmospheric, bringing migratory birds, beautiful sunsets and really clear skies.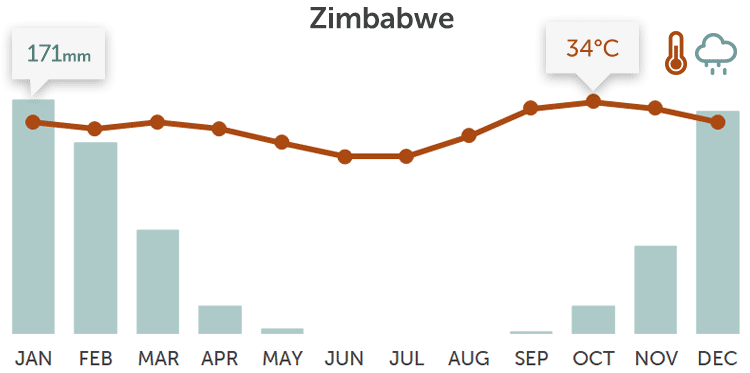 Map & highlights
Mosi-oa-Tunya is 'the smoke that thunders' – a more fitting name for what most of the world knows as Victoria Falls. Hwange National Park is a couple of hours' drive away; it's Zimbabwe's biggest national park. Matobo National Park is less known, but filled with ancient rock art, while the remote Mana Pools is heralded for its free-range elephant herds. Lake Kariba is difficult to reach too, so you'll see the hippos, leopards, lions and crocodiles in relative peace. The Great Zimbabwe National Monument – the 11th-century ruins of the one-time capital of Zimbabwe – is a spectacular look into the human history of Zimbabwe.
Great Zimbabwe National Monument
1. Great Zimbabwe National Monument
Dating back to 11th century, these are the Kingdom of Zimbabwe's ancient capital ruins, rightly awarded UNESCO status. Covering 722 ha, this stone city is thought to have housed 18,000 people, and considered one of Southern Africa's greatest archaeological monuments. Indeed, Zimbabwe means 'Houses of Stone' and replaced the colonial name of Rhodesia after independence.
2. Hwange National Park
Hwange is only a 2.5hr drive from Victoria Falls and is Zimbabwe's biggest national park. Famed for its enormous elephant population, you can spot four of the Big Five (minus black rhino) in its forests and scrublands and it has an unfenced link with Botswana, the Chobe River and Namibia, so incredible sightings of huge herds on the move are frequent.
3. Lake Kariba
Quite tricky to reach, Lake Kariba rewards your effort with its staggering remoteness. A huge manmade expanse of shimmering water reflecting the beautiful scenery within which it sits, it's known for its population of fish eagles and is home to islands including Chete, a road-free piece of land where leopards, lions, impalas, and lots of lions and crocs roam free.
4. Mana Pools
Down in the Lower Zambezi, Mana Pools is another really remote national park (a UNESCO-listed one no less) and what sets it apart from the others is that it has a riverfront – attracting lots of great game – and it's unfenced too, so there's every chance of a family of elephants strolling past while you're having a snack. Safaris on foot are no longer allowed here, but better safe than stampeded.
5. Matobo National Park
Home to 3,500 ancient rock art sites and stony outcrops that you can sit above and gaze at, Matobo is a lesser-known national park with a really spiritual vibe. You can game drive, mountain bike and, unusually for Zimbabwe, take a walk with a ranger to see rhinos on foot there, and its hills are also the home of Cecil John Rhodes' grave. A very atmospheric safari option for the thinkers out there.
6. Victoria Falls
Known locally as 'Mosi-oa-Tunya', which means 'the smoke that thunders', just one glimpse of the spectacular Victoria Falls confirms why. An immense sheet of gushing water double the height of Canada's Niagara Falls, this raging waterfall is one of the Earth's is greatest spectacles and to see it front on as Zimbabwe's unparalleled views permit, is to really feel the full force of its power.


Zimbabwe safaris
Safari holidays
are Zimbabwe's bread and butter. Hippos wallow in Mana Pools National Park and Lake Kariba, where you can take a boat out to view them… at a safe distance from these 1,500kg beasts. You can drive out to see the elephant herds that still survive in the savannahs, despite years of drought and poaching. The tour specialists we work with quite rightly avoid 'walking with lions' experiences like the plague. Instead, track them happily stalking through their natural environment, with expert Zimbabwean guides who'll also have an eye out for wild dogs, giraffes, rhinos, wildebeest, leopards and hyenas.
Hwange National Park
Hwange National Park
has come a long way from its days as a hunting ground for King Mzilikazi Khumal in the 19th century. It's one of the biggest national parks in Africa, and home to most of Zimbabwe's elephant population, as well as lion prides, packs of wild dogs and springy antelopes. Famously fantastic guides lead the way, driving you out to grassy plains at the crack of dawn and showing you how to track giraffes safely on foot. Your visit to Hwange National Park will be part of a larger tour of Zimbabwe or Southern Africa; choose a tailor made trip to spend extra time here.
Victoria Falls
Victoria Falls is known as Mosi-oa-Tunya ('the smoke that thunders') in the Lozi tongue and Shungu Namutitima in Tonga ('boiling water'). As you stand beneath its 108m-tall and 1.5km-wide waterfalls, you can see where these evocative local names come from. Victoria Falls straddles the border of Zimbabwe and Zambia, but you'll get the best views on the Zimbabwe side, where four out of five of the cascades crash. All holidays to Zimbabwe will include a trip to Victoria Falls; for more information, read about the
best way to see Victoria Falls
.
Zimbabwe & Botswana
It almost feels silly
not
to visit
Zimbabwe and Botswana
in the same trip. The elephants and lodges of Chobe National Park are just over the border from Zimbabwe, and the Okavango Delta is just a few hours' drive from there. Botswana has had years to perfect its conservation-based tourism, so expect luxury camps and more visitors, whereas wildlife holidays in Zimbabwe are still in their formative years. The neighbouring countries concur when it comes to rigorous guide training, however: Zimbabwean and Botswanan guides are some of the best in the world.
If you'd like to chat about Zimbabwe or need help finding a holiday to suit you we're very happy to help.