Best time to visit
Botswana & Zimbabwe

For warm days and wonderful wildlife viewing in both Botswana and Zimbabwe, come during the dry winter, May to September.

The dry winter months, May to September, are the best time to visit Botswana and Zimbabwe. Game viewing is good now, and improves as you get closer to September, with wildlife congregating around the dwindling water sources and the vegetation dying back, making for good views. Nights can hit freezing at the start of winter, and early morning game drives are chilly, but by the end of this period daytime temperatures can hit the low 30°Cs. Organised tours run in March and April, too, when the rains are dwindling, and in October, although it's hot now – think 35°C.
Our Botswana & Zimbabwe Holidays
Botswana & Zimbabwe,
month by month
December, January and February are slap bang in the heat and rain of midsummer. Organised tours to both Botswana and Zimbabwe don't tend to run now. The Kalahari in Botswana in particular is stifling now and January is the wettest month in Hwange and Chobe. By March rainstorms are less frequent, often confined to an afternoon shower, and dying out as you get into April. June, July and August are some of the best months to visit Botswana and Zimbabwe as the wildlife is out in abundance. Be prepared for surprisingly chilly temperatures, especially on early morning game drives. Bring a coat. September and October are heating up, with temperatures soaring into the 30°Cs. This is a great time to see wildlife around the waterholes, including huge herds of elephants in Hwange and Chobe. Organised tours to both countries run in November, but as this is the start of the rainy season, you can expect some showers and should pack wet weather gear.
Our top Botswana & Zimbabwe Holiday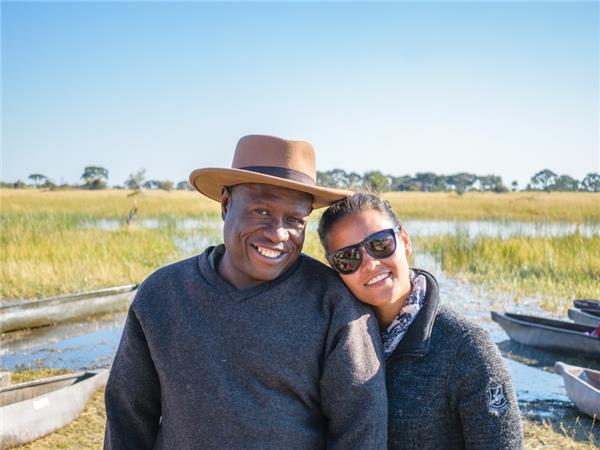 Brave the wilds of Botswana on an exhilarating adventure
From £3705 to £4605 10 days ex flights
Small group travel:
2023: 15 Jun, 29 Jun, 13 Jul, 20 Jul, 17 Aug, 24 Aug, 7 Sep, 14 Sep, 21 Sep, 5 Oct, 19 Oct, 9 Nov, 16 Nov
2024: 8 Feb, 28 Mar, 25 Apr, 16 May, 23 May, 30 May, 13 Jun, 20 Jun, 27 Jun, 4 Jul, 11 Jul, 18 Jul, 25 Jul, 1 Aug, 8 Aug, 15 Aug, 22 Aug, 29 Aug, 5 Sep, 12 Sep, 19 Sep, 26 Sep, 3 Oct, 17 Oct, 31 Oct, 7 Nov, 14 Nov, 26 Dec
If you'd like to chat about Botswana & Zimbabwe or need help finding a holiday to suit you we're very happy to help.

Things to do in
Botswana & Zimbabwe
Things to do in Botswana & Zimbabwe…
Most trips to Botswana and Zimbabwe take in their wildlife rich areas – Hwange and Chobe National Parks and the Okavango Delta – and there are a host of ways to see the Big Five and more. As well as game drives, take a walking safari and mokoro ride in the Delta, a boat cruise in Chobe, and game walks to see the white and black rhino in Matobo National Park.
It's pretty fair to say that all trips to Zimbabwe and Botswana include Victoria Falls, especially since the town of the same name in Zimbabwe is often the start and end point of a trip. They are a glorious site, though, and a true highlight of Africa.
Zimbabwe has a handful of historic sites which make a fascinating complement to the abundance of game you'll see on a joint Botswana and Zimbabwe holiday. The Great Zimbabwe National Monument is the remains of the Kingdom of Zimbabwe, dating from the 11th century, and Matobo National Park has ancient rock art and the grave of Cecil Rhodes.
Allow more than a week. A bit obvious maybe, but worth mentioning – it takes time to visit these two huge countries and do them justice, even with domestic flights. You'll need minimum 10 days, but ideally two weeks.
Things not  to do in Botswana and Zimbabwe…
Rule out self driving. Carefully designed, tailor made trips make self driving in these two countries possible, with well planned routes and short flights between hard to reach destinations to trim out the longest drives. Car hire and accommodation is sorted for you, and game drives included at all the parks, so you won't actually be driving up to elephants yourself. View it all through a lens. When you're out on a game drive or bushwalk, remember to put your camera down and soak up the experience. Distances can be long – we're talking 600km in a day – and road quality can vary from decent Tarmac surfaces to sandy tracks, so don't expect short drive times. If you can't stomach some long days on the road, opt for a trip that uses one or two short flights. Worry about bringing waterproofs to keep you dry at Victoria Falls. You can hire waterproof capes here. Or just enjoy the outdoors drenching – pretty refreshing after days on safari. Neither Botswana or Zimbabwe are brilliantly accessible to independent travellers, so joining an organised tour is the best way to see both. Both tailor made and small group trips run, and well planned itineraries ensure you get the most from both countries in a single trip. Crucial details such as park permits, game drives, mokoro rides, accommodation and food are all taken care of.
More about Botswana & Zimbabwe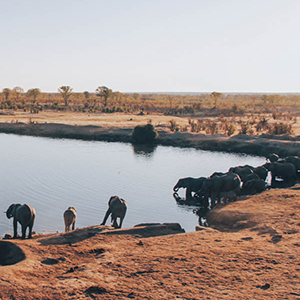 Find out more about combining two Southern African countries in a single trip, in our Botswana and Zimbabwe travel guide.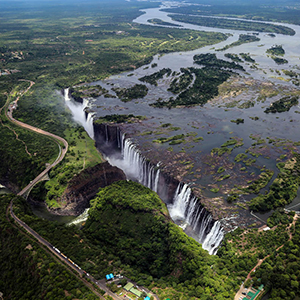 Victoria Falls is one of the Seven Natural Wonders of the World, a huge curtain of water measuring 1.7km wide, plunging off a plateau into a deep gorge below.