Hiking and walking in California
With its sweeping Pacific coast, dramatic mountains, romantic meadows and rugged deserts, Californian landscapes are packed with grandeur and interest. Much of this superb scenery is accessible to walkers, thanks to a well-maintained network of trails crisscrossing the state's many parks and protected wilderness areas.
There's much to admire: California is home to fascinating birds, insects and mammals and the biggest and oldest living plants on the planet, the sequoias and the ancient bristlecone pines. By exploring at walking pace, you can take time to absorb your surroundings to the full and examine things in detail, from mighty waterfalls, redwoods and rock formations to delicate butterflies, wildflowers and ferns.
Sierra Nevada
The Sierra Nevada, a 400-mile expanse of glorious mountains, valleys and lakes, is a gift to hikers. Its three national parks, Yosemite, Sequoia and Kings Canyon, contain landscapes that people gladly cross the globe to visit. There are literally hundreds of walking and hiking trails to enjoy here, from short strolls to long-distance treks that you'll want to spin out over several weeks.
One of the most famous short challenges for hikers is the 8.5-mile Half Dome Cables Route which takes you from the floor of the Yosemite Valley to the top of this superb, iconic granite monolith. The final ascent is dizzyingly steep but fixed rungs and a pair of cables, mounted to act like handrails, make it achievable. The views from the top are worth every gasp and blister.
Other trails which offer superb views as a reward include Clouds Rest, a challenging eight-hour, 2300ft/701m climb to a summit that's every bit as exciting as Half Dome, but with a fraction of the crowds. Make it the top and you can gaze in wonder over the whole Yosemite Valley. On the way back, you can cool off with a stop at the Sunrise Lakes for a swim. Then there's Sentinel Dome, which takes just an hour to climb and offers incredible 360 degree vistas, and the Panorama Trail, a gorgeous downhill route from Glacier Point to Yosemite Valley (just make sure there's transport waiting for you at the end). The trees of the Sierra Nevada are truly remarkable. If it's giants you're after, head for the redwood forests of Kings Canyon National Park and Sequoia National Park. The latter is home to General Sherman, a 2000-year-old giant sequoia that's the largest living thing on earth. For glorious leaf colour in autumn, there are some beautiful spots in the John Muir Wilderness, especially beside its lakes – Dorothy, Steelhead and Blue Tyee.
John Muir Trail
The ultimate summertime challenge for visitors to the Sierra Nevada is the John Muir Trail (JMT), a magnificent 210 mile High Sierra wilderness route leading from the showpiece landscapes of the Yosemite Valley to the roof of North America, Mount Whitney. On the way, it passes Tuolumne Meadows, the Ansel Adams Wilderness, the John Muir Wilderness and Devils Postpile National Monument. The trail is a memorial to John Muir, a pioneering environmentalist who died in 1915, shortly before construction began.
It's possible to walk it a segment at a time, taking a week or so over each chunk; if you'd prefer to tackle the whole thing in one go, you should set aside a month. Either way, you'll need to get into expedition planning mode well in advance.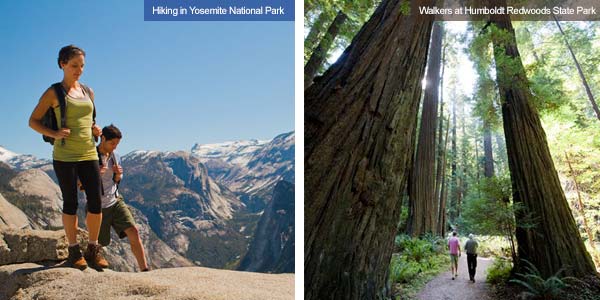 North Coast
Thanks to the Kings Range, a stretch of impassable cliffs, several thousand feet high, the coastline at the border between Humboldt and Mendecino counties is spectacularly remote. Rejoicing in the gloriously otherworldly name of the Lost Coast, this area is a beautiful place for a backpacking trip. The 24-mile Lost Coast Trail winds along the clifftops, with occasional descents to dark-sand beaches. There are basic campsites along the way. As it's remote, you'll need to be hardy, carrying a tide table and enough supplies to last a few days. The best plan is to travel north-south, keeping the prevailing wind at your back. Also in the north are the Redwood National and State Parks, a massive area where you can wander through misty forests of old redwoods and ferns. There are bears and mountain lions here; though rarely a threat, you should take common sense precautions. A beautiful nine-mile round trip along the James Irvine Trail in Prairie Creek Redwoods State Park, the northen section of this region, takes you through ancient woodland scenery to gorgeous Fern Canyon and Gold Bluffs Beach.
Marin County
The green-and-tawny Marin Headlands in Marin County, just across the Golden Gate Bridge from San Francisco, are laced with pleasant walking trails through wild, coastal heathland. This is a stunningly beautiful place to be in spring, when the wildflowers are in bloom, or at sunset. Some trails have enough gradient to give you a good workout but many are short and easy, so ideal for families. Kids also enjoy the Tomales Point Trail on Point Reyes National Seashore, which many consider California's best wildlife-watching route. Over 500 elk are found here, along with rabbits, deer, foxes, and you'd have to be extremely unlucky not to see any of them. For birdwatching, try the nearby Abbotts Lagoon Trail: the lagoon attracts pelican, herons, plovers, gulls and many other water-loving species.
Big Sur
There are several wonderful, short hiking trails in Big Sur, one of California's most dramatically beautiful coastal regions. Dive into Pfieffer Big Sur State Park for an hour by taking the Pfeiffer Falls and Valley View Loop and you can enjoy the cool, peaceful shade of a gorgeous redwood forest and views of a 60-foot waterfall.
Although much of your CO2 impact will depend on how you've travelled to California, walking and using local transport is a great way to reduce emissions on arrival
Los Angeles and San Diego
Runyon Canyon Loop in the Hollywood Hills is one of the locals' favourite places for a little fresh air away from the bustle of the city. While this is definitely a city park rather than a wilderness, hiking the Loop is an enjoyable way to spend an hour and a half or so. Make it to the summit, Cloud's Rest, for fantastic views of LA, spread out like a blanket below.
Mission Trails Regional Park in San Diego has a great visitor centre and several enjoyable hiking trails. If you only have time for one, make it the tremendously popular, 1.5-hour Cowles Mountain Trail which takes you up to the city's highest point (1593ft/486m) for superb panoramic views of the city and its surroundings. To get there, you ascend through chaparral and sage scrub which gets dusty and hot in summer; there's little shade, so carry plenty of water.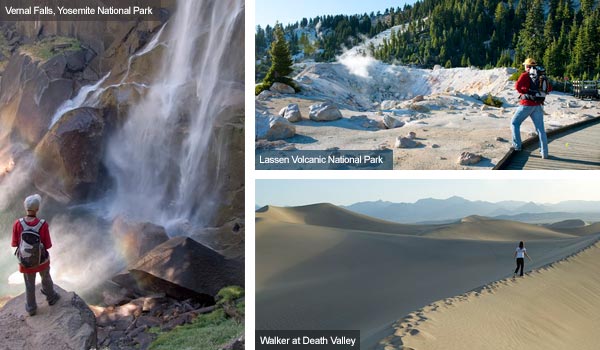 The Deserts
The cooler months are the best time to plan a lowland hike in Death Valley National Park. Cacti and just a few hardy animal species cling to life in this forbidding terrain, but the main attraction is the park's splendid geological features – impressive canyons, hidden oases, dunes and beautifullly moulded-looking rock formations that you can wander right through.
Base yourself in Palm Springs in the Coachella Valley and you'll have plenty of arid scenery to explore: the Joshua Tree National Park is right on your doorstep, with several signposted nature trails and hiking routes to follow.
Lassen Volcanic National Park and Mount Shasta
To experience a landscape unlike any other in California, head into this wilderness of steaming thermal pools, mirror-smooth lakes and evergreen forests, overlooked by a sleeping giant of a volcano, Mount Lassen. Some visitors simply drive around, but the park is excellent hiking country too, with a good choice of campgrounds and some beautiful trails, including manageably flat lakeside routes and a classic 5-mile climb up to Lassen Peak, for unforgettable views. Further north, there's more beauty to discover – hiking up to the icy summit of Mount Shasta, a dormant volcano, is one of the best outdoor experiences California has to offer.
Get planning
California's most popular hiking and climbing destinations are open all year round, weather permitting. The very best time, weather-wise, is from April to October. The trails in Yosemite National Park are particularly lovely at the start of the season, when the waterfalls are at full blast. The wildflower meadows are usually at their best in late May and June. In summer, the weather's often perfect, but temperatures can really soar – most of Yosemite's waterfalls have dried to a trickle by August.
If you're feeling spontaneous, you could easily throw together a daypack and head off on a short hike in one of the more accessible parks. The state parks, in particular, are well worth considering – they can be superbly rewarding to explore and are often quieter than the national parks. For longer excursions, a little planning can reap rewards. Choosing the right backpack, boots, food supplies, camping gear and stopping points should all be done with care.
For some hikes - up to the summit of Yosemite's Half Dome, the John Muir Trail or from Inyo National Forest to Mount Whitney in peak season, for example - you should aim to secure a permit several months in advance to ensure you don't miss out. Camping is an excellent way to enjoy the parks to the full and in the state parks, you can usually get a pitch on the spot. Some of the national park sites are much busier, however, and there are a few – notably in the Yosemite Valley – where pitches are like gold dust and it's essential to book online as far in advance as you can. The most popular hiking, climbing and camping permits are so sought after, they're issued by lottery. For details, visit
www.recreation.gov
Responsible Travel would like to thank the California Tourist Board for their sponsorship of this guide