Walking in the Canadian Rockies
"Leave skirts behind and use a pair of stout bloomers," advised Mary Schäffer Warren, in one of her many articles about walking in the Canadian Rockies. "The walk through the valley… loses one-half the fatigue with the freedom thus obtained."
They were words from the wise. Mary was
one of the most important explorers of the Canadian Rockies
. Unlike many mountaineers in the early 20th century, she didn't plough through first-growth forests and glacier valleys to strike gold or to colonise places already well-trod by Indigenous Canadians. Pennsylvania-born Mary had fallen deeply in love with the flowers, scenery and people. She began by drawing and cataloguing plants for a botanical guide and winded up mapping Aboriginal paths with her friend and Stoney First Nation guide Sampson Beaver.
At a time when women were banned from accompanying land surveys, Mary was leading them. "Why not?" Mary wrote in her book
Old Indian Trails of the Canadian Rockies
. "We can starve as well as they; the muskeg will be no softer for us than for them; the ground will be no harder to sleep upon; the waters no deeper to swim, nor the bath colder if we fall in…"

Lake Louise is a pearl; Lake Maligne is a whole string of pearls.

The Canadian Geological Society asked Mary to survey Chaba Imne – or Maligne Lake. Following a map drawn by Sampson, her explorations and writings brought this glacier-blue lake and tree-topped Spirit Island into the protection of Jasper National Park, and then into the gaze of the world.

These days, that gaze equates to many of the 2.5 million people who visit Jasper National Park every year, chasing that classic view of the Canadian Rockies. You probably recognise it: Lake Maligne is one of the most-photographed places in Canada. Kodak used it to promote its film in the 1960s, with the now-famous image immortalised in an 18m-high mural at Grand Central Station in New York City.
Our Canada walking Holidays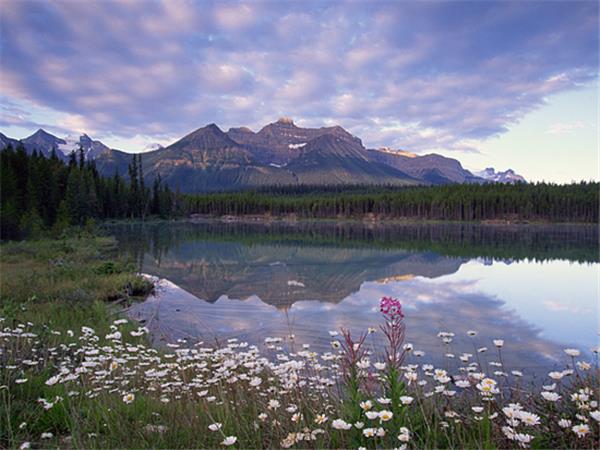 Mountain and glacial scenery with flowers and wildlife
From
£3999
13 days
ex flights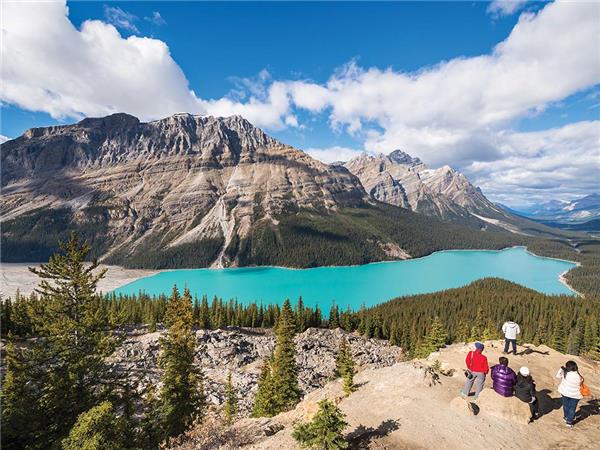 Uncover the awe-inspiring beautiful Canadian Rockies on foot
From
£1740

to

£1910
8 days
ex flights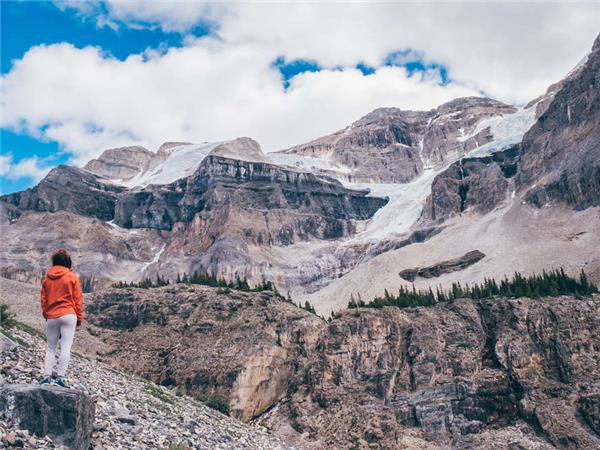 Enjoy hiking in the awe-inspiring Rocky Mountains
From
£3125

to

£3245
13 days
ex flights
A hunter of peace
Luckily, by and large, us tourists tend to be predictable folk. With the right guide, it's easy to escape the packed viewpoints and coach circuits of the Canadian Rockies, and instead discover the quiet footpaths that Mary and her companions knew. The best Rockies walking holidays put you in the hands of those guides.

They like to say 'explorer' of me, no, only a hunter of peace. I found it.

Wells Gray Provincial Park hides in plain sight just west of Mount Robson. You'll probably be some of the only hikers exploring scenery so diverse that an hour's hike can get you burrowing into old-growth rainforest, emerging into meadows of knee-high alpine lilies, and skirting around (or scooching up, depending on your fancy) panoramic mountain ridges.

Out of the famous parks, Jasper National Park and its 4,200km² of wilderness trails is the least developed. Unless you're travelling between late autumn and early spring, the shores of Maligne Lake have well and truly lost their peacefulness. Instead, head for Edith Cavell Meadows (9km; 4 hours; 400m elevation gain), where there are more elk and Rocky Mountain bighorn sheep than people. The more popular trail leading to the toe of Athabasca Glacier (2km; 90 minutes; 50m elevation gain) is worth seeing for the sobering dated signposts that mark out the quickening glacial retreat.

The Icefields Parkway that ties together Jasper and Banff national parks is one of the most spectacular mountain drives in the world – and it's got the summer holiday crowds to prove it. Instead, choose a holiday that includes a stint of camping and hiking in the wilderness surrounding the tourist circuit. Some campsites along the Icefields Parkway can only be reached by helicopter; a guide is as essential as your bear spray.
Banff National Park is Canada's oldest park. Skip the queue for the cable car up Sulphur Mountain and make your way up the switchbacks of the Sulphur Skyline Trail (8km; 4 hours; 615m elevation gain).

Milk-blue Lake Louise is often a crush of selfie sticks, but day trippers don't tend to venture past the hulking Victorian hotel and canoe launch. The more effort involved, the fewer people you'll meet, so a great walking guide will make a break for longer trails of Consolation Lakes or for moderate-to-difficult loops like the Plain of Six Glaciers. The Lake Agnes Trail (14.6km; 5 hours; 385m elevation gain) is another good one: when you break through the treeline, you'll be rewarded with a bird's-eye view of Lake Louise and a family-run teahouse that's been serving over 100 types of brew to hikers since 1905.

Sentinel Pass (16km; 5-6 hours; 725m elevation gain) looks over densely forested backcountry – and if you're lucky, a glimpse of the resident bears, elk and porcupines. It's a popular spot, though; the best holiday companies will choose your timings wisely.

Elsewhere, Glacier National Park is for wilderness trails with a backdrop of over 100 glaciers, while Yoho National Park spouts the tallest waterfall in Canada. Thankfully, the Iceline Trail (15km; 5 hours; 695m elevation gain) here is out-shouted by the footpaths in Banff and Jasper national parks, leaving the forests and rafting rivers relatively hushed.
Our top Canada walking Holiday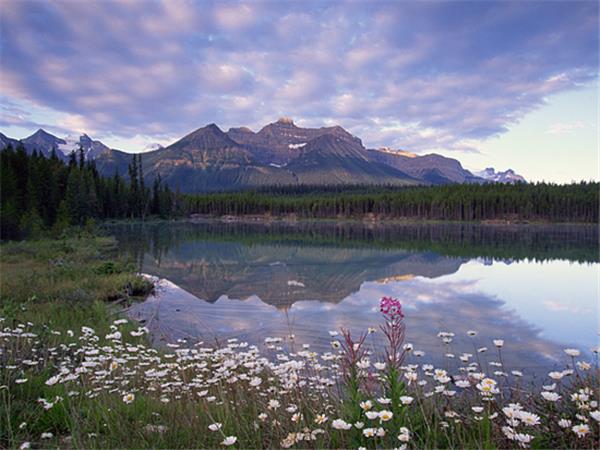 Mountain and glacial scenery with flowers and wildlife
From
£3999
13 days
ex flights
Small group travel:
2024: 23 Jun, 21 Jul, 4 Aug, 18 Aug, 1 Sep
If you'd like to chat about Canada walking or need help finding a holiday to suit you we're very happy to help.

"We took canoes out on Clearwater Lake and watched the stars come out on a perfect evening. Get into shape so you can enjoy the longer or more demanding hikes. Be adventurous!" – Kathleen Dose-Koehl

"Be prepared for heat, as it was much hotter than expected, making hikes more difficult." – Gary Hill

"Travel light! Most of the campsites have good facilities, so you really only need to take the basics, plus plenty of mosquito repellent if you're travelling in the summer months. Take a few risks and you'll have lots of fun. It was my first time white-water rafting – I got completely drenched and had a wonderful time! Make sure you have a good, sturdy pair of hiking boots so that you're comfortable with the more strenuous walks at elevation." – Jason Weir

"Be prepared for a down-to-earth experience, with camping, cooking, cleaning and participation in everyday duties, but all this in good company with other travellers, and of course to all the weather conditions. If prepared, you will have a great holiday!" – Pirkko Lampinen
Small group walking holidays are usually a maximum of 16 people. An expert guide will lead the way, and accommodation (including camping fees), most meals, hiking poles, national park fees and some activities are included. Tailor made walking holidays can be better for families, as the hikes and accommodation will be tweaked to your needs.

Your holiday will usually start and end in Calgary, or start in Calgary and finish in Vancouver. Think about adding an extra couple of days in Vancouver: the city's rainforest parks and mountain-view beaches are a suitably grand finale. You'll need at least 10 days to leave room for day hikes and navigating the winding mountain roads. .

Many hiking paths open after the snowmelt in mid-May, and close again by October. Small group holidays stick to summer, when all the hiking trails are open. Some lakes don't lose their ice till mid-June – worth keeping in mind if you fancy kayaking. Autumn is a brilliant time to be in the Canadian Rockies, too; larch forests go for gold and you've got a better chance of seeing bears as they pile on the pounds before hibernation.
A glimpse of a bear is a good reminder that you're not the only ones walking in the Canadian Rockies. No one wants to startle a 300kg grizzly, so
read up on staying safe in bear country
. Your guide will give you a safety briefing before you set off; if you're hiking alone, make sure you pack bear spray and
know how to use it
.
Travel insurance usually covers you up to 2,000m. Trails in the Rockies explore much higher than that, so
buy insurance that covers you at high altitude.
More about Canada walking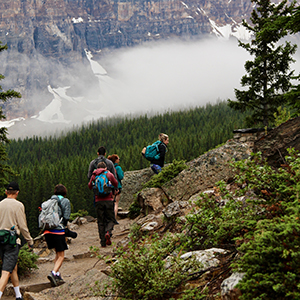 Hit the trails in Canada and you'll be introduced to some of the wildest, most pristine places on Earth; as diverse and dramatic as in your imagination.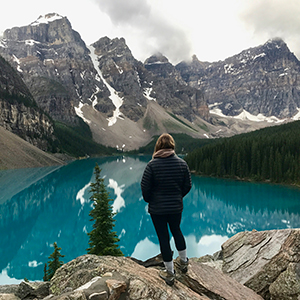 From the peaks and valleys of the mighty Rocky Mountains to the sweeping tundra of Cape Breton Highlands National Park, you can hike your heart out in Canada.