Where to go walking in Canada
---
Canada walking map & highlights
There are many highlights to a walking holiday in Canada, but best of all is the fact that you get to go off the beaten track. Our trips are nomadic rather than centre based. This means that instead of spending all your time at one campground or hotel, you'll move on every day or two, with hiking and activities in each spot. This makes for one or two long days of driving, but you'll be rewarded with spectacular views from the window. West coast trips start from Calgary, taking in major attractions such as Jasper and Banff National Parks, as well as lesser visited gems including Yoho National Park. Over on the east coast you'll kick things off in Halifax, with Cape Breton Highlands National Park, Prince Edward Island and Fundy National Park as key highlights. You'll also venture across the border into New England.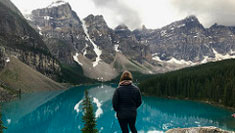 Banff National Park
Not only is Canada's oldest and best known park home to a wide variety of wildlife, from grizzly bears to bobcats to golden eagles, it's also a heavy hitter in the natural beauty stakes. Banff is crammed full of dramatic mountainscapes, gushing rivers, and a plethora of walking trails to suit all abilities. It's also home to glaciers and ice fields, as well as Lake Louise, whose emerald waters are justifiably famous.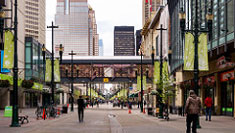 Calgary
The starting point for all of our walking trips out into the Rockies, buzzing Calgary takes you by surprise. Not only does this former Mounties' outpost have the epic Rocky Mountains as a backdrop, it also has a strong restaurant scene, a walkable city centre and interesting museums, such as the Heritage Park Historical Village and the Glenbow Museum, which details the history of western Canada.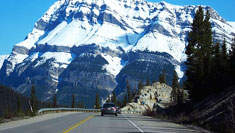 Icefields Parkway
One of the most famous drives in the world, this 230km stretch slices through the heart of Alberta's Rockies. It really gives you a sense of the region's greatness, passing mountains and alpine valleys and taking in the dramatic beauty of the Columbia Icefield along the way. Although around a million people a year take this route, it feels for the most part pleasingly empty.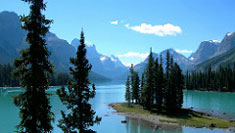 Jasper National Park
The largest of Canada's Rocky Mountain parks, Jasper has a real wilderness feel, with everything you could want in a rugged mountain escape. There are glaciers to gawk at, or climb, endless valleys for hiking, steep peaks to conquer or alpine meadows to just mellow in. And of course speedy rivers to raft down.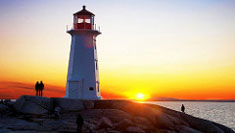 Nova Scotia
Although actually a peninsula, and Canada's second smallest province, Nova Scotia feels like an island, with rich Maritime heritage, wonderful marine life and plenty of fresh crab and lobster. The capital, Halifax, is brimming with history and culture, but for sweeping seascapes, hiking and kayaking, Cape Breton Highlands National Park is a must.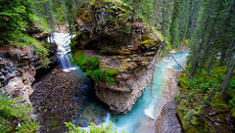 Yoho National Park
Although it's less visited and a good deal smaller than its mega famous neighbours, Yoho is no slouch when it comes natural attractions, with an emerald lake to rival Lake Louise, as well as rivers, mountains and waterfalls aplenty, including Takakkaw Falls, one of the highest waterfalls in Canada at 302m.



Hello.
If you'd like to chat about Canada walking or need help finding a holiday to suit you we're very happy to help.
Rosy & team.
01273 823 700
Canada walking holidays advice
---
Tips from our friends in Canada

Canada walking holidays advice from Sarah Boyd, from our supplier Grand American Adventures:
What to pack
---
"Make sure you bring base layers, and a three to four season sleeping bag as well as a good camera to capture those dark sky nights. I always hike with a two litre reusable water bottle – staying hydrated is key. Pick up state/regional stickers in each location to decorate your bottle with and you'll come home with a practical memento of your tour. And as always, doing your homework on the region's history is a fun way of associating landmarks with new meaning."
The best time to see wildlife
---
"For the Rockies, as the start of wildlife season, June provides good chances of sighting bears, as they come out of hibernation and down to the road and riversides to feast on berries and hunt fish. If this worries people, rest assured; Parks Canada do an excellent job of monitoring bear activity on trails and educate visitors on their behaviours."
Canada walking highlights
---
"One thing that stands out for me is the rolling green hills that spill into Atlantic Ocean in Cape Breton. Catch a sunset here after a day on the trails and drink it in with local delicacies and fresh sea breeze, while bald eagles navigate the skies."
"Banff National Park's network of trails is boundless and we've selected the most rewarding. With hikes starting at the impossibly blue waters of Lake Louise and Moraine Lake, we take our passengers beyond the sightseeing gems to explore the beckoning wilderness. Then there are the imposing glaciers on the Iceline trail in Yoho National Park and the multicoloured mountains of Waterton Lakes National Park, where the mountains meet the prairies and vast golden grasslands stretch far and wide."
Canada walking holidays travel advice
---
Tips from our travellers
At Responsible Travel, we think the best people to advise our travellers are often... other travellers. They always return from our tours with packing tips, weather reports, ideas about what to do – and opinions about what not to.

We have selected some of the most useful Canada walking holiday tips that our guests have provided over the years to help you make the very most of your holiday – and the space inside your suitcase.

"The pace of this holiday is a bit frenetic and there was very little 'down time'. Days started early and every minute was taken up with hiking, cooking for the group (of 16 in our case) and washing up, putting up or taking down tents and travelling between destinations, but, despite the hard work, it was one of the best holidays I've ever had." – Christabel Owens, walking in the Canadian Rockies and wilderness

"Travel light! Most of the campsites have good facilities, so you really only need to take the basics plus plenty of mosquito repellent if you're travelling in the summer months. Take a few risks and you'll have lots of fun. It was my first time white-water rafting - I got completely drenched and had a wonderful time! Make sure you have a good, sturdy pair of hiking boots so that you're comfortable with the more strenuous walks at elevation… I felt there was almost an ideal balance of walks - from more strenuous hikes to gentle strolls which suited different ages and abilities." – Jason Wier, walking in the Canadian Rockies