Toby Baxter, the Canada guru at our supplier Grand American Adventures, shares his tips for travelling in Canada:
Layer it up
"Pack for all seasons. You never know what weather to expect in Canada. Travel with an experienced tour operator, and chat to the locals as Canada is renowned for being friendly."
On a roll
"Cheap sushi in Vancouver! In the country's most expensive city, there are plenty of bargains to be had in Asian supermarkets and local sushi bars."
Hockey night
"If you can, a hockey game is a great way to spend an evening. High energy, competitive, fast and fun! It's integral to the Canadian way of life and also the only time you will witness a Canadian get angry!"
Itinerary tips
Jared Cannon, from our supplier Great Excursions:
"Don't miss Saskatchewan, always perceived as being flat and barren, but has over 100,000 different lakes to choose from!
Wildlife tips
Roy Atkins is a naturalist and expert guide at our supplier Speyside Wildlife, which specialises in bear watching in Canada: "There is so much wildlife to see on our bear watching trips. In British Columbia, for example, we include whale-watching for humpbacks, grey and killer whales plus boat trips for sea otters. There are also raccoons, deer, beavers and lots of great birds too. There is always lots of other wildlife on all our trips."
Beware the bear
Laura McGowan, Director, International Centre for Responsible Tourism Canada:
"Wildlife watching is a big aspect of tourism in Canada, and a growing one, so you need to ensure that the tour operator you are choosing is following all wildlife watching guidelines, and that they are not putting either the tourist or the animal in danger. A lot of times, especially in the Rocky Mountains, tourists will, when they see a bear, just want to get out of their vehicle and get a picture. Or even worse, try and feed the bear. Something that independent tour guides have been known to do, in order to attract bears for their visitors. That is dangerous not only for the person, but also the bear, because this often ends up in the bear having to be destroyed. And this absolutely still happens. Tourists just don't think about the consequences of approaching animals in the wild. So make sure you travel with an expert."
Peter Grubb, founder of our supplier ROW Adventures, specialising in kayaking, whale watching and wild camping:
Wilderness tip
"I think headlamps are one of the best things to have on your travels. Especially if you are going into wilderness areas. There is an awesome product called the Luci light, a company that started in the US as a B Corporation – companies that have a social responsibility. It is a little solar LED light that squishes down like a pancake, and then you inflate it so that it turns into a cylinder. It is the perfect night light for camping. And they also float and are waterproof, so ideal for kayakers."
Size does matter
"Europeans tend to try and cover way too much on their travels in Canada. They spend so much time driving that it seems to be that they don't really have the time to really take it all in. To sit down with people and really learn what the place is like. Europeans are wary, therefore, of spending five days on a rafting trip, as they want to go here and there and everywhere. But on a wilderness trip you really get an intense experience of one area, and we love that in Canada."
Tom Brown from our Canadian bear watching specialist supplier, Natural World Safaris:
Layering up
"If you are polar bear watching in Churchill, layering is the way to go, but we can organise for you to rent winter gear, such as super warm parkas, or all in one suits, as it can get to -20°C or -30°C with wind chill."
Photography
"If you want good photographs when bear watching then you need a SLR camera, because you will often be taking photographs from a distance. I would say lenses that are at least 300mm for the best photographs."
Our top trip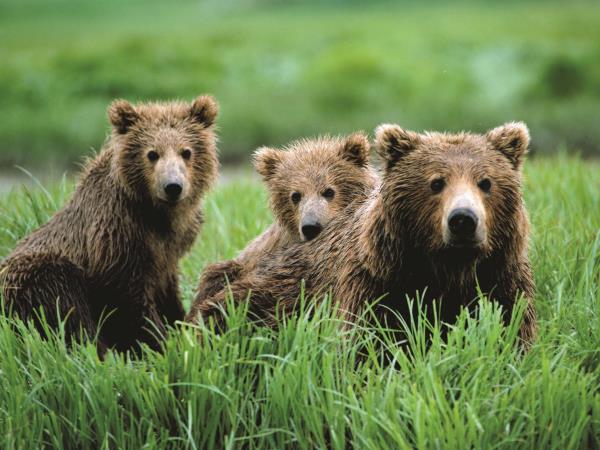 Spectacular viewing of British Columbia's grizzly bears
From
£4350
6 days
inc UK flights
Tailor made:
This 6 day tour departs on various dates from May through to October. Other durations and tours are also available, including combining it with a tailor-made tour of British Columbia, the Rockies and Alberta.
If you'd like to chat about Canada or need help finding a holiday to suit you we're very happy to help.

Health & safety in Canada
HEALTH
Always dial 911 in an emergency. And ALWAYS get travel insurance when travelling in Canada.
Long distance hikers need to stay hydrated. You sweat between 0.5-1 litre of fluid for every hour you hike in the heat. This can double if you are hiking uphill in direct sunlight at the hottest time of the day. The sweat evaporates quickly, so you can't see it. Do not wait until you are thirsty to drink – by then you are already dehydrated. Take rehydration powders too if necessary. Eating also helps heat exhaustion.
Don't drink from the rivers. Although they may look super clean they can be source of the bacteria giardiasis which can be very nasty indeed. Giardias are found in beaver and muskrat faeces, giving it the nickname 'beaver fever'. You can boil the water, but do so for five minutes in elevated areas. You can also filter, but it is not always perfect, with iodine treatments considered better.
There are approximately 40 species of tick in Canada but, fortunately, only a few of them can transmit Lyme disease. But do take precautions when out hiking, biking or camping. Use a repellent, keep covered, keep checking for them especially in the shower after a hike, and carry tweezers for removal. See the Canadian Lyme Disease Foundation for more details.
Watch out for poison ivy. You will find it on walking trails, the sides of roads and sometimes even in sand dunes. It contains oil called urushiol that inflames skin and results in painfully itchy blisters and rashes. The expression 'Leaves of Three, Leave it Be' is what most people say to remind you what it looks like. It often grows low to the ground, so you need to be careful if walking off the beaten path, sitting down for a break or, for women in particular, take care in comfort breaks when out in wild places. Poison sumac can also cause rashes. It has tiny sweet-smelling flowers in the spring and cream berries later in the year.
Pesky black flies and mosquitoes do love watery areas, and the worst times are late May and June. Best thing is to keep covered and always have bug spray with you, ideally an eco-friendly one. Ask a local for their favourite brand. They usually know best.
SAFETY
If you are bear watching, safety is key. Polar bears are very dangerous. Just look at the polar vehicles that take tourists out across the tundra in Churchill, and you will see that no risks are being taken. Similarly, it is up to tourists to not take any risks either. And this applies to brown, black or polar bear watching. Always listen to your guides. They are experts. Do not dawdle to get a good photograph. It is not worth it. And if you are hiking in bear country, follow all the rules too. The main ones are: keep all food hidden, concealed and locked away when possible; walk in groups and make plenty of noise in bear country; do not turn your back on a bear and run but back away slowly; carry pepper spray for emergencies. If you are hiking in the mountains in early summer, there is still a risk of avalanches. Don't hike immediately after a storm, as this is often when avalanches occur. Always check the avalanche forecast. There might not be snow where you are walking but, if there is a big melt higher up, it can travel down the valley. Avoid the really steep slopes if you can. Slopes pitched less than 25 degrees are safest, while 30 to 45 degree slopes are most avalanche-prone. If you are travelling in winter, storms can come and go quickly, but you need to be prepared. Especially if you are driving. Most rental cars should have emergency kits in case you get stuck, but ask for one if not. And if you are nervous of winter driving, give it a miss, and use a tour operator for all transport logistics. All winter worries will melt away in minutes. If you are hiking in winter, or in the shoulder seasons, be prepared with all the right layers and emergency kits. Think thermal at all times. Always use a helmet when rafting or kayaking in white water. Wildlife awareness is important in the national parks. With animals like bears, cougars and snakes, you need to inform yourself of what to do in the event of an encounter before you go. Do not let your children wander too far ahead of you, so that you can keep a close eye. Temperatures can plummet in many regions of the Canada. So always carry a sensible layer or two. Hypothermia can be life threatening and happen at any time of year, so check the weather forecast before you pack, and cater for extremes. Lightning storms are common in summer, and usually take place during the afternoons. So best to hike early if you are going high, so that you are descending by the afternoon. If lightning does occur, get below the treeline and stay away from summits or isolated trees. Stay as low as you can and take your backpack off if it has a metal frame in it. Exploring Canada's wild spaces is an amazing experience but, if you go exploring, always be prepared with maps, compass, rain gear, pocketknife, matches and a whistle. And always tell someone where you are going. Most trailheads in national parks have a book you can sign to say where you are going, and how many are in your party.
Tips from our travellers in Canada
At Responsible Travel, we think the best people to advise our travellers are often... other travellers. They always return from our tours with packing tips, weather reports, ideas about what to do - and opinions about what not to.

We have selected some of the most useful Canada travel advice that our guests have provided over the years to help you make the very most of your holiday - and the space inside your suitcase.

If you want to avoid buying stuff then you can do the trip with minimal amounts of equipment. The one thing I would recommend you invest in is a good rain jacket

"Do not take too many clothes!!! There is plenty of time to wash your clothes and dry them in front of your log fire." – Ian Halliwell on our Hiking in The Rockies holiday

"If you're a family like us, complete novices in the art of camping and who have never visited this part of Canada in the summer, then this is the perfect place to start. Rob and Troy were our guides on half day hikes, full day hikes, on our day of heli-hiking and on the "boy's day" of mountain biking. Their years of experience in the mountains leads you, the novice, to feel safe in "bear country". Their knowledge of the area is second to none. The trails they hike are well-kept secrets and as such the hidden lakes and valleys you discover with them are awesome. It was a privilege to be in their company and to have access to their most favourite and remote spots." – Susan Brooks on our Hiking in the Rockies holiday

"Take layering clothing as it can be cold in the viewing platforms but warm other times. Take insect repellent and USE IT! I don't normally get bitten but this time I did. Take NO food or drink: it is all provided and is superb and plentiful. They also provide toiletries, so no need to take those either! And finally, be prepared to be amazed!" – Suzanne Wafer on our Grizzly Bear watching tour

"You don't need all the equipment that they list. Gaiters proved to be ineffective and unnecessary. If you want to avoid buying stuff then you can do the trip with minimal amounts of equipment. The one thing I would recommend you invest in is a good rain jacket" – Asif Abbas on our Rocky Mountains wildlife holiday

Be prepared to open your imagination, experience new challenges everyday, and leave with some incredible memories.