Travelling in Canada with children

He was sounding the deeps of his nature, and of the parts of his nature that were deeper than he, going back into the womb of Time.

Ė Jack London, The Call of the Wild
Jack Londonís seminary novel, from 1903, got Canada right in the title - ĎThe Call of the Wildí. It is the second biggest country on earth and the first time you really experience this sense of greatness, space and unknown, you can feel an almost primeval response. To explore and to survive. Luckily, Canadaís impressive tourism structure, which caters brilliantly for those travelling in Canada with children, ensures that we do most definitely survive. It also ensures you can find the explorer within. Whether it is on a polar buggy across the tundra to see polar bears, on a sled being pulled by huskies or on a kayak to see orcas, Canada is a place to experience that heart thumping call of the wild. Coming at you from all directions.
Canoe and camp
When the wild is calling, itís rude not to respond. Jump in there with a canoe and camping gear and, with the help of fully trained, expert local guides, paddle your way into the unknown. A wilderness holiday is the stuff of childrenís books, with family time a premium in such remote spots as Wells Gray and Algonquin Provincial Parks, Vancouver Island, Banff and Jasper National Parks.
Whale watching from a kayak
Your children will really be able to pass on the message to their friends that keeping orcas in captivity is a barbaric practice, when they get the life enhancing chance to see them in the wild in British Columbia on their summer holiday. And even cooler – from a kayak. This is Canada at its most colossal. The minimum age is usually around 13.
Wow Ė itís a pow wow
As well as visiting a reserve, attending a pow wow is a great way to witness contemporary Aboriginal culture. Although they are authentic gatherings, not aimed at tourists, you are always welcome. In summer months they take place every week, throughout Canada. The Aboriginal Multi Media Society (AMMSA) is a font of information on events.
Our top trip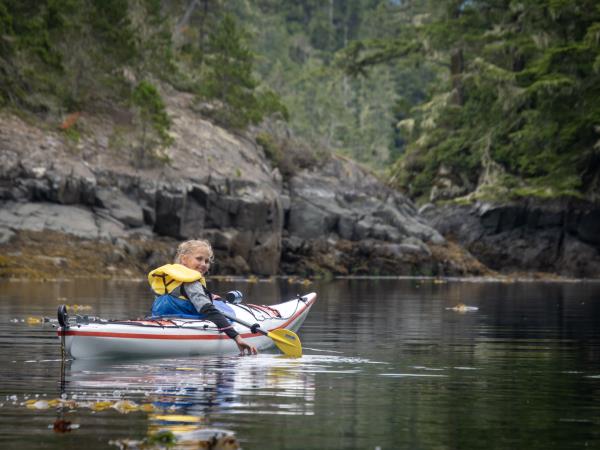 The perfect family adventure in a wilderness paradise.
From
CA $1995
4 days
ex flights
Small group travel:
2024: 21 Jul, 27 Jul, 2 Aug, 8 Aug
If you'd like to chat about Canada or need help finding a holiday to suit you we're very happy to help.

Toby Baxter is the Canada guru at our supplier Grand American Adventures, and gives great tips for travelling in Canada with children: "Save! Unfortunately Canada is not necessarily a budget location. That said, with camping opportunities available, once you've got your transport covered, the rest is manageable. Also think about bringing entertainment for the children. Whilst drives are beautiful, they can be long so break up your journey with viewpoints, wildlife spotting and hiking opportunities."
Peter Grubb, from our supplier ROW Adventures, takes young people out on kayaks to see orcas:
"There arenít that many places in the world that you can see wild orcas. The northern tip of Vancouver Island has the largest resident population of orcas in the world. Almost 300 strong, which is a pretty rare and special thing. I donít think it is scary to see an orca from a kayak. I guess it can be intimidating when a five or eight foot fin is coming at you, it definitely gets your heart rate going. There is a difference between transient and resident orcas, however. The resident orcas that we see are not meat eaters. They donít eat seals and what not. And to the extent that an orca would ever pose a threat to a person, it would be probably be a transient. Ours are strictly fish eating orcas. However, there has never been a human-orca encounter that ended badly in the wild."