Canary Islands walking holiday highlights
Hikers tend to stick to the seven biggest islands in the Canaries. Most come with a national park apiece – Mount Teide on Tenerife, Garajonay on La Gomera, or Timanfaya on Lanzarote, for instance. Others keep their best hikes close to their chest. El Hierro revels in its remoteness, while La Gomera is an unexpected capsule of ancient laurel forest and stream-fed ravines. Wherever you go, old lava flows and crumbled volcanoes add a splash of drama to proceedings. Read our Canaries walking holiday highlights to see which islands get the hikers' stomp of approval.
1. El Hierro
El Hierro clings onto life in the Canary Islands as it was circa 1850. A two-hour ferry ride from Tenerife, the only tourists it sees are the hikers here to explore the old lava flows and ash cones. Between trails, islanders get on with farming pineapples and bananas in the lowlands and sweeping the sand from the porches of their sail-white churches.
2. Gran Canaria
Most walkers head for Gran Canaria, right in the centre of the Canary Islands. It's the variety of vistas that does it – the sheer gorges, sky-bumping peaks and semi-tropical forests. Endemic Canarian pines and flowering cacti blanket the slopes of the highest mountain, Pico de las Nieves (1,949m). And the Roque Nublo plateau sticks up like a broken tooth, offering views right across the archipelago.
3. La Gomera
If you're in Tenerife, it'd be rude not to hop on a 40-minute ferry ride to sister island La Gomera. You'll probably stay in petite, pretty San Sebastian and tackle circular hikes from there. Laurel forests knit together Garajonay National Park, where you can climb 1,484m for 360-degree island views. Or you could walk through banana plantations on the way to Playa Caleta, where fish is grilled metres away from where it's hooked.
4. La Palma
You can walk from toothy peak to toothy peak in northwesterly La Palma. Trace Ruta de Los Volcanes, and you'll be among the craters and lava landscapes formed by long sleeping volcanoes. High drama comes courtesy of Punta de los Roques – one of the many rock sculptures forged by wind and time. Canary pine forests are the shade-giving cherry on top.
5. Lanzarote
Lanzarote plonks itself in the northeast of the Canaries. You can go glamping in reach of polka dot malvasia vineyards – for what Shakespeare called "a cup of Canary" – or hike through the desert-like El Jable. Timanfaya National Park dominates with its pockmarked landscape of craters and far-out Atlantic views. The collapsed crater of El Cuervo is another must; Canarians use it as a canvas for impromptu rock sculptures.
6. Tenerife
If you hike one place on Tenerife, make it Mount Teide National Park. Its cavernous craters and ancient rivers of lava are an ode to the Canaries' fiery volcanic past. Mount Teide – the highest peak in Spain – rises up from the centre. You'll probably start and finish in a classic Canarian town like San Miguel de Abona, where dark beaches reel in windsurfers and kiteboarders.
If you'd like to chat about Canary Islands walking or need help finding a holiday to suit you we're very happy to help.

Responsible Travel recommends
Vicky Garnett, from our adventure holiday specialists Explore, explains why she loves walking in the Canary Islands:
Volcanic variety
"My favourite thing about the Canary Islands is that you can cover lots of different environments – from volcanic to cloud forest – in a week and also enjoy the Spanish feel of the smaller towns and villages. Most people come to the Canaries to sunbathe, leaving many trails free of other walkers."
Nothing tedious about Teide
"Go above the clouds in Mount Teide National Park on Tenerife to be greeted with stunning views and blue skies. A landscape of rock formations, calderas and craters are all under the impressive shadow of the cone of Monte Teide, the highest peak in Spain."
Hardy laurel forests
"The unique laurel forest on La Palma is a dense subtropical cloud forest. It's wonderful to walk through the twisted trees shrouded in mist. There's a great diversity of flora. Walking poles are recommended, especially for the descents."
Winter walking
"The best months for walking are October to April, avoiding the heat of the summer. Perfect conditions for earning your sangria, Canarian papas and jamon! The evenings can be chilly and rain is possible in January and February."
More Canary Islands walking articles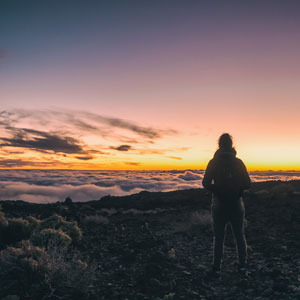 A walking holiday to the Canary Islands, lifts the veil on mystical laurel forests, volcanic valleys and vineyards, and villagers that still fish for a living.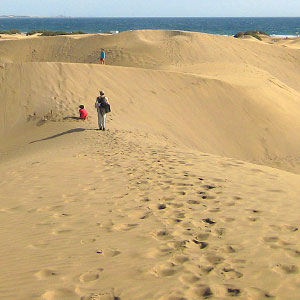 Walking holidays to Gran Canaria swap party-hard playas and high-rise hotels for volcanic canyons and wave-sculpted coastlines.