The Canary Islands travel guide
In this volcanic archipelago, each island has sustainable secrets that bubble rather beautifully below the surface of mass tourism. All small islands, you feel as if you have discovered another world when you hike through the volcanic vineyards of Lanzarote, Tenerife's magnificent Teide National Park, the barrancos or gorges of La Palma, or the cloud forests of La Gomera – an island where whales love to hide in the mists too sometimes, and then pop out to dance and delight. Add the wilderness feel of El Hierro into the mix, and you have an explosion of exquisiteness that feels more like something out of a South American landscape, but so much closer to home.

The yurts we stayed in on Lanzarote seemed to mirror the soft mounds of the myriad volcanic cones all around, and we saw the eruption of stars at night, too.

This Canary Islands travel guide aims to show off the bounties of those travel companies that have swum against the flow of mass tourism for years, flown the flag of Canarian culture and helped protect some of Europe's most precious island landscapes.
The Canary Islands are...
all very different. And also so different than what you might expect.
The Canary Islands are not...
all about beach holidays. Hike then go to the beach. Cycle then swim. Go whale watching and then dive in.
Our Canary islands Holidays
WHAT WE RATE & WHAT WE DON'T
Avoiding the resorts
Beach resorts beckon the crowds to coasts of the Canary Islands. That's good for you: while most holidaymakers are drawn to – and don't move from – the sunloungers of Playa del Ingles and Playa de las Americas, you can head for the forested national parks, sugar cube villages and surf-friendly volcanic coves elsewhere. Accommodation and food are better outside the resorts, too – swap high-rises for fisherman's cottages and buffet dinners for barbecued parrotfish (vieja).
Electric cars
Electric car hire take-up has been molasses-slow on the islands – perhaps because most holidaymakers travel the Canary Islands via coach tour. But the Canaries are perfectly formed for electric cars. In Lanzarote, for instance, a 40-minute recharge will take you 150km; the whole island only 60km from head to toe. That way, you can explore the remotest villages and emptiest beaches without worrying about running out of juice.
Dolphins
Whales aren't the only cetaceans in the sea. The Canary Islands also reel in seven species of dolphins, including the deep-diving Risso's dolphins and curious bottlenose dolphins that welcome the company of other species – including humans. Super pods aren't unusual in this open ocean, either, when the water can bubble with anything from 50 to 50,000 dolphins.
La Gomera
A lack of airport and resorts makes La Gomera one of the least popular islands in the Canaries, keeping its cloud forests pristine and its villages peaceful. Garajonay National Park could be a stunt double for Fangorn Forest in The Lord of the Rings – a tangled laurel forest often sunk in mist. Hiking its paths is near-mystical, as well as a lesson in the perks of biodiversity.
Cesar Manrique
Picture this: Canary Islands, circa 1966. Lanzarote architect and artist Cesar Manrique has just returned from a stint in New York City to find that politicians plan to make Lanzarote the next Tenerife. Cue almost 30 years of campaigning against concrete high-rises and for architecture that blends into the volcanic vistas of Lanzarote. The Cesar Manrique Foundation is his first masterwork of many – a house carved out of a series of ancient volcanic bubbles.
Responsible whale watching
Over 20 species of whales mooch through the Canary Islands throughout the year, including hundreds of resident pilot and sperm whales. Just make sure to check the credentials of your whale watching trip and stick to the ones that use small vessels and give the whales plenty of breathing room. The real deal also collects data for population counts and climate studies.
Walking
Most walkers make for Gran Canaria, where you switch between gorges, mountains, coast trails and semi-tropical forests in a week. Lanzarote is all windproof half-moon vineyards and faux deserts. You could spot whales from the high trails of La Gomera's Garajonay National Park. Or discover El Hierro and its syrupy slow way of life. La Palma, meanwhile, might just be the coolest of the lot, thanks to an umbrella of Canarian pine forests.
Winter
Winter is when you're reminded that the Canary Islands are in fact just 100km shy of Morocco. It's the best time to go for many reasons: tons of sunshine; fewer crowds; hiking-friendly temps; the earliest blooming almond trees in Spain; barbecues for Christmas. Come in November for the wine harvest and – more importantly – the accompanying tastings.
Zoos & orca shows
Unfortunately, the Canary Islands has a weakness for zoos and animal parks – mostly, because there are plenty of tourists lining up to go to them. Hopefully, as tour operators
stop selling tickets to SeaWorld
and countries
ban cetaceans in captivity
there will be change. But for now, orcas are still doing tricks for tourists in Tenerife, justified by pseudoscience. Read more about why we don't support
zoos
or
cetaceans in captivity
.
Big cruise ships
There's nothing wrong with wanting to breeze into the Canary Islands by boat. After all, who wouldn't want to island-hop from volcanic outpost to volcanic outpost, and salute the sunset on deck with a sangria in hand? But big cruise ships are the force behind all sorts of tourism ills, from overtourism to pollution. Swap these vast floating hotels for
sailing boats
that often include an open-ocean sailing to Morocco or Madeira too. Read more about
why small ship cruises are best
.
Staying put
Since the advent of cheap package holidays, the Canary Islands has been a flop-and-drop escape for Brits after a quick injection of sunshine. Coach trips tread the tried-and-tested routes to Mount Teide and Timanfaya National Park, missing out the huddled vineyards, black-sand coves, fishermen's churches and national parks en route. The best holiday companies will get you out there by whatever means you prefer – hiking the pine-perfumed trails, sailing the whale-rich Atlantic, or driving an electric car around Lanzarote.
Our top Canary islands Holiday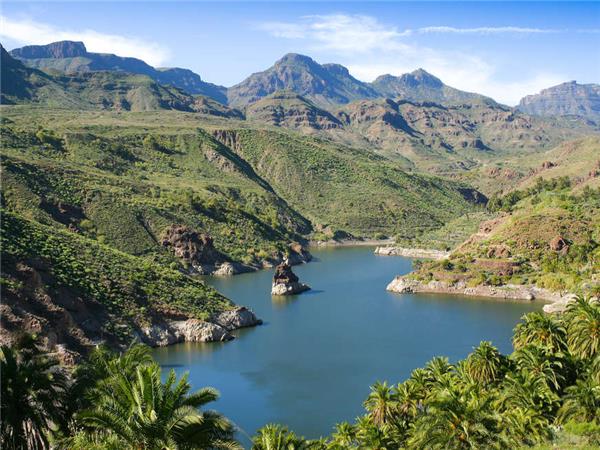 This unique volcanic island reveals unexpected variety
From
£1010

to

£1215
8 days
ex flights
Small group travel:
2023: 21 Oct, 4 Nov, 11 Nov, 18 Nov, 25 Nov, 20 Dec, 27 Dec
2024: 13 Jan, 27 Jan, 10 Feb, 24 Feb, 2 Mar, 16 Mar, 6 Apr, 19 Oct, 2 Nov, 9 Nov, 23 Nov, 21 Dec, 28 Dec
If you'd like to chat about Canary islands or need help finding a holiday to suit you we're very happy to help.

More about Canary islands