The Canary Islands travel guide
In this volcanic archipelago, each island has sustainable secrets that bubble rather beautifully below the surface of mass tourism. All small islands, you feel as if you have discovered another world when you hike through the volcanic vineyards of Lanzarote, Tenerife's magnificent Teide National Park, the barrancos or gorges of La Palma, or the cloud forests of La Gomera – an island where whales love to hide in the mists too sometimes, and then pop out to dance and delight. Add the wilderness feel of El Hierro into the mix, and you have an explosion of exquisiteness that feels more like something out of a South American landscape, but so much closer to home.

The yurts we stayed in on Lanzarote seemed to mirror the soft mounds of the myriad volcanic cones all around, and we saw the eruption of stars at night, too.

This Canary Islands travel guide aims to show off the bounties of those travel companies that have swum against the flow of mass tourism for years, flown the flag of Canarian culture and helped protect some of Europe's most precious island landscapes.
The Canary Islands are...
all very different. And also so different than what you might expect.
The Canary Islands are not...
all about beach holidays. Hike then go to the beach. Cycle then swim. Go whale watching and then dive in.
Our Canary islands Holidays
Canary Islands map & highlights
Sometimes it is hard to convince people that the Canary Islands have anything more to offer than charter flights, cheap beer and chips. But once you have walked the cloud forests of La Gomera, surfed at sunset on Lanzarote's Famara Beach, trekked through the volcanic voluptuousness of El Hierro or the rich, subtropical laurisilva forests of Tenerife, you will start to see why people keep coming back here again and again. As do the whales. And people have been listening to their songs for generations, so we should trust their wisdom in such matters.
Our top Canary islands Holiday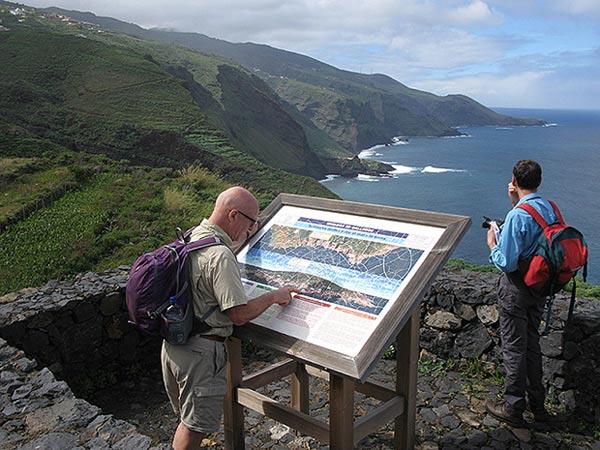 Walk a biosphere reserve that is home to over 900 endemic species
From
£1349

to

£1499
8 days
inc UK flights
Small group travel:
2020: 24 Sep, 8 Oct
2021: 7 Jan, 21 Jan, 4 Feb, 25 Feb, 11 Mar, 18 Mar, 23 Sep, 30 Sep, 7 Oct, 21 Oct, 4 Nov, 18 Nov, 2 Dec, 9 Dec
If you'd like to chat about Canary islands or need help finding a holiday to suit you we're very happy to help.
1. El Hierro
The baby of the islands, it would win a Beautiful Baby competition if there still were such things. The capital, Valverde, overlooks the magnificent landscape like an eagle protecting her nest. With volcanic landscapes stretching up to 1,500m, there are cattle and sheep filled meadows, banana plantations and ancient pine forest to shade you from the near Saharan heat. And always the Atlantic to cool down in.
2. Fuerteventura
Only 20 percent of this island has been developed, leaving 13 protected natural areas, such as the galloping, gorgeous dunes at Corralejo with the backdrop of Montana Roja, or the volcanic landscape of Malpais Grande. Fuerteventura feels like another planet, outer space even, especially if you star gaze. The island has been awarded Starlight Reserve status, for its constellations, clarity and being generally out of this world.
3. Gran Canaria
The island with the largest population, it also has some of the highest number of mountains, so you can easily find solitude and solace hiking here. Las Palmas is a big capital, but los pinos, or pines, are what dominate hikes in the hills, as you follow ancient mountain trails past inhabited cave villages such as Artenara, up to spectacular rocky ridges and down through green valleys such Tejeda and Las Tirajanas.
4. La Gomera
A green and luscious Canary, it is also quiet as it's only accessible by ferry. With superb walking from sea level up to mountains crafted into terraced farmland, hike through banana plantations, rocky valleys and cloud forest. Top views from highest peak, Alto de Garajonay National Park, bring binoculars to look out for whales and dolphins; La Gomera is superb for whale watching trips, too.
5. Lanzarote
With the exception of a couple of overdeveloped resorts, the rest of this volcanic island is hiking, cycling and surfing paradise. The north was home to César de Manrique, an artist who fought until his death in 1992 for his beloved island to be sustainable, from architecture to agriculture. His ethos has inspired many local tourism businesses, with fishermen's cottages or yurts overlooking quiet beaches.
6. Tenerife
A maze of hiking routes spreads out from the iconic, snow capped summit of Mount Teide, such as through the Anaga Mountains, where subtropical 'laurisilva' forest and vine covered terraces proffer beyond pretty perambulations. Or the heady heights of the La Caldera to Los Órganos circuit where dusty, cliff clinging trails awaken the senses. The highlight for many is hiking up into the mar de nubes or sea of clouds.
More about Canary islands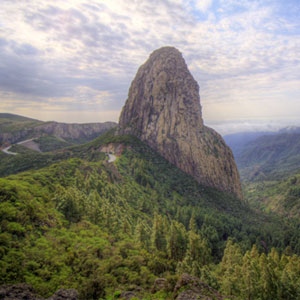 Ironically, the best time to visit the Canary Islands is completely out of their peak season with things to do on the Canary Islands much more wide ranging than getting sunburned on a packed beach.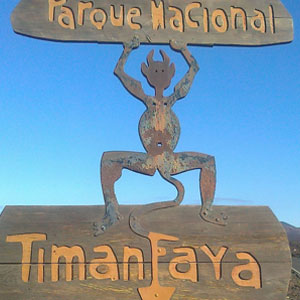 Responsible holidays in the Canary Islands start and end with responsible tourism and if you prefer to conserve cultural heritage and preserve wildlife rather than watching animals performing tricks in captivity and opting for all day English breakfasts then right here is where you start to travel in the right direction.