Best time to visit the Canary Islands

November is wine time, with vines being harvested and festivals to celebrate. A great time to go on a walking break with plenty of wine tasting thrown in

Hot all year round, only daring to dip below 20°C in January or February, although usually only in elevated areas. In July and August, temperatures hover around 30°C with a cooling coastal breeze in most places. They dip to delightful in September and October, possibly the best time to visit the Canary Islands, when the sea is still lovely and warm for swimming too. For hikers, almond trees are in bloom in January and February on Gran Canaria, and the wild flowers, from corn poppies to cirsium come out to dance in March and April. As do whales and dolphins.
Our Canary islands Holidays
Canary Islands Weather Chart
Our top Canary islands Holiday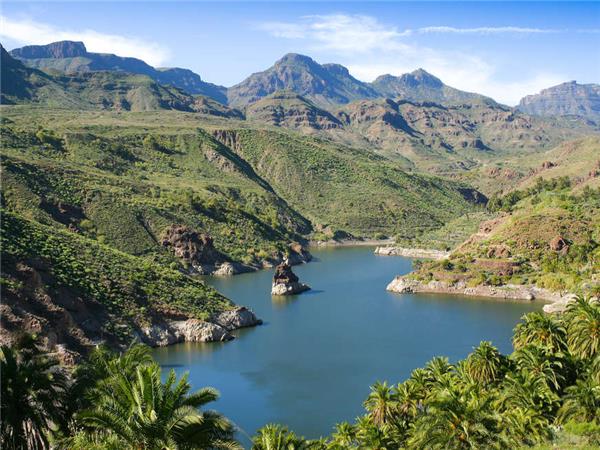 This unique volcanic island reveals unexpected variety
From
£1107

to

£1540
8 days
inc UK flights
Small group travel:
2023: 25 Feb, 18 Mar, 21 Oct, 4 Nov, 11 Nov, 18 Nov, 25 Nov, 20 Dec, 27 Dec
If you'd like to chat about Canary islands or need help finding a holiday to suit you we're very happy to help.

Things to do on the Canary Islands
Things to do on the Canary Islands...
You can spot the sensible ones on the plane, with hiking boots on instead of flip flops. Just a short hop from the coast of North Africa, you have sunshine all year round here to satisfy your craving for hill walking. Be it through cloud forest of La Gomera, mountainous pine forests of El Hierro, dramatic volcanic valleys of Lanzarote, Tenerife's subtropical 'laurisilva' forest or the dune-scapes of Fuerteventura, with volcanoes beckoning like mirages up ahead. The water at the bottom of all the hills is never a mirage, however; always have your swimsuit in your backpack.
Cetacean swimmers also favour the Canarian shores, with whale and dolphin watching between March and November. Dolphins, fin, sperm and Bryde's whales have all been sighted, particularly off La Gomera. No fool them. This is one of the Atlantic's most glorious hideaways.
Sleep under the stars and study the stars. You can do the former on the north coast of Lanzarote, where a finca of palm enveloped yurts overlook the balmy shores of Arrieta, gateway to traditional villages such as Haria and Orzola. The latter is also gateway to the tiny island of La Graciosa. You can study the stars on Fuerteventura, recently given Starlight Reserve status, for its constellations clarity and being, generally, out of this world.
Things not to do on the Canary Islands...
Don't ignore the heat factor. Walking and cycling on the islands will take you into another world, but the near Saharan temperatures and arid landscapes can lead to heat exhaustion very quickly, especially in July and August. So, if you want to trek, go early in the morning, or in the evening. Just as the locals do. And drink plenty of water.
Don't always cool down with beer. Canarian wine is wonderfully refreshing, and given that they are volcanic vintners, they need a huge pat on the back for creating ambrosia out of the ashes. In fact, the Canaries have the highest vineyards in Europe, on the slopes of Tenerife's El Teide. Lanzarote has 18 vineyards, where the vines are planted into small, aesthetically beautiful cocoons in the black, volcanic soil, then covered by a lava stone called Picon to protect them. Toast that with a glass of chilled Malvasia or Moscatel.
Please learn some Spanish. Local people must get really sick of English speaking visitors walking into a café and saying 'Two coffees and one tea please'. A few words make all the difference, even if they are simply, 'Lo siento, no hablo español' (sorry, I don't speak Spanish). But really, we can all muster 'un café por favor' or simply 'gracias'. That would, indeed, be gracious.
Canary Island travel advice
Michelle Braddock, co-founder of Lanzarote Retreats, our leading supplier in Lanzarote, shares her Canary Islands travel advice:
"Get out and about, many people don't leave their holiday home/resort, they don't even know there are 300 volcanoes here, plus many things to visit such as Manrique's caves, beaches, markets and so on."
Trekking tips
Melanie McAnaw, walking holiday expert from our supplier, Headwater:
"Don't overlook the Canary Islands for walking holidays. They are much more unspoilt that you would think."
Canary Island travel advice
At Responsible Travel, we think the best people to advise our travellers are often... other travellers. They always return from our tours with packing tips, weather reports, ideas about what to do - and opinions about what not to.

We have selected some of the most useful Canary Island travel tips that our guests have provided over the years to help you make the very most of your holiday.

If the time is okay, it would be better to take the Naviera Armas ferry as it goes slower, with less impact on dolphins and whales. And what's more, you can have a better chance to spot some dolphins or whales on the way

- Patty Tse, whale and dolphin watching in La Gomera
"La Gomera is a very relaxing location. If you can, come for more than 7 days, especially if you enjoy walking, cycling swimming etc. There is a surprising amount to do.. The most memorable or exciting part? Seeing whales so close to our boat. We had very good sightings of about 20 pilot whales on one trip and on another saw two Blainville's dense beaked whales for about 20 minutes by the boat." – Clare Galton on a whale and dolphin watching holiday in La Gomera

"Get up early if you want to go the National Park. It is well worth the effort but the traffic queues were enormous by mid-morning." – Kate McNab in Lanzarote

Probably good not to go there in December if you want to enjoy warmth and sea-swimming, weather was rather unsettled, a bit of wind and rain, although of course it was 10,000 better than where we flew from!! (England)

"Hire a car to explore the island, there is lots to see, from beaches to the national park, it's well worth it!" – Lila Caballero in Lanzarote

"The stars by night tour was exceptional. Our guide was extremely knowledgeable and passionate about astronomy. We particularly liked his storytelling style of his talk as he guided us through the night sky. This was perfectly balanced with the scientific input." – Helen Kemp, stargazing in Fuerteventura
More about Canary islands