Lanzarote travel guide
---
2 MINUTE SUMMARY
There's a colony of tiny, white, blind crabs living in a lava tube and cave system in Lanzarote. The species is unique to the island, and is believed to have evolved in this way due to the fact that the crabs have been subterranean for so long. The island's visionary architect and sustainability guru, César Manrique, restored and protected this cave, known as Jameos del Agua and used the image of the crab in sculptures scattered around it. Our Lanzarote travel guide is another homage to this creature's determination to survive, just as this island has done for hundreds of years, despite being ravaged by volcanic eruptions. We also hope to enlighten those who are still blind to Lanzarote's beauty; who think it is one big resort. There are so many marvels glistening in corners of this voluptuous, volcanic island which have also adapted beautifully to their landscape and natural habitat. You just need to know where to look.
Lanzarote is...
a land of
volcanic, barren beauty, warm all year round
and with a great zest for life.
Lanzarote isn't...
grotty
. And if you haven't been there already, it won't be anything like you imagine.
What we rate & what we don't
---
RESPONSIBLE TRAVEL'S BEST & WORST
Underrated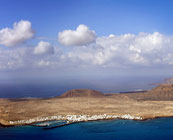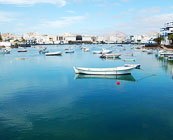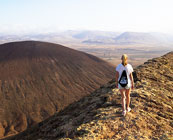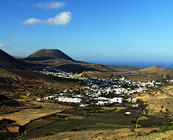 La Graciosa
The only inhabited island in the Chinijo Archipelago, just 25 minutes by ferry from the tiny port town of Orzola. Hike around the island's dramatic volcanic terrain, go snorkelling on its shallow reefs, walk the sandy streets barefoot and feel as if you have stepped back in time, buy fish at the superb shop in the harbour or even take part in the annual La Graciosa swim.
The North
There is a definite north south divide on Lanzarote. Arrecife is the most populated town, and other resort towns are scattered along the south coast. Head north on one road that takes you through pretty coastal towns such as Arrieta, Punta Mujeres and Orzola. Seek out the volcanic lagoons just near Orzola; these glistening blue shallows among jet black rocks aren't even on the map.
Hiking
Lanzarote is fast becoming known as one of the finest places to train for a triathlon. However, if slow travel is more your pace, walking holidays here win our gold medals. Go on guided hikes through the likes of Timanfaya National Park, Los Volcanes Natural Park and up to hilltop towns of Haría or Teguise. You need seriously good boots though, plenty of water and go early in the day in height of summer.
Haría
A wonderful hilltop town in the north, check out its traditional craft market on Saturday mornings, hike here from Orzola on a walking holiday or go visit the island icon César Manrique's home, now a museum, as well as his grave. Stay at the eco 'finca' in nearby Arrieta and ask the owners for the hiking route up the hills. Head into the village along ancient mule trails, and find the basket weaver en route.
Rated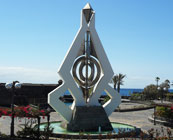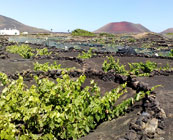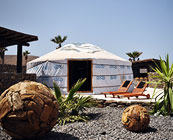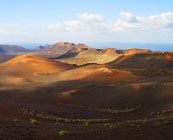 César Manrique
Don't miss reading up on and seeking out the work that this islander artist undertook before he died in 1992. Not only did he create the most extraordinary architecture, built into the volcanic rock, but he also fought for a sustainable status for the island. Read more at the Manrique Foundation, or visit his home in Haría. And every time you look at swathes of landscape that haven't been developed to death, hail César.
Wine & vineyards
The Lanzarote wine belt is definitely a black one. Because on a strip that runs through the otherwise barren, lava covered centre of the island are these aesthetically awesome hollows in the black volcanic, gritty soil, known as picón. This growing region is called La Geria, and each of these hollows is home to a single vine, protected by a semi circular stone wall. The wine is gorgeous too.
Yurt stays
One of our favourite responsible companies is in Arrieta, on the north coast, a traditional finca with a collection of gorgeous yurts within minutes' walk of the beach. Surrounded by palms, with a view over the volcanoes for sunset and the sea for sunrise, this is glamping at its greenest and most gorgeous. Fantastic for families, it is also family run. Outside school holidays these yurts are also the most romantic hideaways.
Timanfaya National Park
Named after one of 11 villages buried by lava and ash during 18th century eruptions, the park was designated in 1974. Stretching for 50km2 around the Montañas del Fuego (Fire Mountains) it still has a spookily empty and lifeless feel to it. The best way to see it is on a hike with licensed guides. You'll escape the coach crowds and experience this barren but beautiful wilderness in peace.
Overrated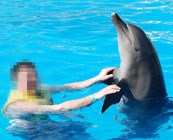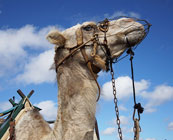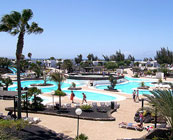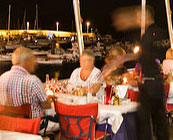 Captive dolphins
At Responsible Travel we are totally against the keeping of cetaceans in captivity – or any wild animals for that matter, unless for genuine conservation and rehabilitation purposes. Even worse, when they are kept in captivity and then trained to interact with humans merely for our entertainment. Now this really is a grotty side to Lanzarote.
Hardworking camels
Camel welfare is said to be carefully monitored in Lanzarote, but if you do decide to ride a camel here, do look at the animals' condition after many hours' trekking in high heat, as well as the equipment used. If you see muzzles, metal straps on heads, sores, jaw ropes or general mistreatment, get the hump and report them. Leading charity SPANA is a great source of information on this subject.
All inclusive resorts
In the main resort towns of Costa Teguise, Playa Blanca and Puerto Del Carmen, wristband tourism is the symbol of everything that is unsustainable in Lanzarote. They are a bit like a metaphorical electronic tag that stops people from wandering too far into places where they can support the local economy, experience real culture or natural heritage. Cut the tag, and free the traveller within, please.
The English language
Yes, there are lots of expats and lots of English speakers. But please learn just a few words of Spanish. Local people must get really sick of English speaking visitors walking into a bar and saying 'Two beers please, mate". A few words make all the difference, even if they are simply, 'Lo siento, no hablo español' (sorry, I don't speak Spanish). And we can all manage 'un café por favor' or simply 'gracias'.
Food, shopping & people
---
DISCOVER LANZAROTE LIKE A LOCAL
Eating & drinking in Lanzarote
---
The main staple with any meal is papas arrugadas, local potatoes grown in the picón black gritty soil, baked with lots of salt. They're served with mojos – delicious, garlicky sauces.
Fish and seafood are omnipresent on menus, sea bream or dorada being the most common. A local fish stew is also a regular, known as escaldón de gofio.
Local coffee made with a white layer of condensed milk and liqueur is amazing. Ask for a barraquito .
Local wine is not to be missed. Marvel at how the Malvasias or Moscatels are produced.
The Spanish word for islanders on Lanzarote is 'conejero', from the word 'conejo', or rabbit, whose skins were exported from here. Each Canary Island has its own term.
People & language
---
About half of the population lives in the capital, Arrecife, and most have Spanish heritage although they are very proud of their island heritage, most identifying as 'Canarios' rather than Spaniards. The main language is Spanish, however. Livelihoods are very tourism dependent, although traditional farming and fishing is still very common. Feast days and festivals are very popular here, the majority of residents being Roman Catholics. A few phrases:

Buenos días – Good morning
Gracias – Thank you
Lo siento – Sorry
Mi español es malo – My Spanish is bad
¿Usted habla inglés? – Do you speak English?
Gifts & shopping
---
There is a homemade perfume stall in Haría Market. It smells like the sea breeze on a summer's morning.
Aloe vera is everywhere here, growing perfectly in the local volcanic soil. There are beauty products galore to be bought.
There are lots of lovely local wines. The Yaiza Malvasia is delish and comes in a beautiful blue bottle.
There are glittering green gems in amongst the black rock, called peridot. They make gorgeous jewellery.
They love their festivals in Lanzarote. For a real taste of the island, check out Saborea Lanzarote Food and Wine Festival in November.
How much does it cost?
---
Return boat trip to La Graciosa: £18 adults, £10 children
Good bottle of local wine: £7-£9
Lunch main course in beach bar: £6.50
Entry to Timanfaya National Park: £7
Two-hour surf session: £30-£36
A brief history of Lanzarote
---
It's quite a wakeup call when you stand at a high point on Lanzarote, look out at the mountains all around, and realise that this landscape is only about 300 years old. Most tourists don't even contemplate how old their mountains are back home. But these ones give a good picture of how history was formed here; the volcanic eruptions being the big dividing line in history. The other big dividing line being the arrival of the Spanish. Both had dramatic impacts on the lay of the land.
Read more ▼