Where to go in Lanzarote
---
MAKE THE MOST OF YOUR TIME
When considering where to go in Lanzarote, remember that it is a small island with only a couple of main roads, and everything is within an hour's drive. The most important thing to remember, though, is that there is so much more to Lanzarote than the resorts of the south. Head north for volcanic lagoons, inland for the stunning La Geria winelands, to Orzola to take a ferry out to the gorgeous island of La Graciosa, and to Arrieta for a funky finca with yurts, converted stone farm buildings and an all round, eco exquisite raison d'être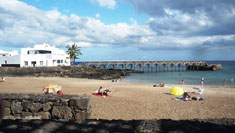 Arrieta
This small, coastal town is the antithesis of the resort towns. No beach chairs, just beach. No loud music, just waves. Its Blue Flag Playa de la Garita gets busy on Sundays as local people come here, but it has that real, unspoiled feel to it. Overlooked and sheltered by Peñas del Chache massif, keen swimmers will love the lap out to the old pier and back. Home to top eco accommodations and yurts, too.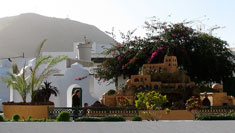 Haría
The whole northern end of Lanzarote is known as the Haría municipality, but it's the exquisite town of Haría that we refer to here. With a small craft market at weekends, come here to buy handmade gifts, enjoy walks around surrounding terraced hills, visit César Manrique's house and now museum, or just chill in the tranquil square with a local specialty, barraquito coffee.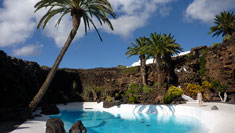 Jameos del Agua
Jameos are openings into lava tubes and in this one, take a 1km walk through the underground volcanic formations from an eruption 2,000 years ago. Restored and designed by island architect César Manrique, you can see an underground lake in Jameo Chico, and a James Bond-like set with turquoise swimming pool in Jameo Grande. The word is only the King of Spain is actually allowed to swim there though.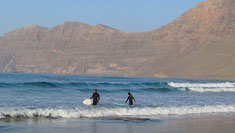 La Famara
A long sandy beach and village, Caleta de Famara, this is the island's most celebrated surfing spot. Waves which have run unimpeded for thousands of kilometres across the Atlantic break beautifully here. There are rip currents so only surf with experienced guides; the village has a small lagoon for swimming. The cycle here over the mountains from Arrieta is serious road cyclists' heaven.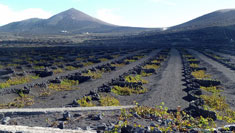 La Geria wine region
Almost like a dreamscape, this wine region consists of black, volcanic terrain peppered with individual vines planted into a cone in the earth, each protected by a curved stone wall. Covering about 30km2, they are a thing of beauty, as are the bodegas or wineries. The oldest bodega is El Grifo, dating back to 1775. Check out Wine Run half marathon here in June.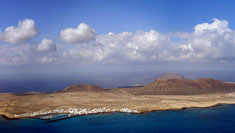 La Graciosa
The only inhabited island in the Chinijo Archipelago with superb snorkelling, hiking and bird watching, the surrounding waters are protected by marine reserve status. La Graciosa is 25 minutes by ferry from Orzola, or take a zippy RIB ride for a bit of an adrenalin rush. Be prepared for the rush to subside immediately on landing. This is seriously, sublime chillsville, with a couple of traditional restaurants and cafes.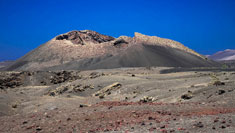 Los Volcanes Natural Park
As the name suggests, this park contains many volcanic formations and is very popular on walking tours. Accessible on the road between Yaiza and El Golfo, you will see how local people have managed to cultivate some areas of the black soil, take in great views of traditional villages, and also hike to a region devastated by eruptions. Now eerily beautiful, as is the interior of El Cuervo volcano itself.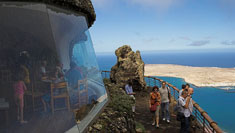 Mirador del Rio
Cafes don't come much cooler than this one. It boasts the best view on the island, and was designed by Lanzarote visionary César Manrique. This work of art is carved into the top of a 470m cliff where you enter an almost invisible building, walk through corridors carved into lava and come out onto a terrace overlooking La Graciosa island and the Chinijo Archipelago.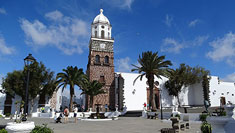 Teguise
This idyllic, inland town dates back to 1402 when it was settled by the Spanish, becoming capital until 1852. With a good elevated position it was also a military base. One notorious event took place in 1618 when an 8,000-strong Algerian army invaded; La Sangre Street commemorates the blood that was spilled. Market day here on Sunday is busy not bloody; it's bloody lovely when crowds have gone midweek, though.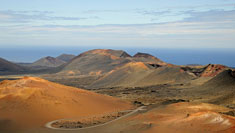 Timanfaya National Park
Covering over 50km2 of volcanic terrain, the park stretches from Montañas del Fuego to the sea, following extraordinary rock formations of gullies and lava tubes created during eruptions throughout 1730s. Miraculously, no one was killed during this active period, but a third of the island's farmland was lost. Today it is a moonlike wilderness, best explored on foot with licensed guides.


Sample travel times in Lanzarote
---
Arrecife – Arrieta : 30 mins by car
Orzola – La Graciosa: 25 mins by ferry
Haría – Teguise: 5-6 hours on foot
Arrieta – La Famara: 40 minutes by car
Gentle cycle through La Geria Wine country: 4 hours
Cádiz – Arrecife: 31 hours by ferry

Hello.
If you'd like to chat about Lanzarote or need help finding a holiday to suit you we're very happy to help.
Rosy & team.
01273 823 700