Rural accommodation in Lanzarote
The quiet villages of Lanzarote away from the bustle of the coastal resorts seem to have changed little over the past 50 years. Surrounded by trim plots where vegetables and vines stretch in neat serried ranks in the extraordinary landscape of picón – the black volcanic gravel – they speak of an era when the island was self sufficient in food and where most islanders worked or were connected with the land.
Today, some of the larger houses of the landowning families have been converted into delightful small country hotels or casas rurales, which are elegantly furnished with period antiques and yet which have all the comforts of a modern hotel.
---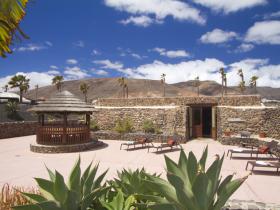 Finca De Arrieta
This is an eco hideaway, almost concealed from view from the beach of nearby fishing village, Arrieta, just minutes' walk away, on the remote north coast of the island. Just a few elegant palm trees mark the spot of the
finca
, or farm, where Michelle and Tila Braddock, of UK origins, but living on the island for over twenty years, have mastered a collection of eco designs, to create off grid living at its most glamorous.
The
finca
boasts eight yurts, some eco chic, others full on luxury, and a handful of cleverly restored stone and wooden buildings, including a converted water tower and two elegant stone villas all powered by solar panels and wind turbines. The small community revolves around a communal, solar heated pool area in the restored farm reservoir, and they have an honesty shop bursting with local produce, from water melons and bread to local wine. They offer hybrid car rentals, although the
finca
is only four minutes' walk from Arrieta beach, and so you can stroll along the sand to the village to top up on supplies. A green gem, this place has a reassuringly family run feel to it, with visitors going back again and again for their
finca
fix.
---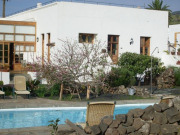 Villa Lola y Juan
Villa Lola y Juan" was built in 1930 in the town of Haría, famous for its many palm trees. The owner, whose parents designed and built the villa, spent many memorable summers here as a child, and describes the fragrance of the peach trees, lemon blossoms and baskets brimming with grapes as memories that remain alive to this day.
"Villa Lola y Juan" has now been restored and is surrounded by 3,000 square metres of fruit trees, such as mandarin, mango, guava, papaya, quince and almond, as well as century-old vines. Guests enjoy a choice of suites and an apartment in converted stables which line the courtyard, or double bedrooms in the house itself. All rooms have Wifi and TV and there is a solar heated swimming pool.
A sumptuous breakfast is served in the glass covered conservatory and in Haría itself there is a choice of excellent restaurants which serve local and international cuisine. The staff and the two resident Siamese cats ensure that guests have a warm welcome from the moment they arrive.
---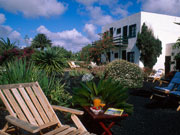 Caserío de Mozaga
In the central town of Mozaga the Caserio de Mozaga, a historic listed property, was built at the end of the 18th century and with a large tiled courtyard and high ceilinged drawing room today still retains an elegant atmosphere.
There are eight double rooms, two of which have their own private panelled sitting rooms all furnished with traditional period antiques and equipped with complete bathrooms, satellite TV and minibar.
A large and delicious breakfast is supplied in the dining room, and in the evenings the restaurant offers a wide range of traditional Canarian cuisine, with most products sourced locally.
The hotel is ideally suited to visit both north and south coasts, and the hotel owner Maria Louisa Rodriguez Bethencourt, whose family have owned the Caserio for two hundred years, will advise guests on the most interesting sites and events taking place on the island.

Maria Luisa Rodriguez de Bethencourt, owner of rural hotel Caserío de Mozaga
"This hotel has been a family house for 200 years… In the restaurant we have products from Lanzarote and we try to show people the real Lanzarote"
---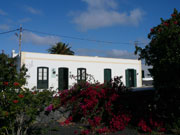 Casa Rural La Finca de Uga
Every accommodation for 1-2 persons, on two floors, has an independent entrance and includes: Upstairs bedroom, double bed, a large wooden balcony. Ground floor kitchen, practical and equipped with its own proper utensils and fridge.
Bathroom with shower and hot water. Natural garden style Lanzarote, furniture. Rustic BBQ, Hi-fi (radio, cassette, CD). Extra Luxury: No TV.
Children welcome: cots can be provided, babies are included in the accommodation rate up to 2 years of age. Pets allowed Excellent location for visiting the island and go Papagayo beaches and excellent restaurants in town. It offers information on places to visit to hiking and other activities. 24 hours support.
---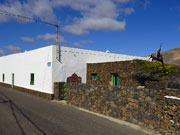 Casa Helma
This is pure simplicity… A 200 year old village school, transformed in two stylish holiday homes. The architecture of this casa rural on the Canary Islands is characteristic of Lanzarote. The garden, the terraces with seaview and the unique environment of Mala are ideal to relax and enjoy the calm.Both houses are comfortable, from a fully equipped kitchen to wifi. Rental directly from the owner. During your stay you can book several services such as a massage and dinner service.
---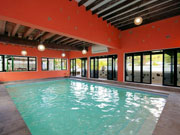 Finca La Crucita Luxury Rural Villas Lanzarote
The country estate La Crucita spreads over a surface area of 7,500 square metres and is situated in the village of Haría, in the north of Lanzarote. A 2002 census showed a total of 1,189 inhabitants in the village.
La Crucita is surrounded by over 50 palm trees, the majority of which are over one hundred years old, and it is set in a valley in which thousands of these species thrive.
---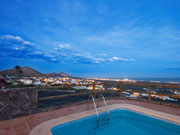 Casa Gaida
Casa Gaida is situated in La Asomada with beautiful panoramic views of the Southern coastline. Overlooking Puerto del Carmen, Arrecife, Puerto Calero with Fuerteventura visible in the distance, CASA GAIDA has all you need in this rural location.
This house features a king size master bedroom en-suite with patio doors leading to the pool deck. Twin and double bedded room with large shared bathroom. All rooms have sea views.
It has a well equipped fully fitted kitchen including microwave, fridge/freezer and washing machine. Luxurious lounge and dining room overlooking the sea - Satellite TV, and CD player. The pool is solar heated and totally private, the villa is not overlooked at all and there are magnificent views of the coast and mountains. Casa Gaida is just a short drive from beaches and restaurants.
---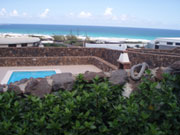 Bungalows Playa Famara
Our bungalows and luxury villas are set in large plots in one of the most beautiful areas of Lanzarote. The "Bungalows Playa Famara" are located between Lanzarote's finest beach and the impressive 600m high Famara Cliff.
An exceptional environment for quiet or active holidays in Lanzarote. Many surf and kite-surf championships are celebrated here every year.
The Playa Famara holiday bungalows were the first in the history of Lanzarote. Today their gardens of more than 1.000 m2 each have become a luxury which is difficult to find elsewhere. There are 3 types of Bungalows for 2, 4 or 6 people. They are equipped with separate kitchens and large terraces (60m2) all with sea view. Some luxury Villas have private pools and total privacy. Prices vary according to type of bungalow.
---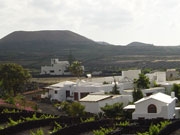 Amatista Centre, Lanzarote
Inspiring tranquil haven and oasis in the Heart of magical Lanzarote in unspoilt countryside and vineyards on the edge of La Geria Natural Park.
6 cottages, Studios and original Mongolian Yurt sleep up to 20 . Rented individually or for larger groups, holidays or seminars. Morning Yoga with beautiful views in the 70m2 group room. Solar heated comunal pool. Massage available.
Solar heating, water re-cycling, composting - wonderful verdant organic gardens - fruit trees, vegetables, aloe vera and many unusual plants. Free filtered water. Excellent Canarian restaurants nearby, and market with local produce. Perfect base for exploring Lanzarote.
---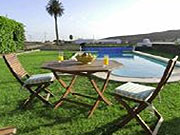 Casa Barranco
The Casa Barranco, one of the most beautiful country Villas in Lanzarote, situated in Los Valles only minutes from the former capital of the island, Teguise.
This stunning villa has a private courtyard and barbecue area, as well as a heated outdoor swimmingpool (measuring 8m x 4m, 1-1.7m deep).
---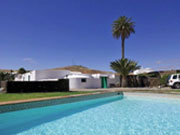 Casa Catalina
Country houses to rent in beautiful Lanzarote. They are part of a two hundred year old farmstead that has been converted into a highly individual dwelling situated in the pretty rural village of Los Valles. Whilst carrying out the conversion we tried to maintain as many of the original features as possible. The two houses are arranged around a central courtyard and can be rented separately by couples and smaller families, or opened up into one single house for larger parties of up to eight. The land has 4.500 m2 with each house having 280 m2 of living space.
---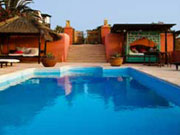 Casa El Morro
Casa el Morro is located in a rural area at the highest peak of the village of Uga, called El Morro. It is situated in the south of the island near the National Park of Timanfaya and a few minutes from La Geria, an area of natural beauty famous for its vineyards. The accommodation comprises 6 individually designed suites , fully equipped and self –contained. The house dates to the XVIII century and was tastefully restored some 10years ago in the Canarian style, using original materials and other antique fixtures and fittings.
The result is an ambience which provides homely surroundings and a relaxing environment. Colour schemes and decoration reflex an eastern approach obtained by using natural pigments along with locally obtained stone , lava and tiling. Also all the materials used are non toxic and ecological, as natural oils to nurture the woods from ceilings and doors as well as lime stone for washing the thick stone walls of the building.
---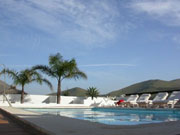 Casa El Quinto
The rural House El Quinto has a natural atmosphere with a modern touch in the center of Lanzarote. The spacious rooms, the luxury of minimalism, the natural light and the harmony of the decoration with the natural surroundings are making this place an ideal holiday for relaxation, peace and quiet.
The grounds of El Quinto was a antique farm with 70.000 Meters which in the year 1939 was bought by Francisco de Armas Martin and Dolores Feo Cabrera .
In the 19 th century this plot had a house with 4 rooms with original brick work and has been restored in the year 2000 to the rural house El Quinto.
---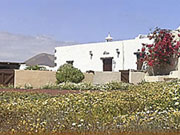 Cortijo Tejia
The holiday cottage "El Cortijo de Tejía" is situated in the centre of the Island of Lanzarote, in the municipality of Teguise, in a very quiet area, near to the beaches and to the golf course of Costa Teguise.
The Cortijo of Tejía is a farmers house restored in 2002 by a descendent of the old proprietors. The restore work was influenced very much by the typical rustic character of the island. The silence and tranquillity of the area is the richness of the house an makes it to an ideal place for a full rest in contact with nature.
It consists of three bed rooms with double beds totally equipped for 6 guests, bathroom, library, living room, kitchen and a separate dining room. The kitchen is equipped with a fridge, electric coffee maker, blender/mixer and cutlery, gas oven and gas cooker. The equipment in the living room includes a SAT-TV, a hi-fi stereo equipment and the coal burning fireside invites you to enjoy the pleasant winter evenings. The outdoor area offers a swimming pool, barbecue and garden furniture to savour meals outside.
---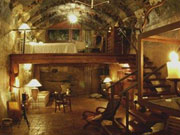 El Aljibe
We rather think of villa El Aljibe as the jewel in our crown. It was once the farm´s water reservoir which we have very carefully converted into a luxurious and truly unique property. The Greek Royal family has stayed here, and the property was featured on the cover of Grand Viajes magazine´s "Top 100 places to stay in rural Spain" supplement. The parcel has 4.500 m2 with 125 m2 for living.
---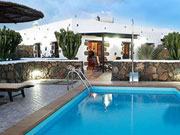 El Caserio de Guime
A rich landowner from Lanzarote, Pedro Bermudez, built the central heart of "Caserio Guime" (today named "Adela's rooms") during the second half of the 18th century, to house those peasants who farmed his lands. José, his son and heir, was later responsible for the first enlargement of the house, by building a new area, this now named "Cristina" in memory of the current owner and restorer's grandmother.
---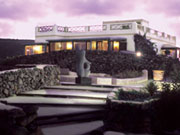 Finca La Corona
These six amazing country suites stand on its own between two of the Lanzarote's most prominent landmarks, the symmetrical La Corona Volcano and Cesar Manrique's fabulous Mirador del Rio, with its panoramic outlook over the azure Straights of Rio and affords spectacular views in all directions. The famous Cueva de los Verdes volcanic caves can be reached by car in under 10 minutes, as can the enchanting underground lagoon at Jameos del Agua, where Manrique created a uniquely atmospheric auditorium and restaurant.
Within minutes of the property you can find excelent walks, including one to what must be the most blissfully untouched beach on the island, Playa del Risco.
---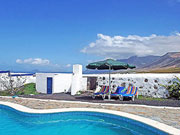 Finca Las Laderas
Finca Las Laderas is located within Famara Natural Park and sits on the side of the spectacular cliff bearing the same name. Finca Las Laderas consists of 3 apartments restored according to the traditional rural style of the island. Each unit has a fully equipped kitchen, dining area, one bedroom, bathroom with shower and terrace. Enjoy your holiday in a 19th century farmhouse, just 4 km. away from Famara, the largest beach of the island.
---

Find out more about
Lanzarote places to stay