How to save on food & accommodation in China
"You get these little dumpling shops in China – all they serve is one or two types of dumplings." Glyn Thorneloe makes a ring with his thumb and forefinger. "They all come about that sort of size. You order by number, so you can get eight or 10 or 12, and you have some sauce with them and they're absolutely beautiful and cost next to nothing." Glyn, China product manager at our small tour specialists Explore, explains that there's a dumpling shop just around the corner from the hotel they use in Xi'an. "It's up this proper little backstreet alley. There are only four or five tables in there and they're plastic, the proprietor doesn't speak any English, and there's steam coming up from behind the counter." He waves his arms up in the air to emphasize and grins. "You know it's all exactly how you'd imagine a small Chinese dumpling shop to be."
Glyn explains that the tours try to avoid big tourist restaurants and buffets and, instead, that travelling as part of a small group tour makes eating at these sorts of places possible. "Our tour leaders are all local," says Glyn, making it easier to support locally-run businesses in poorer areas where English is little-spoken. Dumplings, it seems, go down well among most of their travellers to China, who also rate being able to get a real feel for local life.
Responsible traveller David Pinder on his budget China tour: "Local guides in each region give a window on the everyday lives of residents. Our guide in Ping'an gave us an insight of how our trip supported the local community by helping families stay together sustaining their way of life."
Overnight trains
You're in your little compartment; you, one or two other members of the group, and one or two locals. Somebody comes round and checks your ticket; you pick your breakfast from a list of stuffed steamed buns, milk bread, porridge and eggs. Someone comes by to offer you tea. Dinner options might be a dish of pork and pickles, or beef brisket, but your cabin mates are likely to have brought their own; hot water is on tap and instant noodles are the Chinese traveller's meal of choice.
Most budget China tours spend one or more nights on an overnight sleeper train. Travelling overnight cuts down on time lost touring such a large country, as well as being what makes this holiday more budget-friendly. But, more than that, it offers cultural immersion. "I think it's a really good experience," says Glyn. Overnight trains are timed to arrive in the early morning, so you'll see the train leave the countryside and enter the city, just as it's waking up. "It's a lovely way to arrive into an area," says Glyn, "it's much better than flying."
Spending the night on the rails does mean swapping comfort for a bit of adventure. "You're not going to get the most restful night's sleep on a train," advises Glyn. "It's moving, it's a little bit noisy. But you don't really care because it's such a unique experience." He adds that travellers shouldn't feel nervous about the language barrier between themselves and the train staff in their impeccable, slightly military-esque uniforms. "Even if the English language isn't there, the willingness to – I wouldn't say to help – but they're determined to carry out their duties whatever. So there'd be no 'oh we don't understand each other so we're not going to do this' – if there's a cup of tea on offer you're going to get offered a cup of tea, if there's breakfast on offer you're going to get offered breakfast."
If you'd like to chat about China budget or need help finding a holiday to suit you we're very happy to help.

River boats
Nothing says sleep deprivation like a porcelain pillow. During the Ming dynasty, 12th-century China, ceramic bedding was all the range for keeping the bed cool and eyes healthy – according to contemporary lifestyle guide writer
Gao Lian
, at least. The belief, in China, that a firm bed is better for your back prevails today. It's a cultural preference that might take a little getting used to during your tour. Although, after a noisy night on the train, you can enjoy the higher standards of the sleeping arrangements on the Yangtze river boats.
"We wouldn't call it simple accommodation," says Glyn. "This is quite a budget tour, but the river boat is actually quite posh." Each passenger has their own cabin, there's a restaurant and a bar and, on your individual balcony, you can sit back, relax and watch the river pass you by. Cruising down the Yangtze, you'll have the chance to stop, stretch your legs and explore but, in the midst of an otherwise busy tour, you're offered a few days of total relaxation. "It's not like the train," says Glyn, "you're going to get a really good night's sleep on the boat. It's lovely scenery all over in that part of China and it breaks the trip up nicely."
Rural villages
You wake to the clatter of ducks and roosters in the yard, the background pouring of the watermills and, through the wooden walls, you hear the sound of life stirring in nearby rooms. In the dim light you check your phone, but the WiFi is on the blink. Wooden floorboards creaking loudly with every step, you walk towards the window and pull back the curtains on a tumble of timber buildings, lime green rice fields and the dark, misty mountains beyond.
Dong village guesthouses cater to small groups of travellers, offering a place to stay and the chance to experience an area yet to catch up with much of modern China. Facilities are quite basic, but comfortable. Rooms are en-suite. According to Glyn, the food is typical of the local Guangxi region; spicy, with a variety of fresh water fish dishes and "lots of rice and noodles, and noodles made of rice!"
"It's a poor area that hasn't seen much in the way of tourism, but this is starting to change and bringing in tours definitely helps provide a source of income to the villagers." Glyn explains that the tour has used the same few rural guesthouses now for a number of years, as well as supporting a local project that helps village women over 60 to sell traditional handmade items to visiting tourists. "It gives the older people in the village a way to make a living, and encourages them to keep alive the traditional way of doing things."
More China budget articles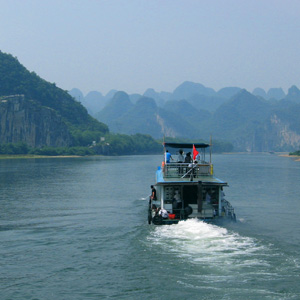 Shoestring travel isn't reserved for students and backpackers. Find out why in our guide.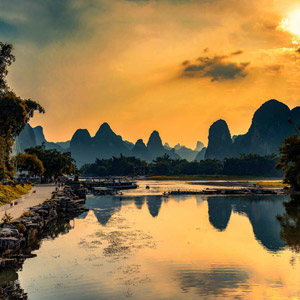 Saving money by taking public transport means you can squeeze in more.