CLIMBING HOLIDAYS TRAVEL GUIDE

Bolted routes up natural rock walls or trekking trails leading between mountain huts and snowy summits; choose your climb, grow in confidence and discover life from a whole new angle.

Imagine waking before dawn to make one final push to the 6,962m summit of Aconcagua in Argentina. Andean views will be absolutely breathtaking, in every sense; this is the highest point in South America. Perhaps you'd prefer to climb closer to the ground on a 300m rock face in Andalusia? You can stay in Granada and learn Spanish as well as tackling a huge variety of rock climbing routes on El Chorro. Summiting and rock climbing hold firm to the adage: 'because it's there', however, there's more to a climbing holiday than simply satisfying an urge. You'll really become enveloped in an area. Local guides and instructors will show you the ropes and explain a local community's relationship with the mountain, the rock face; with nature. Trek up Kilimanjaro followed by a safari or sail around the Dodecanese islands before rock climbing on Kalymnos – our climbing holidays guide is on hand to help you to the top.
WHAT DOES A CLIMBING HOLIDAY ENTAIL?
What is a climbing holiday?
What is a climbing holiday?
We offer two types of climbing holidays: rock climbing, and hiking to the peak of a mountain, also known as summiting. Both types of climbing holiday can include more than one peak or rock formation. For example if you've got plans to head to Ecuador to tackle Cayambe (5,790m), you'll also summit Pichincha (4,784m) and Iliniza North (5,126m) as part of the same trip.
Summiting will invariably involve trekking – not rock climbing – at altitude, so acclimatisation and listening to guide instructions are both just as important as being fit and healthy; in mind as well as body. Depending on the duration of your holiday, you will be rock climbing or summiting at some point during each and every day. There might also be a rest day at the start and end of the trip. On some trips you can combine climbing with a different activity, learning Spanish and rock climbing in Andalucia, for instance, or sailing and rock climbing in Greece. Full instruction and training will also be part of an itinerary, meaning these trips are suitable for absolute beginners through to more experienced trekkers and climbers. Although many climbing holidays don't require any technical knowhow you will need a reasonable standard of fitness to get the most out of a trip.
More about rock climbing
There are thousands of bolted routes across the world and you'll be securely roped on as you make your way up the side of a natural wall and back down again, one bolt at a time. Rock climbing holidays can last anything from five days to three weeks or more, focusing on natural rock formations such as the Todra Gorge in Morocco or El Chorro in Andalusia. Climbing routes will be fixed and will vary in height and difficulty. They will be graded, usually using the French numerical system where Grade 1 is considered very easy and Grade 7 is much tougher and only for experienced climbers. All training will be given by certified professional climbers who know the routes – and the surrounding area – extremely well.
Generally, you'll be based in accommodation which is just a short journey from the main climbing sites. You can also stay on a small boat in Greece, and sail up to the rocks each day for an extra level of zen.
More about summiting
Climbing holidays that involve an ascent to the summit of a mountain will follow a set trail to the top. This can involve strenuous physical and mental exertion at high altitude, plus some scrambling over loose rocks. You might use crampons, ice picks and plastic boots. Local guides, porters and cooks might be employed, to reduce the amount of luggage you need to carry.
Climbs vary in difficulty. The ascent to the summit of Mont Blanc is only for experienced and very fit climbers, with some steep sections requiring 1:2 ratios of guides to climbers. Kilimanjaro, on the other hand, has a much more gradual incline and is suitable for confident hikers, especially if following the Marangu Route. However, you'll still need to acclimatise before ascending. This will keep you safe, as well as increasing your likelihood of reaching the peak.
Who goes on climbing holidays?
Who goes on climbing holidays?
Most of our climbing holidays are small group trips. Groups contain six people on average, with a maximum of around 12. Group members might have a mixture of abilities and experience but training can be adapted to all levels of fitness, skill and agility. Many experienced rock climbers enjoy the benefits of working with a local guide who can show them the types of route available, such as single or multi-pitch or with a specific grading. Some folks who've never climbed before will take part in basic training sessions and can take advantage of easier routes to build confidence. Of course, it helps if you're fit and healthy but it will surprise you just how much technique plays a role in climbing. Mental strength, too, is just as important as physical.
Who'll be teaching the ropes?
Who'll be teaching the ropes?
Climbing guides will usually be from the local area and professionally certified to expert level. It's no exaggeration to say that some guides will have reached a particular peak on hundreds of occasions. They know not only how to teach beginners through to experienced climbers, but also about the places that you'll be visiting. Guides give travellers the chance to meet members of the local community and will often help to promote small businesses and form positive relationships between people living close to climbing sites and those visiting them as guests. Equipment will always be of the highest standard and safety instructions and international guidelines will be followed at all times.
If you'd like to chat about Climbing or need help finding a holiday to suit you we're very happy to help.

CLIMBING MAP & HIGHLIGHTS
Scale Morocco's Todra Gorge and you'll be treated to visions of the High Atlas as well as access to Marrakech via the Tizi N'Tichka Pass. El Chorro in Andalucia boasts over 1,000 rock climbing routes, as well as being close to the Moorish delights of Granada. Sailing is the only way to travel between climbing sites in Greece with scalable limestone crags turning Kalymnos into a dream destination. Mont Blanc is a must for experienced mountaineers, with a speedy ascent making the most of weather windows at 3,000m. Kilimanjaro in Tanzania and Cayambe Volcano in Ecuador both take you some 2,000m higher ,with a reasonable level of fitness, and an unquenchable thirst for adventure, all that's required to reach the top.
1. Aconcagua
Ascend Argentina's Aconcagua (6,960m) via Valle de las Vacas and you'll know what it means to be on top of the world. This awesome Andean heavyweight may not require technical experience but you will be using crampons, ice picks and fixed ropes as well as experiencing extreme weather conditions at high altitude. Set aside three weeks at Christmas to acclimatise and successfully summit.
2. Dodecanese islands
One of the best ways to reach the limestone rocks and climbable crags of Greece is by sailing boat. The Dodecanese islands of Kalymnos, Pserimos, Leros, Lipsi and Kampos are absolutely no exception. Living on board a boat gives you every chance to really become immersed in all things Aegean with hundreds of different rock climbing routes, on various islands, suitable for all levels of experience.
3. Kilimanjaro
Trekking to the top of Kilimanjaro in a week is a challenge. It is an achievable one though, and no technical expertise is required to reach the highest peak in Africa – Uhuru (5,896m). Trekkers follow one of two routes: Machame which is steeper and involves camping, or the more gradual Marangu Route, lined with mountain huts. Tag on a safari in Serengeti National Park as part of a two week Tanzania trip.
4. Mont Blanc
Summiting Mont Blanc in a week requires ice picks, crampons and alpine climbing experience, while the speed of ascent will push the fittest climbers to their limits. There's only one window of opportunity from mid-June to mid-September, and weather conditions will play a pivotal role. Guides will decide which route – the Gouter or the Cosmiques – will be the most suitable.
Sierra Nevada National Park
5. Sierra Nevada National Park
El Chorro – a limestone gorge in Sierra Nevada National Park – is home to well over 1,000 rock climbing routes featuring a variety of collapsed walls, carved columns and sheer rock faces. Combining Spanish lessons each morning in Granada with rock climbing in Los Cahorros during the afternoon is great for cultural climbers looking to make the most of life both in and out of the city
6. Todra Gorge
Carved through the centuries by the river bearing the same name, Morocco's Todra Gorge provides rock climbers with strapping, sheer sided walls and more than 150 bolted routes to take you to new heights in the High Atlas. Expert local instructors provide advice on techniques and training as well as insight into the isolated Berber villages and unspoiled scenery that you'll experience at every step.
More about Climbing
Get to grips with the basics, discover what rock climbing entails and find out why respecting the rock and the surrounding environment is just as important as understanding the wishes of local people.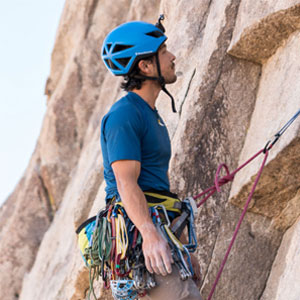 Get to grips with the basics, discover what rock climbing entails and find out why respecting the rock and the surrounding environment is just as important as understanding the wishes of local people.