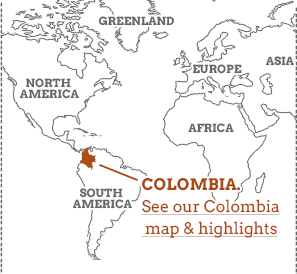 It could be the potent coffee of the lowlands, the mind-bending heat and humidity of the coast, or the lack of oxygen in the Andes – but somehow, when you travel around Colombia everything feels a little dreamlike, and the distinction between truth and fiction starts to blur. Begin in Bogotá, where hipster youths lean on political graffiti-clad walls of colonial buildings, against a breathtaking Andean backdrop. Move on to cobbled colonial villages, where you'll believe time stopped 300 years ago, as you sip sweet chocolate con queso in whitewashed cafes.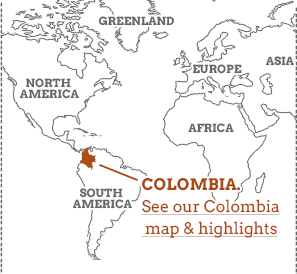 Any fan of Gabriel García Márquez's novels will admire the way his words tint the everyday with sparkles of magic and surrealism. Visiting his homeland, you'll understand where this insight comes from.

Canoe through the Amazon, where pink dolphins frolic in the flooded forests as monkeys and macaws shriek in the background. Then head to the coast, where the country's highest mountains overlook calm, Caribbean waters. Nearby, the streets of candy-coloured Cartagena echo to the sound of beating congas, the clatter of hooves, and the calls of Afro-Colombian women balancing bowls of pineapple and papaya on their heads.

Read on in our Colombia travel guide.
Colombia is…
home to around 10 percent of all the earth's species. It is the second most biologically diverse country in the world.
Colombia isn't…
dangerous. The few pockets of trouble are far from the tourist trail, leaving you to wander worry free.

UNDERRATED

RATED

OVERRATED
Eating & drinking
Like much of South America, Colombian food is based on meat and carbs, with fried fish popular along the coast.
Bandeja paisa is the national dish. Ingredients vary, but usually include steak, sausage, fried egg, rice and beans, corn arepa, plantain and pork crackling. Oh, and sliced avocado, just to balance things out.
Lechona is suckling pig, stuffed with rice, pulled pork and peas, and roasted for hours. It tastes considerably better than it looks…
Café con queso is literally coffee, with chunks of cheese in it. You can also dunk cheese into hot chocolate.
Culture & language
Spanish is Colombia's national language. Indigenous people comprise around 3.4 percent of the population, with almost 90 ethnic groups, mostly in the Amazon. Along the Pacific coast are Afro-Colombian communities, descended from former slaves. Do learn as much Spanish as you can, it will be gratefully received and will make things easier for you.
For a real cultural icebreaker, we recommend learning a few steps of salsa or cumbia – which could be described as Colombia's real national language. Two left feet? Try a few words in Chibcha, the language of the Muisca people:
Chibú/Yswa = Hello to one person/more than one
Haspkwa sihipkwá = Goodbye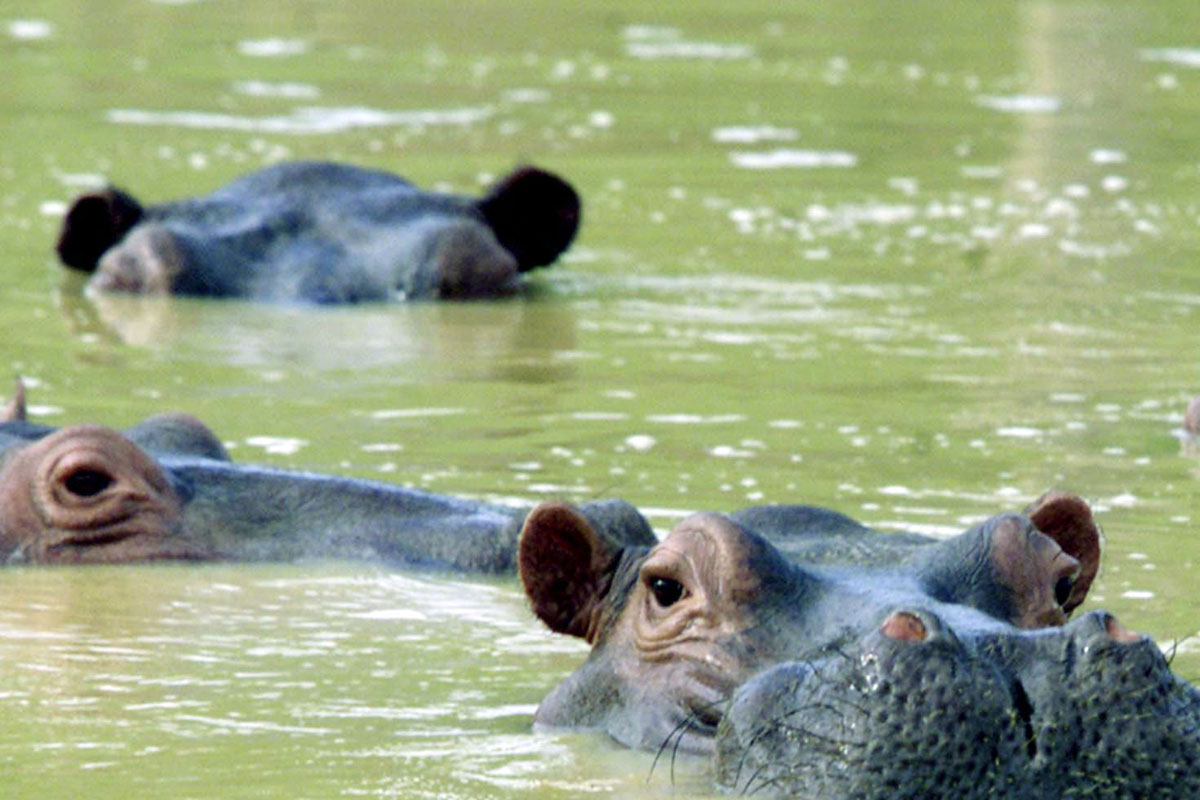 There is a growing herd of wild hippos in Colombia – the descendants of four hippos that Pablo Escobar kept in his own zoo. No one is quite sure how to contain them.

Gifts & shopping
Take a tour of a coffee finca and pick up some fresh coffee direct from the farmer while you are there.
The indigenous Wayúu weave traditional bags, known as mochilas.These are colourful and practical – pick them up around the Sierra Nevada de Santa Marta.
Pre-Colombian communities were expert goldsmiths, particularly renowned for their intricate filigree. Modern day Colombians continue the tradition in Mompós, where you can buy jewellery from a local maker.
Budget flight Bogota to Cartagena: £15-£60
Tinto (small black coffee) from a street vendor: 15p
Entry to the Gold Museum: £1
Ferry Cartagena-Islas del Rosario: £15
Handmade Wayúu mochila: £25-£50

Colombia is the only South American country with Pacific and Caribbean coastlines. Its Sierra Nevada de Santa Marta is the highest coastal mountain range in the world, reaching 5,700m.

If you'd like to chat about Colombia or need help finding a holiday to suit you we're very happy to help.

A brief history of Colombia
Colombia has an incredibly rich human history dating back over 14,000 years. Although it mostly lacks the vast archaeological sites left by neighbouring Incan, Mayan and Aztec empires, it does have an astonishing wealth of artifacts, thousands of which are well preserved and visible today in the country's superb museums. You can happily spend a few hours in Bogota's Gold Museum, for example, and marvel at how the Europeans ever considered this phenomenally skilled society to be 'uncivilised'.
Read more