Things to see & do in San Agustín
Hundreds of bizarre, half animal-half human statues of mythical creatures and gods dot the densely forested hillsides of San Agustín. One of South America's most important archaeological sites, the lush surroundings hide hundreds of pre-Columbian burial sites and carvings believed to date to between the 1st and 5th Centuries AD. This UNESCO World Heritage Site – South America's largest collection of religious and megalithic monuments – is an undeniably fascinating stop on both small group and tailor made Colombia tours.

But while you'll enjoy a guided tour of the site in the company of an expert local guide – who'll share stories of myths, mystery and human sacrifices – a visit to San Agustín is much more than a dive into Colombian ancient culture. Explore the shaded plazas and cobbled streets of the eponymous colonial town tucked next to the archaeological park, visit sugar cane and coffee plantations or hike and horse-ride among verdant valleys, waterfalls and pounding rivers.
San Agustín Archaelogical Park
Very little is known about the cultures that created the carvings and burial chambers protected by the San Agustín Archaeological Site. That they practised human sacrifice is undeniable – around a third of the circular burial houses have been excavated revealing human remains as well as other offerings to the gods. The mystery surrounding San Agustín's origins pervades all parts of the park – reflected in the intricate carvings of mythological beasts, and the somewhat sinister smiles of the rock-hewn gods.
While the park itself is centred around a particularly high concentration of graves and statues, the remains of the civilisations which created them have been found scattered over a 50km2 area on the plateaus of the canyon cut by the upper reaches of the thundering Magdalena River. It's theorised that the forests and hills around San Agustín hide many more statues, burial chambers and even pyramids that are yet to be discovered.
The San Agustín Archaelogical Park is made up of six separate sites and you can choose either to take a guided tour or to wander the well-marked paths at will. Mesitas A, B and C are large artificial mounds (some over 30m in diameter) and terraces that hide burial chambers complete with statues of carved stone depicting a range of animals, mythical beasts and gods. The mounds, some of which have been excavated, cover tombs lined with elaborate stone corridors, pillars and columns – thought to be of the most elite of the complex societies of ancient South America.
Paved paths criss-crossing the park take you past the Mesitas and onto the to Fuente de Lavapatas, where stream water runs through channels carved into the stone in the silhouettes of snakes and lizards. A gentle stroll also takes you through the Bosque de Estatuas, literally translated as the Forest of Statues. This trail through the steamy cloud forest is littered with statues that have been found across the region. The Alto de Lavapatas site, the highest in the park, offers a panoramic view of the surrounding mountains.
Getting active in San Agustín
The deep canyons and lush forests surrounding the small town of San Agustín and the Archaeological Park call out for more active adventures. And to visit this part of Colombia, and only spend your time immersed in its ancient history is to do a disservice to what else this area has to offer. Hikes and horse-rides can take you past sugar cane and coffee plantations – some of which will open their doors to visitors keen to learn more about these traditional Colombian industries – or to the Magdalena River Gorge, where huge carved figures can be seen in the rocks high above the thundering water below. If you'd prefer not to hike then jeep tours can be arranged. Or, if you've not satisfied your adrenaline fix, then white water rafting is also an option on the Magdalena River.

The small town of San Agustín is the perfect antidote to a day of excitement, with colonial houses, quiet cobbled streets and shady plazas.
Our top Colombia Holiday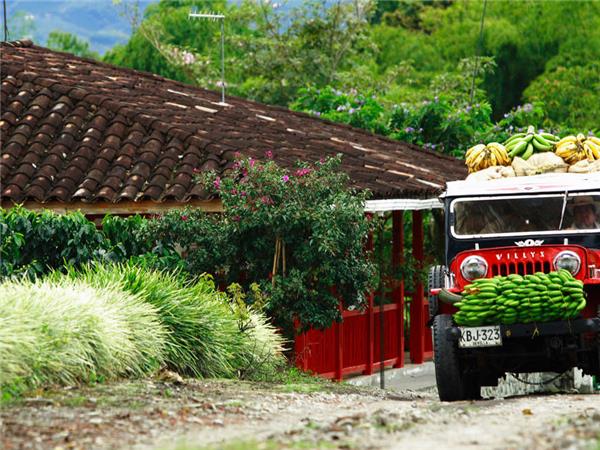 A comprehensive overview of Colombian diversity
From
£2720

to

£3599
13 days
ex flights
Small group travel:
2023: 7 Oct, 21 Oct, 4 Nov, 18 Nov, 20 Dec
2024: 13 Jan, 20 Jan, 10 Feb, 24 Feb, 9 Mar, 29 Jul, 5 Oct, 19 Oct, 2 Nov, 23 Nov, 18 Dec
If you'd like to chat about Colombia or need help finding a holiday to suit you we're very happy to help.

Once off-limits and difficult to access before the demise of the Revolutionary Armed Forces of Colombia (FARC) and the end of the country's guerrilla civil war, San Agustín is now a safe and fascinating place to visit. Two to three days is usually enough time to explore the Archaeological Park as well as the emerald-green hills and valleys surrounding San Agustín town.
Whether on a small group tour or a bespoke itinerary, you will usually enjoy a guided tour through the main sights, before having time to wander at your will. The presence of an expert local guide brings the history and mystery surrounding this place to life. It is thought that the statues depict the ancient beliefs linking deceased ancestors to supernatural powers, and your guide will share the myths, legends and stories of human sacrifice which colour every corner of the park. Don't miss a stop in the Archaeological Museum at the park entrance – which will help put everything you'll see in context.
Most of the walking in the park is gentle – but will take a few hours to explore in full - with marked paths linking all the main sights and clear maps available at the entrance.
San Agustín is easily reached from the pretty colonial city of Popayan – although the roads between the two can be a bit bumpy - and many tours will combine time in both.
Best time to visit San Agustín
December to March are usually the driest months in the Andes – so if you want to explore San Agustín in the sunshine this is a good time of year to travel. Be aware, though that this area is humid and lush for a reason – rain can make an appearance at any time of year. You're unlikely to get cold if it does come down – temperatures in San Agustín at this time of year hover in the early to mid twenties Celsius.

May to July, and October to early December can get soggy – but the rain eases off in between, so if you're planning a trip to Colombia to tie in with European school holidays then August can be a good option.