CUBA FAMILY HOLIDAY HIGHLIGHTS
You could book a centre-based trip to Cuba, but really, why bother? If you want a stop 'n' flop holiday, stick to the Costas - Cuba demands exploration. Most family holidays in Cuba tour the scenic west, taking in Trinidad, Havana and Viñales, and leaving out eastern Cuba, to keep drive times and distances manageable. Book a tour with a driver guide included, or self drive following a tailor made itinerary. This works brilliantly with kids; go at your own pace, stop for a snack/swim/stretch any time and no need to heave luggage around. Roads can be potholed and poorly signposted, but aren't busy, and some
self drive holidays
swap the car for a comfy bus on longer journeys, to give the driver a break.
1. Beaches & islands
Cuba's
idyllic beaches
provide chill out space that suits all ages. Playa Ancón is a gorgeous arc of white sand, while the famous Bay of Pigs boasts clear waters for snorkelling. From Trinidad, take a day's boat trip to Cayo Iguana, home to Cuban iguanas, or Cayo Blanco, to spot dolphins and snorkel. Once in Viñales, you're close to Cayos Levisa and Jutías, tiny islands with a castaway vibe.
2. Cienfuegos
This pleasant city has a European feel: candy-coloured palaces, whitewashed churches and a cool sea breeze make it the 'Pearl of the South'. Hang out with the locals along the Malecón, relax with a boat trip across the bay or visit the botanical gardens. El Nicho National Park is an hour's drive away, where you can splash by waterfalls and swim in natural pools.
3. Havana
The Caribbean's best-loved city, Havana's old quarter is a UNESCO site and exquisitely atmospheric. People pedal round cobbled streets, classic cars cruise the Malecón, musicians strum and sing on every street corner and sloppy Spanish echoes from every half-empty, crumbling home. Check out the cultural centres, artists' studios and well preserved theatres. Explore on foot or in one of its iconic 1950s cars.
4. Las Terrazas
This pioneering eco-village and UNESCO Biosphere Reserve, home to about 1,000 people, is fun to visit with children. Take a zipline and canopy tour through the trees, or pop into the coffee shops and explore the artists' open studios. Stroll into the forested hills around, cooling off in river pools, or head to the lake, home to monkeys, flamingoes and birds, and hire a rowing boat.
5. Trinidad
Founded by the Spanish and later used as a base for French settlers fleeing nearby Haiti, Trinidad's colourful history is reflected in its perfectly preserved architecture, the ruins of the surrounding sugar mills, and Afro-Cuban religions. The plaza comes alive with salsa rhythms at night – this is one of Cuba's best live music destinations. The beautiful beach at Playa Ancón is a pleasant bike ride away.
6. Viñales
This laidback, agricultural town sits in a lush valley, where spectacular mogotes – conical towers of limestone – rise up amid organic farms and tobacco plantations. You could spend days here. Explore hidden caves, go horse riding or bike to tranquil lagoons, spot hundreds of birds and butterflies, wander the streets with their pastel-painted buildings and listen to salsa in the plaza each evening.


CUBA FAMILY HOLIDAYS ADVICE
The welcome you can expect
The welcome you can expect
Kelly Perks is the resident Cuba expert for our supplier Stubborn Mule Travel, which specialises in family-friendly adventures. She has this advice on taking the kids to Cuba:

"You will doubtless receive a warm welcome throughout Cuba, especially in the countryside areas where fewer tourists go. Cubans are genuinely friendly and engaging people, keen to chat – even if both sides just have a smattering of 'Spanglish'! Teenagers may feel a bit more reserved than small kids, who are sometimes less shy and instantly engaged, but will soon feel relaxed in their home away from home and will soon be taking selfies with their new friends. Even walking around in busy Havana, ordinary people may say 'hola, buenos días' and ask how long you're staying for. Be friendly and have a quick chat. They don't normally want anything and will just wish you a great trip, then be on their way.'
Staying in a casa particular
Staying in a casa particular
"If staying in a casa particular, the resident family will not only be your hosts, but will also become your friends while you stay. Expect big smiles, generous breakfasts al fresco, the odd impromptu salsa lesson, and a huge hug when you leave. There is a door facing the road which will be locked (you will have a key), meaning that no one could walk in off the street, giving you peace of mind. With younger kids, it's ideal as the vast majority of casas only have two rooms, and therefore no other guests, so you can happily put the little ones to bed while you sit up and have a mojito on the rooftop terrace or down in the courtyard – bliss."
Our top Cuba family Holiday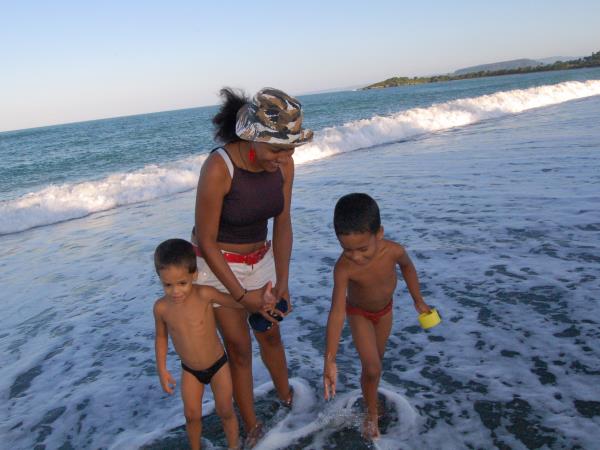 Family holiday Cuba for parents & children
From
€1450
15 days
ex flights
Tailor made:
This trip can be arranged at a time to suit you, and adapted to your requirements
If you'd like to chat about Cuba family or need help finding a holiday to suit you we're very happy to help.

Taking a tour in a classic 1950s car
Taking a tour in a classic 1950s car
"It's highly recommended! Kids find it such fun to cruise around Havana in the coolest looking cars. The driving in Cuba is laidback and friendly – it's the opposite to driving in somewhere like Cairo! – no aggravation and nice and slow. The lack of seatbelts is not an issue while touring Havana in a classic car. The fact that most families would be split between two cars (due to a maximum of two to three people per car) is not a drawback as it means you can take photos of each other and the drivers will stick together as much as possible."
What to pack
"Don't forget your toiletries, as it's not easy to buy nice shampoos or shower gels, and good quality, good value sunscreen is also not easily found. If the children are fussy eaters and you want to carry a jar of marmite or Nutella then that's also a good idea. There is hardly any WiFi in Cuba and to access it you need to buy a card, so if they like to play games on a device make sure the games are already downloaded and don't need a signal to play."
More about Cuba family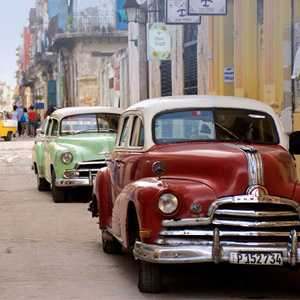 Beautiful beaches, lush forests, warm culture and heaps of outdoor activities will keep all generations busy, whether travelling with tots or teens...
At Responsible Travel, we think the best people to advise our travellers are often... other travellers. They always return from our tours with packing tips, weather reports, ideas about what to do – and opinions about what not to.

We have selected some of the most useful family holidays in Cuba tips that our guests have provided over the years to help you make the very most of your holiday – and the space inside your suitcase.

If you've got kids that play soccer take a ball with you – futbol is universal...

"If you've got kids that play soccer take a ball with you – futbol is universal. Speaking Spanish is a plus. All our guides on tours spoke good English, but I was able to learn much more from people by having conversations in Spanish. Before going I was a little uneasy about how travelling with my family would be in Cuba because of the politics, their limited resources, and how they might view people from the USA. Once there I felt very comfortable, had relaxed, easy interactions with people, felt safe walking at night – there were people out and about all the time. Despite their struggles and troubles we found the Cuban people to be warm, friendly, helpful and hospitable." – Rebecca Pollens

"Think about the distances you might have to drive. If you have a hire car download maps to your smartphone before leaving for Cuba as cars do not have sat nav. There are very few good service stations on the main A1 and A4 so make sure you have water, snacks and petrol before starting each leg of the journey." – Elayne Farmer

Cuba is such a wonderful country, but it is also a country that has simple infrastructure. Manage your expectations and some of the challenges will turn into fabulous stories for later rather than pain points.

"We have travelled outside Europe before with children, and were prepared for the calculated risk of no seatbelts in our tour vehicle. We'd advise parents to think this one through and accept the risk, or clarify the seatbelt situation in advance." – John Walker

"Take plenty of gifts to give away: soap, pens, paper, shampoo and conditioner. Be generous with your tipping since Cubans need the tourist dollar just to survive. Interact with the locals. We did this by chatting with people at the markets, using local guides, staying in the casas particulares. Take a torch for walking back to your casa in the dark." – Ant Rigner

"Don't take smart clothes – it's a relaxed holiday. A fan would be useful and sun protection and comfortable footwear are essential as there is gentle walking in cities or in the countryside." – Elizabeth Morgan