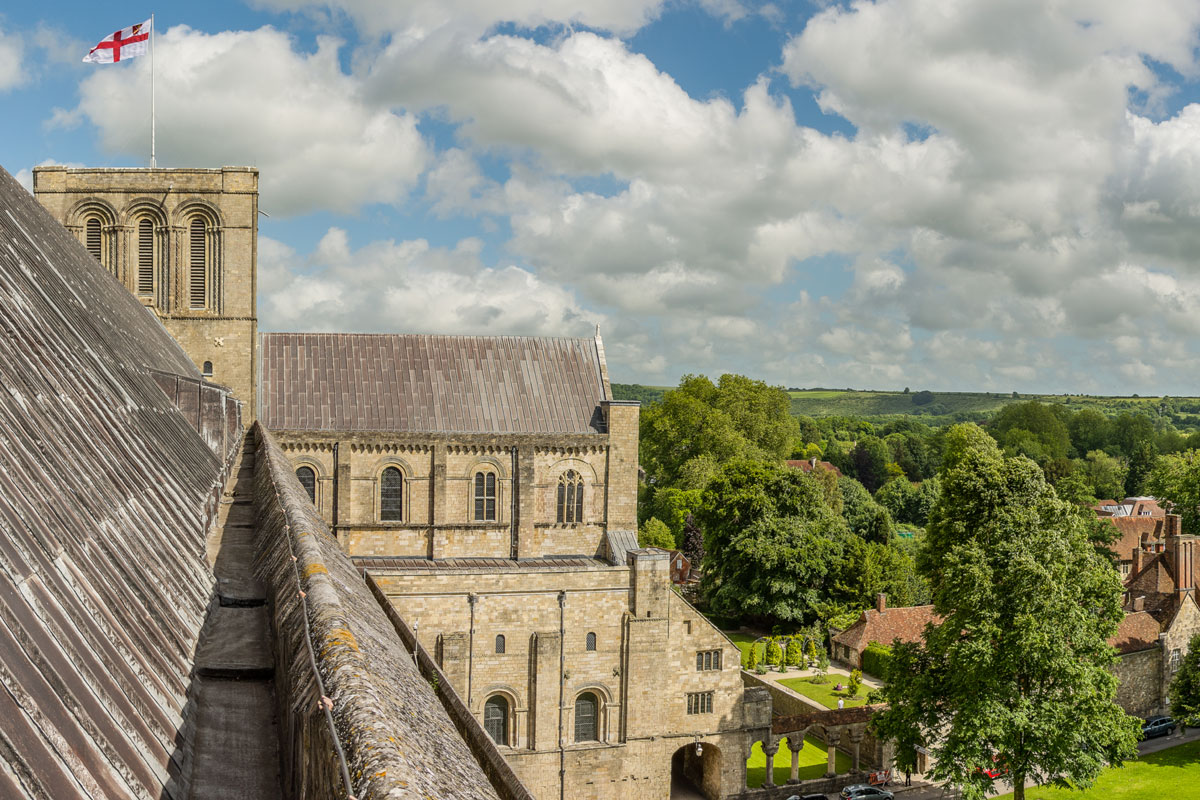 The pilgrim is humble and devout, and human, and charitable, and ready to smile and admire; therefore, he should comprehend the whole of his way, the people in it, and the hills and the clouds, and the habits of the various cities.

It seems as if literary influences and walking trails in England go hand in hand, and the Pilgrims' Way that stretches for nearly 200km between Winchester Cathedral in Hampshire and Canterbury Cathedral in Kent is no exception. As an ancient byway dating back as far as the Stone Age because of its topography that forms a natural causeway, pilgrims have followed this path to Canterbury since the 12th century in order to pay respects to Saint and martyr Thomas Becket. The fomer Archbishop is enshrined at Canterbury Cathedral, where he was murdered in 1170. The route was brought back to the attention of the travelling public in the 20th century by Anglo-French writer and travel essayist, Hilaire Belloc. Indeed, it is sometimes described as Belloc's Old Road. The original medieval pilgrims and their colourful stories were, of course, fictionalised in Geoffrey Chaucer's Canterbury Tales.
The route
The actual route that pilgrims followed between these two magnificent cities has been difficult to pin down over the centuries, but there is a very natural artery that follows a ridge at the top of the North Downs. Starting in Winchester, and taking time to visit its cathedral which is a hive of not only spiritual but also cultural activity, your trip gets off to a fine start by climbing up to its tower, and taking in views of the countryside which beckons.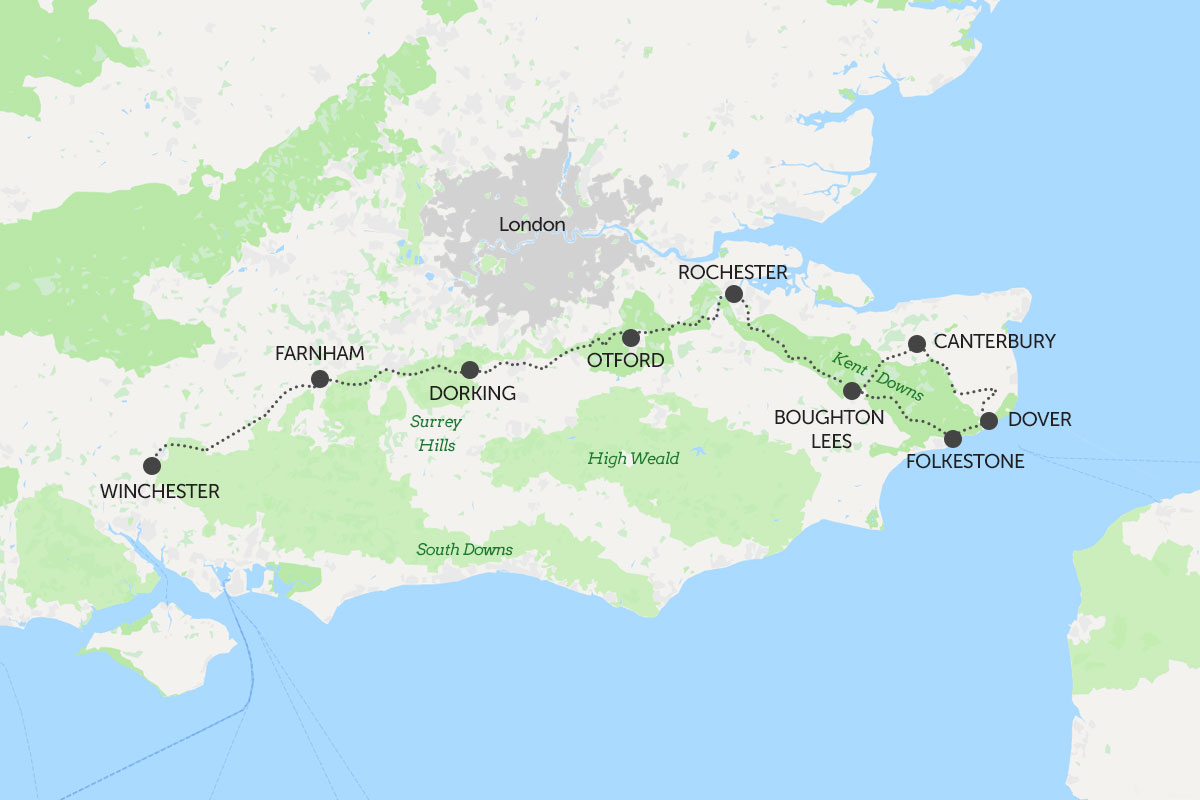 The Pilgrims' Way merges with other walking routes, which can make it all a little confusing, but hey, who said religion was straightforward? The 'good news' is that it is mostly flat, however, with a few uphill challenges just to keep you on your toes. Between Winchester and Farnham you follow St Swithun's Way (whose memorial shrine can be at Winchester Cathedral) passing through the Itchen Valley and passing pretty towns of Alresford and Alton, as well as Chawton which was Jane Austen's home. You then move on to the soothing waterfront trail along the River Wey. If you are walking on the St Swithun's Way section on 15th July, you may want to remember this well known proverb:

St Swithun's day if thou dost rain
For forty days it will remain
St Swithun's day if thou be fair
For forty days 'twill rain nae mare.

From Farnham, the Pilgrims' Way pretty much follows the North Downs Way to Canterbury as the ancient routes have now become busier thoroughfares. You will walk along yew tree lined paths, over chalk grassland, through expansive meadows, ancient woodland and past babbling brooks, as well as a few churches of course. These include ruins of St Catherine's Chapel which was an important pilgrim church, dating from the 13th century, near Runfold Wood Nature reserve. Or St Martha's Church, perched up on a hill at Albery with wonderful views to soothe the soul. More stunning views across the Weald await at Box Hill, one of the summits of the North Downs, as well as part of the Surrey Hills Area of Outstanding Beauty. Its name comes from the ancient box woodland on one of its slopes, overlooking the River Mole.

If you want to read one book before you head off on your pilgrimage or walking holiday, Make it Derek Bright's
The Pilgrims' Way
, published by History Press

For travellers who don't have two weeks to spare to walk the length of the Pilgrims' Trail, this is one of the most popular sections, which takes six days to complete and covers 72km. Rochester is another historic cathedral city on the River Medway and also famous as the home of Charles Dickens. His famous quote, "No one is useless in this world who lightens the burdens of another" will seem thankfully apt as you hand over your luggage to be transferred from one inn to another and head off on the walking trail.
Still following the North Downs, great spots along the way include the Dirty Habit pub in Hollingbourne, in homage to the many pilgrims who have passed through here. Indeed there is a beautiful sculpture of a pilgrim resting near the pretty village of Lenham just 7km away. Kings Wood is another glorious part of the trail and the largest in Kent, where pilgrims took cover in fear of robbers. They will have found faith again upon exiting the woods, as this is the first time you catch sight of Canterbury Cathedral in the distance, just 11km away, before passing through orchards and nature reserves, and finally into the magnificent historic city itself.
This section of the Pilgrims' Way is also one that is bursting with food from the Garden of England. As well as getting delicious breakfasts, your accommodations will prepare picnic lunches for you with Kentish cheeses, homemade breads, Kentish chutneys and of course fresh, local fruit in season. All food for the soul.
If you'd like to chat about England walking or need help finding a holiday to suit you we're very happy to help.

More England walking articles