Walking holidays in the Lake District
Let's face it: as a walking holidays destination, the Lake District has been discovered. Way before William Wordsworth penned his poem I Wandered Lonely As a Cloud whilst walking with his sister through Glencoyne Park in 1802, this region of North West England has been calling to lovers of the great outdoors. These days, guidebooks, websites and tourist information centres offer stacks of information about where to walk and where to stay. And, as with many of England's natural treasures, there is little, if any, restrictions on how many people can visit locations like Kendal, Bowness-on-Windermere and Keswick at any one time.

The Lake District has become England's busiest national park. School summer holidays and weekends, especially, find car parks, tea shops and lakesides crowded with day trippers and tourists. Thankfully, the Lake District is also England's largest national park. This means that there are plenty of wide-open spaces and reflective views for everyone to enjoy – if you know where to look.

Local walking guides offer access to not only the lesser-known fells and hillsides, but also the folklore tales and fascinating heritage of the lakes and mountains. Guides will also explain how to walk responsibly so as not to damage the environment, and which local issues need to be taken into consideration before you set off. As Gemma Chase from our Lake District specialists, Ramblers Walking Holidays, explains: "Most of our walks in the Lake District take you off the beaten track, away from well-trodden tourist trails. We provide an experienced tour leader on each walk who knows the area inside out."

Finding out how your presence in the Lake District can avoid adding to overcrowding and benefit local people will not only make for a better holiday, but is vitally important to ensuring the area is left as you found it for future generations.
What's the best way to walk in the Lake District?
Unfortunately, not everyone appreciates just how important it is to respect the park when they arrive. As Gemma Chase from our Lake District experts, Ramblers Walking Holidays, explains: "Some visitors are not sensitive to or aware of local rural issues and have a lack of appreciation for the
Countryside Code
. For instance, dogs are often seen out of control and worrying sheep. This is a particular issue for hill farmers."
Walking with a guide is the best way to experience the area as a whole and not add to environmental issues. Sometimes we can simply not understand what's important to avoid. Muddy paths, for example, are a great cause of erosion in the Lake District. This often happens because of excess footfall on footpaths, and ever widening paths due to people trying to avoid mud. Walking with a guide allows you to avoid these sorts of problems or at least negotiate a muddy path in the correct way.
Overcrowding as a result of the national lockdown placed a particularly heavy toll on the area: "The Covid restrictions in 2020 caused an influx of excess visitors to the Lake District, which resulted in significant traffic congestion, pollution and indiscriminate parking" says Gemma. "People were cutting down trees for firewood, damaging walls and fences. They were camping illegally and leaving litter. Local infrastructure is unable to cope with excess visitor numbers – people are literally loving the Lake District to bits!"
National park warden and Ramblers Walking Holidays guide, Derek Tunstall, explains why it's important to gain outdoor skills before wandering around the Lake District: "The countryside is open for everyone, but it is not a theme park and people's thoughtless actions have an impact on local people. We encourage people to gain the outdoor skills necessary, such as navigation skills, which will give them the confidence and freedom to explore wider and not be restricted to popular, overcrowded honey pot locations."
Where can I stay in the Lake District?
Staying in the area longer is the best way to plan a walking holiday in the Lake District. If you whizz in for a weekend or turn up for a day you risk limiting yourself to the popular towns and busy lakesides. If you can, seek out independently owned accommodation away from busy locations such as Windermere, Keswick, Ullswater and Grasmere – you'll get a much more authentic experience with a lot more room to roam.
As Gemma from Ramblers Walking Holidays points out, where you stay in the Lake District can make a lot of difference to local people: "Whilst many in the Lake District rely on tourism, properties bought as second homes or holiday lets are inflating local property prices, causing many young locals on low incomes to move out of the area to live and work. This is having the effect of killing off local infrastructure such as shops and schools, resulting in ghost villages. This is not the picture box rural idyll many people think it is."
Guided walking holidays encourage you to meet local guest house and hotel hosts, as well as giving you an opportunity to stay in locations that aren't always overcrowded. Places like Buttermere, for example: "Our property located on the shores of Lake Buttermere is the only hotel in the area to offer a lakeside location, with views of the mountain ridges opposite. We run a variety of holidays from here, from yoga and walking to scrambling – there really is a holiday to suit all levels of walkers here."
Our top trip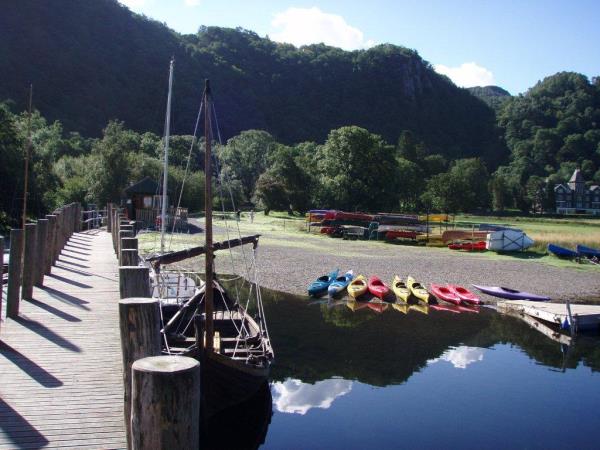 Walk, climb, abseil and canoe around the Borrowdale Valley.
From
£1175
7 days
ex flights
Small group travel:
2024: 30 Mar, 6 Apr, 13 Apr, 25 May, 29 Jun, 6 Jul, 13 Jul, 20 Jul, 27 Jul, 3 Aug, 10 Aug, 17 Aug, 24 Aug, 19 Oct
If you'd like to chat about England walking or need help finding a holiday to suit you we're very happy to help.

When is the best time to walk in the Lake District?
Either side of summer is the best time to go walking in the Lake District. Accommodation prices are lower, car parks are less crowded and many of the national park's sign-posted trails are all but bereft of tourists. You can walk when there's snow on the higher fells, too, and there's nothing that beats a Westmorland lamb hotpot by a roaring pub fire to warm you up after a rustic winter ramble outdoors.
Walking in the Lake District at any time of year does come with a caveat: this is England's wettest region. In fact, the tiny town of Seathwaite, between the parishes of Borrowdale and Buttermere, holds the not-always-welcome title of 'wettest place in England'. So, you're going to need to be prepared with waterproofs if you want to see leaping lambs and nodding daffodils in spring. Autumn will also require plenty of layers, as well as stout, well-heeled walking shoes so as to confidently tackle slippery, leaf-strewn tracks.
More England walking articles