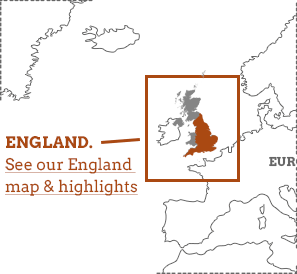 It really doesn't matter whether you've lived in England all your life or you're visiting from distant lands; there are plenty of country tracks, coastal trails and historic towpaths to invigorate even the most wizened of world-weary travellers. There's no better way to get around other than two feet or two wheels and packing your bag for every eventuality, weather-wise, gets you out of doors without a moment's thought.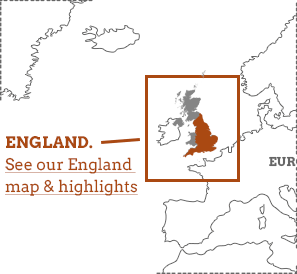 Get out of the cut-and-paste high streets and into the rural lanes and remote villages as a holiday in England lets you walk, rest and play all year round.

Crossing counties unlocks dialects and colloquialisms unbeknown to the rest of the country and if you're ever asked the question: 'does one apply jam or cream first to a scone?' having first-hand experience is essential prior to confidently committing to an answer. Outdoor summer festivals, frosty winter mornings, newborn spring lambs and autumnal bonfires making dark nights sizzle; there's a reason why England's a great place to visit but that, of course, would be telling.
England is…
centuries of history, culture and majestic natural landscapes that can easily and responsibly be explored on foot, on two wheels, by water or by train.
England isn't…
just London. Nor is it the same as Great Britain, or the United Kingdom. It's not raining all the time either. And the food is much better than you might think.
What we rate & what we don't in England
Knepp Castle Estate
At Knepp Castle Estate a process of habitat restoration and rewilding has seen the return to West Sussex of rare species such as nightingales and peregrine falcons. Mini safaris here are led by specialist guides, and will bring you up close with English wildlife big and small.
Long distance walks
England has a wealth of long distance walks that show off magnificent landscapes, and can be conveniently split into holiday-sized stages with tailor made itineraries. Walking holidays allow for a leisurely pace, and offer a way to explore English history, culture and food. And its pubs.
English food
English food is no longer the punchline to a joke. Staying in the countryside allows you to discover some of the finest regional cuisine, from Devon to Kent, Yorkshire to Sussex, and of course eating locally sourced food may be the best thing you can do to reduce the carbon footprint of your holiday.
South Downs National Park
Spanned by the 160km South Downs Way and lined with postcard-perfect villages and market towns, the
South Downs National Park
was only created in 2011. You can find dozens of
South Downs accommodations
a short journey from
Knepp Castle Estate
.
Lake District
The Lake District is among the most picturesque regions in England, inspiring writers from William Wordsworth to Beatrix Potter, while its fells, valleys and woodlands are a walker's paradise. Consider going by public transport, avoiding summer, and staying for a few nights so that the local community benefits from your holiday too.
Devon
Devon is another wonderfully attractive part of England, with Blue Flag beaches and the Jurassic Coast, dramatic moorland scenery in Exmoor and Dartmoor, and lush rural scenery in the countryside. There is any number of fantastic ways to explore
Devon
, from sea kayaking to walking a stretch of the
South West Coastal Path
, but if you want to take it nice and easy then consider a stay in an eco lodge surrounded by wildlife.
Train travel
England is among the most densely populated countries in Europe, and getting stuck in traffic jams is something of a national sport. The best way to take a holiday in England is going by train – convenient, relaxed at least compared to the car, and of course much more eco friendly than flying around.
Historic attractions
Historic attractions, from ancient castles, stately homes, palaces and cathedrals to Roman ruins and World War II fortifications, can be found across England. Kids will love playing at knights on castle walls, and exploring secret dungeons. England's history is as fascinating as it is long.
Lulworth Cove
Horseshoe-shaped Lulworth Cove is one of southern England's loveliest beauty spots, but suffers from
overtourism
. Come in the winter instead, and while you still won't have the cove to yourself you will at least be able to walk along the beach without jumping over other people's legs.
Falmouth
Falmouth in Cornwall also sees hordes of holidaymakers descend every summer, causing chaos for residents with traffic jams, lack of parking spaces and inflated prices. Stay out of town instead, in
rural accommodations
that are peaceful and quiet, easing the pressure on hotspots that could really use a holiday
from
tourism.
Short city breaks
We're not fond of short city breaks in places such as London, Oxford or Brighton. Why spend your holiday on crowded pavements and public transport, visiting the same overloaded attractions as everyone else, when you could be amid picturesque, peaceful countryside instead? Do yourself a favour and leave the city behind.
Stonehenge
Stonehenge is really ancient: built sometime between 3000 BC and 2000 BC, and really busy too, attracting around 1.5 million people every year – it's an easy day-trip from London. Tickets are hugely expensive to queue for ages with hundreds of other people before a quick walk around the stones, keeping well back from them. It's difficult to not see the steep entrance charge as a money-spinner for English Heritage.
Our top England Holiday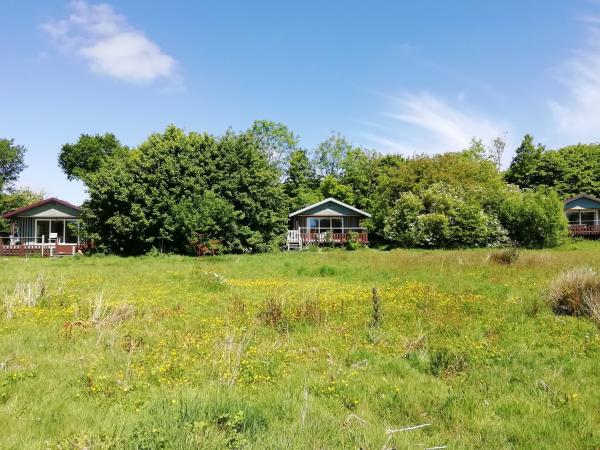 Quirky eco lodges, 1 with Hot Tub, on a Devon nature reserve
From
£252

to

£965
per accommodation per week
Accommodation
If you'd like to chat about England or need help finding a holiday to suit you we're very happy to help.

Food, shopping & people in England
Eating & drinking
For years, English cuisine has been unfairly maligned as bland, soggy or stodgy. We've come a long way, baby, with 100-odd Michelin-starred restaurants; TV exports such as Masterchef and the Great (ok, British) Bake Off showing how our professional and amateur chefs are raising their game, and a multicultural population developing many excellent examples of world cuisine. Dig in.
Walking holidays in England
are a great way to explore highlights of English food, whether that be stopping by local markets to stock up for your picnic lunches, or sampling regional delicacies such as Cornish pasties, Devon clotted cream, or the famous Grasmere gingerbread, Cumberland sausage and Kendal mint cake in the Lake District.

All the great walking routes are naturally lined with great English pubs. You'd expect nothing less.

The English wine industry is just starting to bear fruit, but it's already produced many award-winners. There are many quite prestigious vineyards that you can visit, particularly in the warmer southern parts of the country such as Sussex, Essex and Kent.
People & language
If there's one thing the English people are known for around the world, it's an air of polite reserve. That quality is perhaps a little overstated nowadays, but if you're new to holidaying in England it certainly helps to have a
guide to a sometimes veiled language
.
London is one of the world's most multicultural cities, and in 10 minutes walking down the street you might hear a dozen different languages, and smell 20 different national cuisines cooking. Leave the capital behind to explore England's national parks, long distance walking trails or rugged coast, meanwhile, and you get a sense of the vastly different regional dialects in this small country.
Another thing that visitors to England quickly notice is the differences between city folk and country folk. Try sparking a conversation on the London Underground, then comparing your experience to how easy it is to fall into conversation with canal boaters on the Thames path, or fellow walkers in Exmoor.
Gifts & shopping
Tea is the English national drink. It calms the nerves, imbues a stiff upper lip, prepares you for battle and cheers you up when it's 'raining cats and dogs'. PG Tips and Yorkshire Tea are the most commonly drunk brands, but there are literally hundreds of different teas to discover, whether you like it fruity, strong, spiced or luxury. (Whatever a luxury tea is – is the bag made of velvet or something?)
Embarking on a walking holiday? Inspire yourself, and settle down in the evenings, with the relevant literature: a copy of Jerome K. Jerome's classic comic novel Three Men in a Boat if walking the Thames Path, or Chaucer's Canterbury Tales for the Pilgrims' Way. You might want to narrow your choice of reading material down a little for Shakespeare's Way though.
Some love it, some hate it, and your correspondent falls very much into the former camp. A jar of Marmite is the quintessential English foodstuff and worth bringing along an extra suitcase to fill with it. There is in fact an English law, little known but strictly enforced when found to have been broken, that Marmite must be consumed on toast, perhaps with a little cheese. The penalty for not doing so is a month in the Tower of London, so be warned.

If it's raining 'cats and dogs' at the beach, if you took a wrong turn 20km back, if the restaurant lost your reservation, if the dog ate the train tickets…stop and have a cup of tea - it will all look better soon.

How much does it cost?
A bespoke two-piece suit from a high-end tailor on London's Savile Row:
£5000
Average cost of a pint of beer in Preston, Lancashire:
£3.06 (the cheapest in England)
Entry fee to an English national park:
£0
(
Why we think that needs to change
.)
Family admission to the Roman villa at Bignor in the South Downs National Park:
£18
Estimated cost of Brexit to the taxpayer as of April 2019, according to a
report by Goldman Sachs
(no comment):
£87bn
A large (500g) jar of Marmite – the minimum size we recommend:
£4.75
A brief history of England
Here we run into a problem. How do you condense almost a million years of history into a few short paragraphs?
Read more