It really doesn't matter whether you've lived in England all your life or you're visiting from distant lands; there are plenty of country tracks, coastal trails and historic towpaths to invigorate even the most wizened of world-weary travellers. There's no better way to get around other than two feet or two wheels and packing your bag for every eventuality, weather-wise, gets you out of doors without a moment's thought.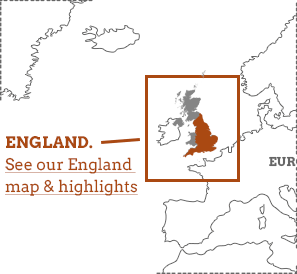 Get out of the cut-and-paste high streets and into the rural lanes and remote villages as a holiday in England lets you walk, rest and play all year round.

Crossing counties unlocks dialects and colloquialisms unbeknown to the rest of the country and if you're ever asked the question: 'does one apply jam or cream first to a scone?' having first-hand experience is essential prior to confidently committing to an answer. Outdoor summer festivals, frosty winter mornings, newborn spring lambs and autumnal bonfires making dark nights sizzle; there's a reason why England's a great place to visit but that, of course, would be telling.
Our top England Holiday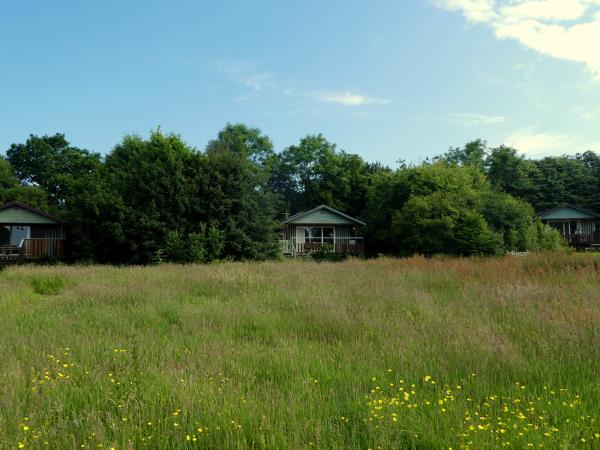 Quirky eco lodges, 1 with Hot Tub, on a Devon nature reserve
From
£205

to

£810
per accommodation per week
Accommodation
If you'd like to chat about England or need help finding a holiday to suit you we're very happy to help.
The North of England may be seen as bleak by some shandy-drinking southerners but it certainly packs a punch when it comes to height with Cumbria, Derbyshire and Yorkshire providing the three lions' share of upland areas. Folds flatten, slightly, south of the Pennines, with the Cotswolds, Chilterns and North and South Downs providing ample hillside views whilst the uninhabited moors and rugged coastlines of the West Country, including Devon and Cornwall, offer much wilder, woollier, alternatives. The best time to travel in England is out of the summer holidays with the spring producing blankets of bluebells and twittering birds whilst the autumn is all about kicking up leaves and flasks of hot pumpkin soup.
1. Devon
2. Isle of Wight
3. Lake District
4. New Forest
5. Pilgrims Way
6. South Downs
7. Yorkshire

1. Devon
Idling over Devon's agricultural landscapes, the wilds of Dartmoor or via the coves and beaches of the Jurassic Coast is the stuff of dreams, ensuring cyclists and walkers will be in their absolute element. Log fires in country pubs, the debate over jam or cream first on a scone, healthy, happy, muddy kids and dogs; you name it and Devon has got it in bucket loads.
2. Isle of Wight
Step on a ferry bound for Cowes, Yarmouth or Ryde, and you'll be transported to a holiday destination that boasts 100km of beach, 300km of cycle trails and over 800km of well-signed walking paths. Historic properties, such as Osborne House and Carisbrooke Castle, provide the cultural interludes with numerous parks, gardens and even vineyards adding to the island's appeal.
3. Lake District
Although Windermere can get busy, especially during the summer, there are numerous lesser-visited shores where views and peace are completely unhindered. Tackling parts of walking routes, such as the Cumbria Way, will take you through some of the national park's rarely seen areas with farmland, rivers and fells adding to the classic scenes you'll find en-route from Ulverston to Carlisle.
4. New Forest
Wisteria-clad cottages, historic mansions and untold acres of grass, heath and woodland make the New Forest a treat for the senses and a great opportunity to get outdoors and experience the very best of southern England. Cycling or walking is the only way to travel with woodlarks, warblers and lapwings nipping in and out of heathland and wild ponies casually meandering wherever the heck they please.
5. Pilgrims Way
Tackling the near 200km historic walking route from Hampshire to Kent is a fabulous excuse to explore the ancient tracks between towns such as Winchester, Canterbury and Guildford, as well as the open chalk hills, grassy meadows and areas of woodland associated with the North and Kent Downs. Grab a guide book, slip on your boots, pick a pub for lunch and you're off.
6. South Downs
Close to our hearts, as our office is on its doorstep, the
South Downs National Park
is the breathing space of burgeoning SE England. Just an hour from London, this undulating, chalky landscape is a magnet for hikers, bikers and families wanting to escape. Hike all or part of the South Downs Way (161km), check out Transition Town of Lewes, and don't miss our beloved Sussex Heritage Coast.
7. Yorkshire
Following rivers through valleys and over hill and dale is what walking in God's own country is all about and if you've packed your bag with a healthy slice of Yorkshire brack to enjoy with a flask of tea against a dry stone wall then you won't need any further persuasion. The Dales Way, from Ilkley to Lake Windermere, is an 82 miler that incorporates some of the county's most quintessential landscapes.
More about England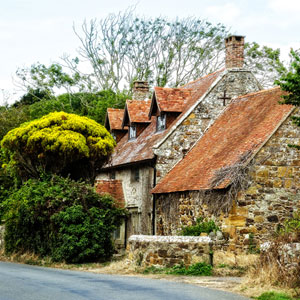 Any time's the best time to visit England as from cosy country pubs and uncrowded walking routes to sensible packing tips and where to see wildlife, check out our temperature & rainfall chart and find out the best time to visit England that suits you and your calendar.
Back to the top
Convert currencies