Many of our most popular England holidays are those that invite you to strap on your boots, take a wary glance at the weather, and hit the trail. Why? Because increasing numbers of holidaymakers, both English and from abroad, are rejecting the standard city break with its overcrowded visitor attractions, and looking to the peace, beauty and solitude that only the countryside can provide instead.
England walking holidays
take you through some of the most idyllic landscapes that this island has to offer; landscapes that have inspired generations of poets and writers to take up pen, and countless painters to capture them on canvas.
Of course, the iconic landmarks of London are spectacular, but why limit yourself to them? Instead you could find space and serenity on the Thames Path. And why spend your holiday on a cramped beach in Cornwall, when you could be on the barren and beautiful moors of Devon just to the east? These walking holidays are an opportunity to see a completely different side of England than you find in its cities and honeypot destinations.
They lead through ravishing scenery, historic communities, national parks and welcoming local accommodations (not forgetting many superb country pubs). Famous long distance trails pass through the Lake District that caused Wordsworth to wander lonely as a cloud, the steep ridges and valleys of the Peak District, the lush Yorkshire Dales, and the South Downs National Park, on Responsible Travel's own doorstep here in Brighton.
Our
walking holidays in England
are predominantly tailor made, and designed to cover only moderate terrain. They are perfect for independent walkers looking not to push themselves physically but to enjoy a leisurely ramble through the magnificent English countryside.
Our favourite walking routes in England
The Pilgrims' Way
This ancient byway between the cathedrals of Winchester and Canterbury has been in use since the 12th century, when pilgrims made it to pay their respects to the saint and martyr, Thomas Becket. The route is almost 200km in length and follows the North Downs Way for much of the time, an ancient byway with a topography that forms a natural causeway.
Pilgrimage walks
can add an extra level of meaning to your journey, whether you're religious or not.
Thames Path
'Liquid history', the River Thames is the longest river entirely in England, almost 300km from its source in Gloucestershire to the gleaming skyscrapers of Central London. You can walk in either direction, but many consider west to east the best option, allowing you to finish by exploring the capital's many historic landmarks – and with the wind at your back the whole way, too. Along the route you'll pass historic towns and cities such as Windsor and Oxford, and many picturesque villages in the Chilterns region.
Cotswolds Way
One of the country's latest national trails, this is a 160km route, rated moderate, and exploring what is the UK's second largest protected landscape, through an Area of Outstanding Natural Beauty. You might start in Stratford-upon-Avon, birthplace of one William Shakespeare, and finish in Bath, a beautiful city world-famous for its Regency-era architecture and sensitively restored Roman baths.
South West Coast Path
A very popular route, the South West Coast Path is 1,030km from Minehead in Somerset to Poole Harbour, taking you around both the north and south coasts of Devon, and Land's End in Cornwall, mainland Britain's most southwesterly point. Naturally, this walk is only very rarely completed in one go, by the most intrepid of trekkers. Holiday companies will commonly break it up into 10 sections of about a week each, so that you can choose which you want to approach.
Dartmoor & Exmoor
There are numerous options for walking on these starkly beautiful moors in Devon. The Two Moors Way (165km) runs coast to coast, crossing some of Dartmoor's most remote terrain and unspoilt rural countryside before ending in Exmoor. The Dartmoor Way (128km) is a circular route around Dartmoor's unique tors, with fantastic wildlife viewing opportunities. And the Coleridge Way, taking its name from the Romantic poet who lived in Nether Stowey, is much shorter and can be completed in a long weekend.
Our top England Holiday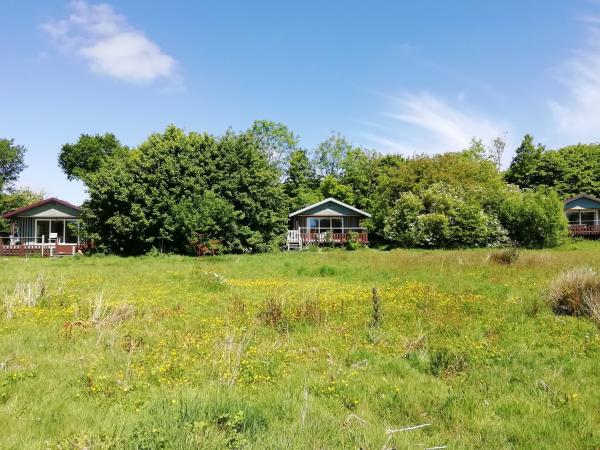 Quirky eco lodges, 1 with Hot Tub, on a Devon nature reserve
From
£252

to

£965
per accommodation per week
Accommodation
If you'd like to chat about England or need help finding a holiday to suit you we're very happy to help.

Many of our England walking holidays take place on classic long distance routes, which don't need to be tackled all in one go. You might do a section as a one-off, aim to complete a full walk over three or four holidays, or ask your holiday company to create an itinerary that sees you only tackling the most scenic or easygoing sections.

Expect terrain that is for the most part easygoing, that invites a leisurely pace on well-marked trails, with realistic timings that allow for plenty of stop-offs and long lunches. You may encounter the occasional steep ascent or descent, but that will be made clear well beforehand. We're not talking Ben Nevis – it's never going to be that challenging.
One of the great joys of this type of holiday is the accommodation. No noisy hostels for you; instead, a selection of welcoming hotels and B&Bs, where you'll get a hearty breakfast each day to see you onto the trail in style. On point-to-point holidays your luggage will be transferred between accommodations, so you only need a day pack. And you will always be provided with comprehensive route notes and maps with plenty of useful nuggets of information. Even though you won't usually be walking with a local guide, it will at times feel like it.
These are usually tailor made, self-guided holidays, a pleasure for the independent walker. Your operator will work with you to create a route that suits your interests and abilities, extending or shortening it, and ensuring good quality accommodation is booked for you in advance along the way. Your hosts will also be informed of approximately when you'll be arriving and what route you'll be taking. Transfers to the trailhead will be included where necessary, or you'll be given up-to-date schedules for the relevant public transport.
Lastly, you will need to be prepared to deal with rain. Yes, even in summer. The English climate is never straightforward, which is why so many conversations start with a prediction about what the weather is going to do today. Our advice? Layer your clothing, and always carry a raincoat, wrapped around a bottle of sun cream.
When to go walking in England
We're English; we walk come hail, come shine. Winter walks can be lovely, with a thin dusting of snow on the trees and the ground, and the promise of a hearty pub meal by a roaring fire in the offing. Summer by the coast can be glorious, though the beaches will be crowded and you'll want to ensure your accommodation are booked well in advance. Spring and autumn are generally the best time for walking holidays in England – the foliage is gorgeous and both are great for wildlife, but of course you need to be aware that the notoriously changeable English weather will be at its least predictable. Our main
England walking guide
features more detailed information on which months and seasons are best for different routes.
"As an American I was astounded by the extent of the footpaths and by the local reception and their desire to (a) preserve the lands and (b) make it accessible to others. I'm not sure that were I a farmer I'd welcome strangers traipsing through my backyard and across my pastures, spooking the cows and sheep and yet they were always welcoming. To my surprise, I read that rather than being bound by ancient laws, the complete footpath system is of recent vintage, dating essentially since WWII. Moreover, the British walk the footpaths themselves...and they are brisk walkers, I discovered." – Steve Van Beek, on walking the Pilgrims' Way from Winchester to Canterbury

"Walking the Cumbria Way is an exciting exploration of the history and geology of this part of England…We have a deeper appreciation of our English heritage and met some wonderful people along the way, locals and other walkers." – Diana Staaf