Cycling in England travel guide
"It's always the cake," affirms James Adkin, from our specialist operator Explore, on cycling from one coast of England to the other. "In the pub every evening that's what people talk about most. How sore their bum is, and how good the cake was that afternoon." Cycling in England involves changeable weather, tricky hills and sometimes sore bums, but you'll forgive everything for the cake.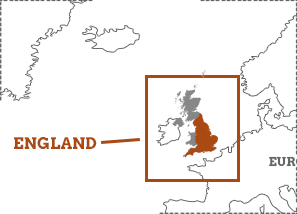 The great joy of climbing into the saddle here is that every ride promises the reward of a local pub sooner or later, and landlords love nothing more than the sight of a group of hungry and thirsty riders.

But your options aren't limited to long, point to point rides with hours in the saddle every day. For a relaxed getaway there's electric bike cycling in Devon, on country roads through some of England's most beguiling natural scenery, or weekends in the Peak District or the Cotswolds. And, of course, there are always plenty of local pubs waiting to welcome you in. It's vital not to understate how important that last part is.
Find out more with our cycling holidays in England travel guide…
Do go on an England cycling holiday if…
…you like a challenge, with epic (though relaxed) routes the length or width of the country available. Easygoing cycling in Devon is another option, though.
…you prefer a higher standard of 'fuel' – trip organisers take care to either stop at or recommend local cafés, pubs and restaurants where you'll eat very well.
…you're a dab hand with a puncture. Support vehicles accompany long-distance trips, and on tailor made holidays you can always request a pick-up. But knowing how to perform a DIY repair can come in handy.
…scenery is important for you. From the Lake District to Cornwall and the Somerset Levels, these cycling holidays explore some of England's most celebrated natural landscapes.
Don't go on an England cycling holiday if…
…rain is a deal breaker for you. Even in the summer, you'll want to pack waterproofs. This is England, after all. …you want your winter cycling to be dry. Head abroad for warmer, drier winter weather. England is nicest when cycled between late spring and early autumn. …you're not in fairly decent shape. You don't need to be Bradley Wiggins or Chris Hoy, but a few weekend rides before you go will serve you well. …you can't cope with a little saddle-soreness. Comparing aches and pains at the end of the day is all part of the fun. Bring padded shorts and your own gel saddle, and keep on going.
If you'd like to chat about England cycling or need help finding a holiday to suit you we're very happy to help.

What does cycling in England involve?
How fit do I need to be?
If you're considering a coast-to-coast holiday for instance, or even the daunting Lands End to John O'Groats ride, then probably the most pressing question on your mind is going to be: am I fit enough to do this? The answer, happily, is usually yes. If you're even thinking about a long distance ride then in all likelihood you cycle fairly regularly already. You will need to be comfortable riding between 60km and 100km every day for several days on the trot, prepared to deal with soreness, muscle strain and fatigue, and get yourself back in the saddle each morning.

You don't need to be super-fit, or adapt to the pace of everyone else in your group. So long as you can reach your accommodation every evening then you can pretty much go at a speed you're comfortable with.

But if you prefer a sense of complete freedom and no pressure whatsoever then think about a centre-based cycling holiday, perhaps in Devon. Your hosts will be able to suggest daily routes of an appropriate length and difficulty, and if you decide you want a rest day, there's nothing stopping you.
Tailor made or small group tours?
The iconic long distance rides tend to be small group tours across fixed dates, with the number of participants capped at around 12-16. You'll either have a guide with you throughout (usually someone that has completed the ride themselves more than a few times) or a tour leader, driving a support vehicle, will meet you at various pre-agreed points to ensure everyone is okay. Small group tours are sociable affairs and provide plenty of motivation. Evenings are usually spent comparing, boasting or commiserating about aches and pains over a few drinks in a local pub.

A preplanned small group tour offers a lot of convenience. If you're planning to go from Lands End to John O'Groats that's a two-week endeavor and your holiday company will take care of the complicated logistics, mapping and booking accommodations en route. Many riders will dip their toe in the water with a small group holiday first, before attempting the route solo at a later date, once they've built up confidence.
Though following the same itinerary, small groups of cyclists will naturally separate and come back together along the route, usually at a designated café or pub. And since you will be travelling point-to-point, a support vehicle will never be far away – there to carry your bags between accommodations, help with broken chains or punctures, and offer a lift if that last hill took it out of you.
A tailor made cycling holiday gives you flexibility on the dates you travel – you're not committed to a fixed itinerary – and also means you can do whatever takes your fancy during your stay. If you want to spend a whole week in Devon cycling around on an electric bike, no-one could blame you. But equally if you want to alternate your daily rides with walks, or trips by train, there's nothing stopping you. You won't have a guide, nor should you need one as maps and route notes will be provided, but if you need any help your hosts are only a phone call away.
Point to point riding, or centre based?
A long distance small group trip is by its nature point to point. You will stay in a different accommodation every night, and usually that will be a locally owned hotel or guesthouse, ensuring that your holiday offers a direct economic benefit to the communities you're cycling through. As your luggage will be transported in the support vehicle, packing light in a soft bag is desirable. Centre based holidays on the other hand mean you only need to unpack the once, and you'll have a range of rides of varying length right on the doorstep. That makes them ideal for families, not least because routes take you through peaceful rural surroundings, which are perfect for less experienced riders.
Can I bring my own bike?
Sure, if you'd rather do so. For the Lands End to John O'Groats ride, there is the option of a using a professional bike transfer service for a supplement, which is worth considering if you want to use the train. On other trips you can have a suitable hire bike waiting for you on arrival, be it a geared hybrid or an electric bike. You will need to provide your own helmet, however.
Best time to go on an
England cycling holiday
Unlike tailor made tours, small group cycling holidays operate to fixed schedules. The coast to coast, Irish Sea to North Sea trip, runs between April and October, while the Lands End to John O'Groats trip can usually be done only in June. Summer is usually going to give you the best weather, but if you catch a hot weekend in August you might find it tough going on the steep bits, so packing a couple of extra water bottles is advisable.
More England cycling articles