Best time to visit England

The further north you go the grimmer it is but that's not to say you won't be met with some of England's most characterful and captivating natural scenes.

If you've ever wondered why the English discuss weather so much, it's because they haven't a clue what's going on from one day to the next.

As a rule, it's colder and wetter up north and windier along the coast with the west of the country also experiencing plenty of rain. Autumn and spring are the best times to visit England but there's a lot to be said for beer gardens and cosy pubs so don't discount the winter or summer, whatever the weather.
Things to do in England...
Walking in England. England's green and pleasant lands provide the perfect canvas from where walkers can paint their own meandering masterpiece. Tracks – through farms, heaths and woods – are ideal for joining one village to the next with numerous regional delights to be devoured on the trail or upon arrival. Sign-posted routes via the Peak District, Cotwolds and Oxfordshire tender every opportunity to enjoy England's countryside with Northumberland and Suffolk coasts offering just a couple of windswept alternatives.
Sailing holidays in the south of England. Experienced and novice sailors will love discovering southern England's channels and straits with areas, such as Dartmouth, Weymouth and the Isle of Wight, providing a bounty of bays, harbours and coastlines from where to sail solo or become part of a crew. Plymouth and Portsmouth, especially, are real draws for history buffs and combining sailing in England with maritime heritage is a great way to learn from the stern.
Stay somewhere unusual in England. England lets you dive into accommodation at all ends of the spectrum with luxury B&B's, yurts, houseboats, eco-lodges and converted railway carriages providing just a glimpse at what's in store. Location is always key to a successful stay and no matter whether you're self-catering in Cornwall or living it up in Leicestershire, bedding down in nature always makes for a more relaxing break.
Things not to do in England
Search for a Starbucks. A holiday in England should be bereft of brand names, which means resisting the urge to seek out coffee chains and famous fast-food outlets. Fish & chips, cream teas, Cornish pasties, stottie cake, Lancashire hot pots, real ales, locally-run pubs, restaurants and cafes – whatever you're hoping to find, get out of the identikit high streets and keep going until you're at least 10 miles from the nearest Greggs.
Tick off the tourist hot spots. It's tempting to cram too much in whilst on holiday with local attractions getting ticked off as readily as full English breakfasts. Finding the time to relax is just as important as adding to an itinerary and often you'll find unplanned moments are the ones you remember more fondly. Woodland walks, picnics, collecting freshly laid eggs and keeping the car keys hidden, are all guaranteed to give you and your family an English experience far from the tourist trail.
Forget reading material. England isn't lacking in history and you'll find entire forests devoted to documenting its past. Reading about an area prior to visiting will give you a much deeper insight into the country's heritage as well as helping you piece together just what makes the English such a weird and wonderful mix of cultures. Fictional works will certainly add to the experience with Christie, Austin, Dickens and Hardy, I draw the line at Shakespeare, all helping to place you in England as you lose yourself in words.
FCO advice and England
Most visits are trouble free, however terrorism is sadly a reality of travelling in these times. England has suffered at the hands of terrorists' activities, such as the attack at Manchester Arena in May 2017, London Bridge in June 2017 and also on Westminster Bridge in March 2017. The organisation Daesh (formerly referred to as ISIL or ISIS), claimed responsibility for these attacks. Two other terrorist attacks, one on Muslim worshippers in London in June 2017 and another on the late MP Jo Cox were carried out by extremist individuals. Always get up to date information at your embassy before travelling to England.
Dartmoor tips
Paul Day, Managing Director at our supplier, Let's Go Walking, shares his experiences of walking in England:
"One of my favourite walks is on Dartmoor. It only takes two to three hours but the variety of landscapes and quietness that you'll find en-route from Okehampton to the village of Sticklepath, via Belstone, are simply stunning. Belstone's a beautifully unspoiled village on the north edge of Dartmoor and the Dartmoor Inn at Sticklepath makes for a great place to start or finish a walk, no matter what time of year it is. In fact, the winter lets you explore more of the moors as the muddy, boggy areas tend to harden which allows walkers to wander a little further from the footpaths. Of course, the summer's not bad either and if you're a fan of wild swimming, seek out the Cullever Steps below Scary Tor for one of my favourite spots to cool off on a hot day on the moors."
Our top trip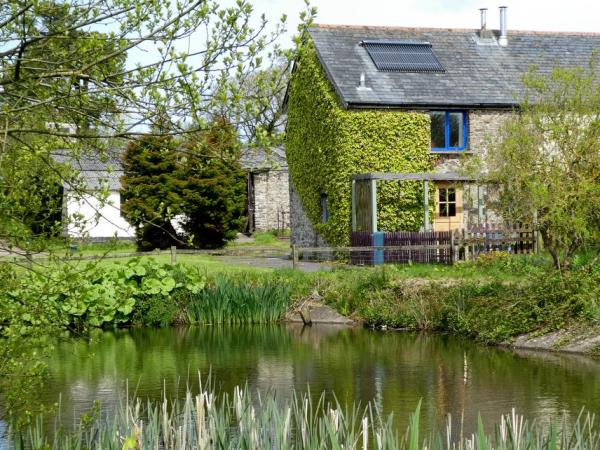 Cottage with lake view & wood burner on Devon nature reserve
From
£205

to

£749
per week (sleeps 4)
Accommodation
If you'd like to chat about England or need help finding a holiday to suit you we're very happy to help.

Where to see wildlife
Paul Day, Let's Go Walking:

"Another walking route in England that I'd recommend is the Purbeck Way which comes in from Lulworth Cove to Swanage via Corfe Castle. This is a great walk for wildlife as there's usually deer, buzzards and rabbits around the area with loads of seabirds in Swanage as well as an occasional hare or two, if you're lucky."
Walking in Devon
Ian Ripper, owner of our supplier Wheatland Farm Eco Lodges in Devon, shares his experiences of walking in England:
"The Tarka Trail is a wonderful facility for all ages and abilities. An old railway line, it travels from the old clay pits at Meeth (now a Devon Wildlife Trust reserve) through deep countryside following the river Torridge to the estuarine habitat and then the sea. No big hills, good surface and fantastic scenery, with places to get refreshments in most towns along the way. For the more intrepid there are great back-lane rides (beware Devon hills) where grass grows in the centre of the roads and you find gems like Honeychurch – the smallest church in Devon – or a litter of piglets squealing at a roadside gate. Huge views from the hilltops and pretty streams in the dips."
Getting away from it all
Paul Day, Let's Go Walking:

"Walking in England really helps put things into perspective and if you've had a bad day or are feeling a bit stressed then it really helps to make your arrangements, wrap up warm and get out the door to surround yourself with countryside."
Ian Ripper, Wheatland Farm Eco Lodges:
"I'm always surprised by the contradictions. People love Devon because it is less developed; yet seem to want to have all the conveniences of the cities and urban conurbations. It's lovely because we lack those things! In rural Devon it is quiet and relaxed all year round. Very little traffic and no roundabouts. At night it is pitch black and the stars are amazing. I always get a sinking feeling when I approach civilisation and see the very man-made environment most of us live in. Yes, I am an outdoors person mostly, but I do like a few days in a city to remind me to take the straw from between my teeth."
Packing tips
Paul Day, Let's Go Walking:

My advice for walkers in England is always: do your research, wear good walking boots to support the ankles with two pairs of socks, and pack some chocolate and cereal bars to get you from one pub to the next.
Farming
Ian Ripper, owner of our supplier Wheatland Farm Eco Lodges in Devon:

"I was in the village butcher when a visitor asked the butcher for local lamb. He apologised and said he only had lamb from Broadwood Kelly, would that do? The visitor asked where that might be and he replied 'more'n five miles on the road to Samford Courtney.'"
At Responsible Travel, we think the best people to advise our travellers are often... other travellers. They always return from our tours with packing tips, weather reports, ideas about what to do - and opinions about what not to.

We have selected some of the most useful England travel tips that our guests have provided over the years to help you make the very most of your holiday - and the space inside your suitcase.

In order to see whatever you'd like to see on the IOW, do take the bus and have a look around Shorewell, a nice little village with a lot of historic traces.

- Stefan Woll on the Isle of Wight
"We had a pair of ducks visit us each night around 7 p.m. I thought they'd leave when we didn't feed them but instead, they hunkered down and kept us company as we barbequed our dinner and ate. It sounds a little thing, but it's rare to be so close to nature and it was a highlight of our trip." – Kristine Buchanan staying in a shepherd's hut in the Lake District

"There are walks from the door and the station is only a mile away so day trips to places such as Beverley are easy. The walk into Howden across the fields is a couple of miles and delightful." – Helena Poldervaart visiting Yorkshire

Bring walking shoes and a map to explore lots of good walks. Plenty of hills and views and if the weather is wet and windy the Tarka trail is good and mainly sheltered.

- Bob Simmonds on holiday in Devon
"If possible try to use the local bus services. They are not particularly frequent but by intelligent use of the Vectis timetables, you can visit everything on the island without any difficulty." – Christopher Vasey on the Isle of Wight

"It takes time to get places by car as the roads are smaller however, the train service from Eggsford is great – we used it to get to the coast and we loved Dawlish Warren – lovely beach and a nature reserve (really reasonable with a family railcard). Eden Project has reduced entry Tues, Wed & Thurs after 3.30 pm & children free over school summer hols and is open until 8 pm. Take a torch for walking back from the pub at night and star watching." – Heather McAdam staying in Devon