Things to see & do in Devon

Scone on holiday, back soon: the great thing about Devonís overabundance of cream teas is that the countryside offers no end of ways to earn one.

Almost the southwest tip of England but not quite, and one of Englandís largest counties,
Devon
is a glorious mix of peaceful countryside, sandy Blue Flag beaches and wild stretches of moorland across two national parks. For lovers of the outdoors it is little short of paradise, and this is naturally where most of our
Devon
holidays train their focus, ushering you away from towns and cities and into the countryside where youíll have the most satisfying experience. Devon is where Agatha Christie was born and raised, and where she routinely spent her summers Ė look out the window in the mornings and it will be no mystery why she was happier here than anywhere else.
Devonís pastoral landscapes are heaven-sent for happy wanderings. It doesnít matter if youíre hiking over the barren wilds of Exmoor and Dartmoor, hopping between coves and beaches on the Jurassic Coast, or cycling off-road trails out in the countryside Ė youíre never far from a welcoming pub or cafť, surrounded by some of Englandís most bucolic natural scenery. Whether youíre travelling with the kids, the dog, or just the one toothbrush, Devon is the clots in the cream.
Our top activities in Devon
Walking
The South West Coast Path is among the best-loved long-distance trails in the country, over 1,000km in total that encompasses Devonís north and south coasts, with shorter trails branching off that lead you to lengthy ribbons of sand, smugglersí bays, woodlands and cliffs where seabirds nest. Other popular options include the Two Moors Way that links Exmoor and Dartmoor, and takes you through unspoilt rural terrain, or the Dartmoor Way. This latter features prehistoric stone circles and medieval architecture along its route, as well as Norman castles and abandoned quarries.
Walking holidays in Devon
can vary from easy to quite challenging, but are usually tailor made so that the operator can adjust the route according to your abilities.
Cycling
Devon appeals to cyclists just as much as it does to walkers, with one of the most popular routes being the famous
Tarka Trail
, which is a part of the much longer Coast to Coast route, and spans Devon in a figure-of-eight shape for around 300km. The route is well-marked, and off-road for lengthy sections, including one that follows a stretch of disused railway. Youíll ride through woodland valleys and moors, along riverbanks and past plenty of coastal views, with frequent pubs along the way.
If you need a little extra
oomph
in the saddle, then you can also find electric bike hire in Devon. The best way to picture this kind of cycling is like that gentle hand in the small of your back when you were first learning to ride a bike Ė making any hills you encounter far more manageable. Route notes, maps and full support are provided, and these are centre-based trips so you only need a daypack.
Sea kayaking
Between April and September, explore the headlands, beaches, estuaries and sea caves of south Devon by sea kayak. You donít need any experience, as all the equipment and instruction is provided, but if youíre not a novice then this is the perfect place to hone your abilities.
Our top England Holiday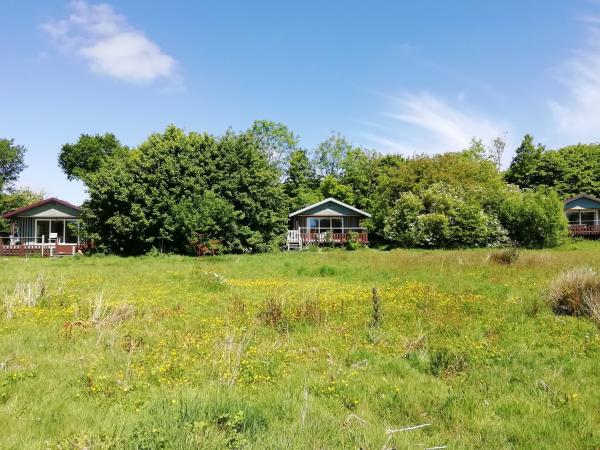 Quirky eco lodges, 1 with Hot Tub, on a Devon nature reserve
From
£252

to

£965
per accommodation per week
Accommodation
If you'd like to chat about England or need help finding a holiday to suit you we're very happy to help.

Thereís nothing to say you canít visit Devon in the winter Ė a pint by a roaring fire on a blustery day will be sure to warm the cockles. But we think April to September, perhaps giving the busy touristy months of July and August a miss, is the best time for holidays in Devon. In May or September itís much quieter on the coast, but if youíre tied to school holidays and still want to get away from it all, then make for more rural areas, between the moors and further from the beach.
Skip the cities; youíll have a much better time out in the countryside. We recommend a
rural eco lodge
where the quiet is almost deafening, the Milky Way looks full-fat and youíll get some of the best sleeps of your life. Alternatively, you might stay at an
eco lodge in west Devon
, right on the famous Tarka Trail, where the Aga-grilled breakfasts will set you up each day for cycling, fishing, walking and day trips to Exeter or the Eden Project over the border in Cornwall.