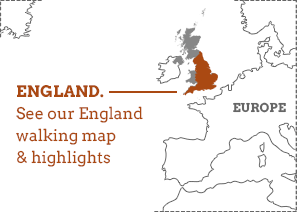 England's walking trails take you on journeys that have inspired poets and writers, saints and scholars. For pure poetry in motion, follow in the footsteps of Wordsworth in the Lake District who famously 'wandered lonely as a cloud' throughout his native land. Indeed, his 'Guide through the District of the Lakes' published in 1820 is thought to have been the region's biggest ever PR event.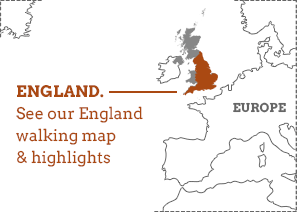 Lewis Carroll is said to have been inspired by the Cotswolds; and as we walked through village and vale, we certainly felt like it really was our own personal adventure in wonderland.

The South Downs was home to Virginia Woolf and the Bloomsbury set, Shakespeare's Way is 235km of literary loveliness, and it is almost the law to carry a copy of a Du Maurier novel while hiking around Cornwall on the South West Coast Path. Thankfully, as our England walking holidays guide will show you, these holidays are all about getting from one place to the next, with your bags transported for you, so you can pack all the books you want.
Is a walking holiday in England for you?
Go on a walking holiday in England if...
… you like to hike but don't really do the backpacking/hostel thing. On these holidays you walk from one lovely country hotel or B&B, and have your bags transported for you. A weight off your shoulders; just what holidays are for.
… you enjoy independent hiking. Most of our England walking holidays are tailor made. We do have a few small group trips, one example being a walking and gastronomy trip in Suffolk – a match made in heaven we think.
… you like a coastal trail. From Suffolk to Sussex to the extraordinary South West Trail, there are plenty of choices for beach fans. And most of these are tailor made trips, so you can chill at the beach lots too. Pack your cozzies.
… you are a fan of the Slow Food movement. Areas like the Cotswolds and the South Downs, as well as national park regions of Peak or Lake Districts are proud of their food provenance. And rightly so.
Don't go on a walking holiday in England if...
… you are a summit seeker. These aren't mountain climbing and trekking holidays. They are generally quite moderate daily walks, stopping at idyllic country pubs for lunch and sleeping at similarly idyllic inns and guesthouses. … you want guaranteed sun. This is England, home to Burberry and Barbours. We do rain, and then get over it. We also have some of the best wet weather gear in the world. Even better, buy some locally when you get there. … you enjoy a small group tour. Most of our England walking holidays are tailor made. We do have a few small group trips in Yorkshire and Suffolk, however; I'm sure they'd say it's because they are more sociable parts of the country! … You are a fastidious time keeper. Walking holidays are for taking your watch off and switching off.
Our England walking Holidays
What does this trip entail?
For many British travellers, there are parts of our home country that we have always planned to explore but never got around to. We may have an old guide book tucked away to the Lake District that we bought years ago, or even gone as far as buying an OS map of the Jurassic Coast on a weekend break, vowing to come back and explore beyond the campsite or festival. A walking holiday is the wakeup call you need to actually do it.
For international visitors, these holidays are also a dream door to open into quintessentially English countryside and towns. Why would you go on a coach tour or rent a car and spend all day trying to park it in Oxford, when you could go on a walking tour of the Cotswolds and take in the city on foot instead? Why spend a weekend on London's steamy underground, when you could walk the Thames Path and see the city's main artery from source to mouth? Especially when everything is planned for you.
If you'd like to chat about England walking or need help finding a holiday to suit you we're very happy to help.

Tailor made or small group holidays?
There is a world of walking experts out there who know all the paths, how to access them, the best inns or hotels along the way and also the best pub stops. Most England walking holidays are tailor made, and aimed at independent walkers. That way, you can take a week and cover one section of the South West Coast Path, for example, or take two and include dream spots such as the Isles of Scilly, the Gardens of Heligan and the Eden Project. You can discuss with your tour operator how much you want to walk in a day, and they will create a daily route for you, booking you easily accessible accommodation along the way.
Melanie McAnaw walking holiday expert from our supplier, Headwater: "The reason I choose self guided walking is so that I can go at my own pace. When I'm on holiday I enjoy a leisurely breakfast (late!) and then I like to stop off for as many photo opportunities as I want – without feeling that I'm holding anyone up!"
Are we completely on our own?
When you arrive in your destination, a representative from the walking holiday company will usually meet you at the train or bus station, guide you to your first night's accommodation, and talk through all the details of each day with you. Or just meet you there of course, if you are coming by car. Then when you wake up the next day, all you have to do is have a hearty breakfast, fill your water bottles, and hit the road.
Are the routes easy to follow?
Most of our England walking holidays are on very established trails, such as the South Downs Way, Dales Way, or the Pilgrims' Way, or long distance ones such as the South West Coast Path. And this is England. We like our signs, so there are plenty of them. Your walking holiday company will also give you maps and detailed itineraries, especially if you are going off the beaten path.
You can tell a good holiday company by its itinerary. 'Turn right at the church, with the prettiest rose bush you have ever seen, and then make sure you pop into the bakery and order the local rye bread.' That sort of thing. We love walking holiday providers who feel like they are walking behind you as invisible guides. But it is always a good time to learn how to use a compass again – and don't depend on your phone GPS either. Although if you are on a hotel to hotel walking holiday, your next host will be expecting you and know which route you have taken.
How do I get to and from the walking trails?
This depends on the routes you are taking, of course, but if your accommodation is set off the trail, your transfer to the starting point of your daily trek will usually be included in your holiday package. On some trips, you will be met by a 'tracker' every morning to talk you through your route and make sure that you are confident about where you are going, and the type of terrain you are going to be walking on.
In terms of getting to and from the region where you are walking, a lot of our walking companies encourage rail transport instead of bringing your car. In the Cotswolds, for example, a four day trip might start in Moreton-in-Marsh and ends in Kingham, both with railway stations. The South Downs and Kent Coast are peppered with pretty railway stations and to get somewhere like Dovedale in the Peak District, you can take a train to Derby and then a taxi onwards for about 30km.
Luggage transfer
Some walking holidays are centred on one base, giving suggestions of different daily walks, but bringing you back to the same accommodation every night. However, most English walking holidays are multi centre, with an inn-to-inn feel. In this case, your bags are transported for you from place to place, making this a very freeing way to spend your holiday.
What about food?
Food is very important to walkers. Gone are the days when we were happy to have just a flask of tea and a bit of Kendal Mint Cake to get us over the hills and vales. Most walking holidays are on a bed and breakfast basis only, with detailed itineraries directing you to great gourmet pubs along your walking route, or local restaurants for dinner. Walking holidays take you through the landscapes where English food is grown or reared, and responsible tourism is all about tapping into that and eating local whenever you can. When walking on the Pilgrims' Trail in the South of England, for example, accommodations do provide picnic lunches, using freshly baked granary bread, local cheese, Kentish chutneys, and something sweet and fruity from the Garden of England.
In the Cotswolds, home to food festivals and fine fare at every turn, you won't be short of a cream tea on your walking routes. This is also home to delicious ice cream, tasty cheeses and plenty of local breweries. And always seek out a local farmers' market if your tour operator hasn't highlighted one, which they should of course.
More about England walking