Falkland Islands travel guide
---
2 MINUTE SUMMARY
The Falkland Islands are another world. First, another world from what most of us associate them with and second , this Atlantic archipelago has some of earth's wildest and most far out there landscapes, with white beaches, hidden beaches and empty beaches. Except for the sea lions, penguins, dolphins, whales, elephant seals and over 200 species of birds. In fact, all conflict aside, the real rulers here are actually penguins. Kings, even. Just one of five species living here, the others being rockhopper, Magellanic, gentoo and macaroni penguins, there are nearly half a million breeding pairs. Hanging out in their white sandy kingdoms and keeping their beautiful beady eyes open for resident dolphins and whales, and the particularly vicious leopard seal.




Stanley is the capital, on East Falkland Island, and welcome land after a long sea crossing for many for whom this is a stopover en route to Antarctica. After which you'll need a pint. Even the Falkland Islands have their own craft beer now. See our Falkland Islands travel guide for more details.
Falkland Islands map & highlights
---
MAKE THE MOST OF YOUR TIME
There are few places in the world that are as camp as the Falklands. That's because when you visit, you will either be staying in Stanley, the capital, or 'in camp', meaning 'the countryside'. And there is a lot of countryside, with two main East and West Falkland Islands and 776 others. Travel by ferry between some, although the Falkland Islands Government Air Service (FIGAS) is the preferred transport mode for most to see the white beaches of Sealion Island, for example. Discover peninsulas packed with penguins, waters awash with whales, and colossal coastal grasslands.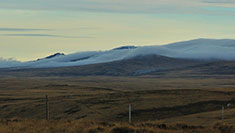 Darwin
Charles Darwin visited here during his 1830s zoological survey on the Beagle's second voyage. Now remote and sparsely populated, its history ranges from 19th century cattle farming gauchos to early 20th century Scottish sheep farmers and, most recently, the nearby Battle of Goose Green during the Falklands War of 1982. A ten week war in a landscape that still feels utterly unchanged by time.
Sealion Island
One of the most southerly islands, a 40-minute flight from Stanley, it is also home to the Falklands' only purpose built tourist lodge – the southernmost British hotel in the world. It is also habitat for sealions, and a top breeding spot for elephant seals. Less obvious, but equally prolific are the ground nesting birds that thrive in the wildflower filled grasslands. You won't miss the penguins, dolphins and orcas though.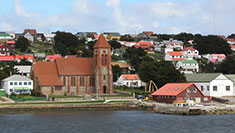 Stanley
The capital, on the largest East Falkland Island, and home to the majority of islanders, it is also the landing point for many of the ships en route to Antarctica. There is a quaint Anglican cathedral to visit, and you will gain great insight into island heritage in this Atlantic anomaly, at the Historic Dockyard Museum, with exhibits ranging from life saving telephone exchange, to the life taking Falklands War.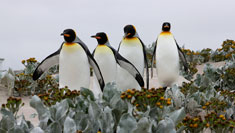 Volunteer Point
What's the Point? The islands' largest colony of king penguins, plus a full on party of gentoo and Magellanic penguins too, all hanging out on this 2km white sandy beach, to the north of Berkley Sound. That's the point. Take a guided tour here with an expert naturalist, plus a good driver. These wild beauties can waddle and wade their way across the coastal grass and boglands, but humans need a 4X4.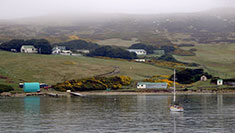 West Falkland Island
This island represents what the islanders mean by 'camp'. On the Falklands, you either live in Stanley or 'in camp' which means in the country. Stay on one of the large farm settlements here, hike up the highest peak of Mount Adam, go whale or penguin spotting at Port Edgar, or go trout fishing on the Warrah or Chartres rivers around Port Howard. This is camp with bells on.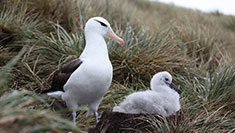 Wildlife watching
Play word association with the Falklands and people usually come up with 'war'. Or sheep. Not five penguins species and nearly 500,000 breeding pairs. Nor the fact that two thirds of the world's black-browed albatrosses hang out here, as do killer, fin, sei, and minke whales, Peale's and Commerson's dolphins, elephant seals and sea lions. Plus over 200 species of birds, and 22 protected Important Bird Areas.