Our Falkland Islands holidays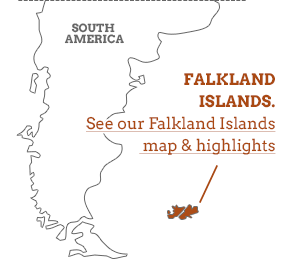 Small ship cruises, often accompanied by scientific researchers or photographers, offer an exciting and immersive introduction to the Falkland Islands – a remote Atlantic archipelago where you can admire dolphins, whales, seals and many noisy penguin colonies. Cruises are also a gateway to South Georgia and the vast expanses of Antarctica beyond. And because passenger numbers are limited, you won't wait long to disembark for activities and tours, and the communities you visit won't be overwhelmed. Meanwhile, expert local guides ensure that our Falklands Islands holidays have a minimal impact on the wildlife and the fragile habitats they depend on.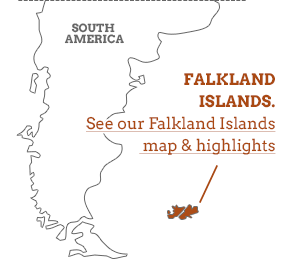 Our top Falkland Islands holidays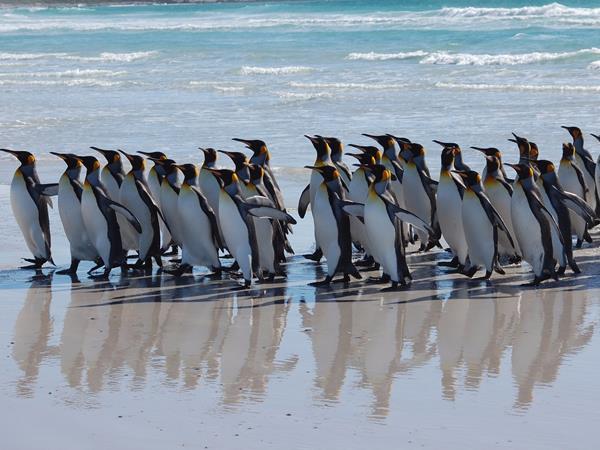 10 days
ex flights
10 day Falklands birds and wildlife adventure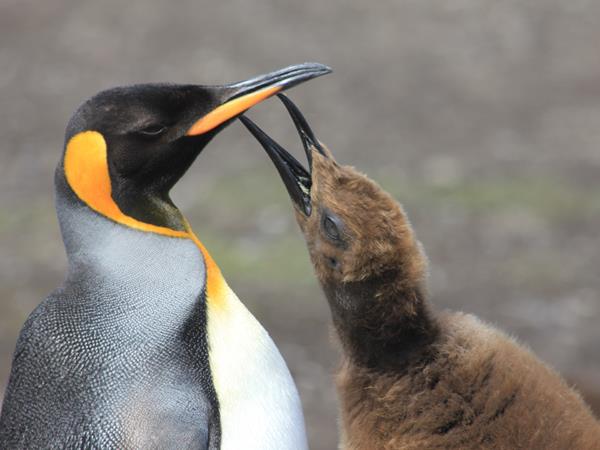 15 days
ex flights
A comprehensive Falklands birds and wildlife adventure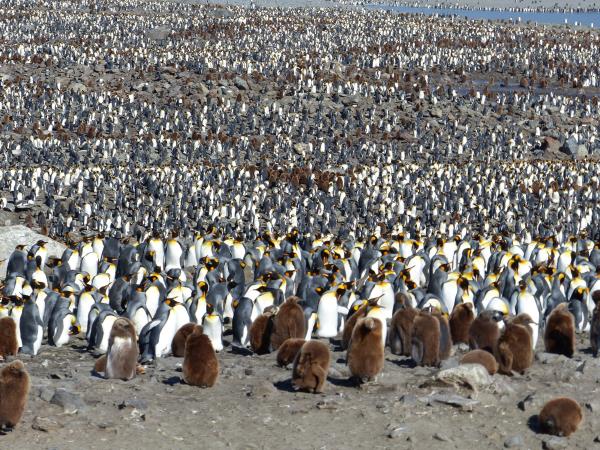 22 days
ex flights
Ultimate Antarctica and South Georgia small ship wildlife cruise
Small group
2021: 8 Dec, 13 Dec, 29 Dec, 2022: 3 Jan, 8 Jan, 11 Jan, 14 Jan, 15 Jan, 3 Feb, 12 Feb, 15 Feb, 21 Feb, 24 Feb, 28 Feb, 13 Mar, 21 Oct, 22 Oct, 25 Oct, 2 Nov, 5 Nov, 7 Nov, 11 Nov, 13 Dec, 17 Dec, 19 Dec, 21 Dec, 2023: 4 Jan, 7 Jan, 11 Jan, 14 Jan, 27 Jan, 1 Feb, 19 Feb, 22 Feb, 28 Feb, 2 Nov, 23 Nov, 14 Dec, 2024: 4 Jan, 25 Jan, 15 Feb
Map & highlights
Stark and windswept, the Falkland Islands form Britain's southernmost outpost and are known predominantly for two things: a brief, bloody war in the 1980s (battlefield sites include Goose Green near Darwin) and plentiful marine life. Antarctic cruises often pause in the capital, Stanley, for exploring. West Falkland Island is dominated by Port Howard, a vast sheep farm, but you can also see whales off the coast. Carcass Island teems with birdlife and you may also see dolphins on the horizon. Sea Lion Island is one of the world's top sites for seeing elephant seals breeding, while Volunteer Point has an immense penguin population.
1. Carcass Island
Unlike the name, this island is brimming with live birds, penguins and so much more. It was actually named after HMS Carcass which visited in 18th century. There is one lodge to stay at, a welcoming farmhouse. An Important Bird Area, species include the endemic Cobbs's wren, tussock birds and black throated finches. Hike the island's wild rocky ridges, beaches or cliff walks, keeping an eye out for Commerson's and Peale's dolphins.
2. Darwin
Charles Darwin visited spot during his 1830s zoological survey on the Beagle's second voyage. Now remote and sparsely populated, its history ranges from 19th century cattle farming gauchos to early 20th century Scottish sheep farmers and, most recently, the nearby Battle of Goose Green during the 1982 Falklands War. A ten-week war in a landscape that still feels utterly unchanged by time.
3. Sea Lion Island
One of the most southerly islands, a 40-minute flight from Stanley, it is also home to the Falklands' only purpose built tourist lodge – the southernmost British hotel in the world. It is also habitat for sea lions, and a top breeding spot for elephant seals. Less obvious, but equally prolific are the ground nesting birds that thrive in the wildflower filled grasslands. You won't miss the penguins, dolphins and orcas though.
4. Stanley
The capital, on the largest East Falkland Island, and home to the majority of islanders, it is also the landing point for many of the ships en route to Antarctica. There is a quaint Anglican cathedral to visit, and you will gain great insight into island heritage in this Atlantic anomaly at the Historic Dockyard Museum, with exhibits ranging from the life saving telephone exchange, to the life taking Falklands War.
5. Volunteer Point
What's the Point? The islands' largest colony of king penguins, plus a full on party of gentoo and Magellanic penguins too, all hanging out on this 2km white sandy beach to the north of Berkley Sound. That's the point. Take a tour here with an expert naturalist guide, plus a good driver. The penguins can waddle and wade their way across the coastal grass and boglands, but humans need a 4x4.
6. West Falkland Island
This island represents what the islanders mean by 'camp'. On the Falklands, you either live in Stanley or 'in camp' which means in the countryside. Stay on one of the large farm settlements here, hike up the highest peak of Mount Adam, go whale or penguin spotting at Port Edgar, or go trout fishing on the Warrah or Chartres Rivers around Port Howard. This is camp with bells on.
If you'd like to chat about Falkland Islands or need help finding a holiday to suit you we're very happy to help.