Falkland Islands travel advice
Tips on when to see wildlife
Tips on when to see wildlife
Simon Evans from our leading Falkland Islands supplier, Chimu Adventures:

"Although the Falklands are perhaps best known for their military past, they are home to a huge array of flora and fauna and provide some fantastic opportunities for nature lovers!. November to March is when the weather is more favourable"
Going by ship
Charlotte Caffrey, from our small ship cruise tour operator, Aqua Firma:

"The Falkland Islands are incredible and have a lot of wildlife including six or seven different species of penguin, rockhoppers, albatross and dolphins that follow the bow waves of our Zodiacs. People tend to associate the Falklands with its history and the war, but we have to get over that and think about the unbelievable wildlife and environment that's there. It's a wonderful contrast of amazing wildlife, Victorian architecture and the odd Tesco! It's definitely the most developed place we visit and has a strong cultural and historical identity, which you can explore off the boat."
"A particular highlight of this tour is how different Antarctica, the Falklands and South Georgia are from each other; each has their own unique highlight,' she says. 'I've been on this trip three times and have had a completely different experience each time seeing and learning so much; it's a truly incredible journey."
Sarah Ahern from our Falklands and Antarctica expedition supplier, Exodus Travels:

"If you're super rigid and you want to stick to a schedule you won't be happy on one of these trips. They try and stick to schedule but they're not going to bypass a whale to make a landing; they try and pick the best option for you to have the best experience."
Our Falkland Islands Holidays
Packing advice
Simon Evans from our supplier Chimu Adventures:

"As the Falklands are quite exposed they can get very windy and the weather can be changeable so I recommend taking a fleece and windproof jacket."
Going local
"These islands all need tourism to boost the economy and it is simply a matter of joining in with their ways of life. Nothing special is being built for tourists, but there is plenty of room, and plenty to see and do. Everything was memorable... Learning about the very different cultures in these places was something life changing and the welcome we received everywhere was the best I have ever known." – Di Lammas, from our holiday reviews
Our top Falkland Islands Holiday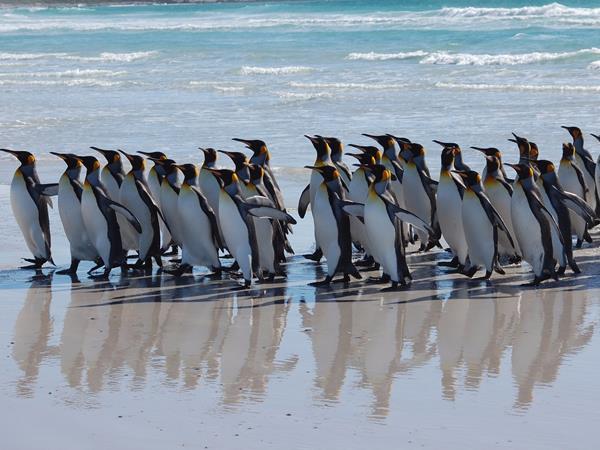 10 day Falklands birds and wildlife adventure
From
£3382

to

£4133
10 days
ex flights
Tailor made:
This trip can be tailor made and runs between October - March
If you'd like to chat about Falkland Islands or need help finding a holiday to suit you we're very happy to help.

HEALTH
No vaccinations are required for the Falklands.
Ensure your travel insurance covers all activities you may be participating in, especially if it is part of an Antarctic expedition (kayaking, diving, ice-climbing) as well as emergency evacuation. Ships have basic medical care and a doctor or nurse, and there is a hospital in Stanley, but if it is something urgent you may need to be transported elsewhere.
Wear sunscreen and a hat. It may be cold and cloudy, but that ozone hole is gaping this far south.
For more tips on staying healthy on an Antarctic cruise, see our Antarctica travel advice.
SAFETY
You couldn't find a safer place than the Falkland Islands, with a pretty much nonexistent crime record. Always take care when approaching wild animals, particularly if they have their babies close by. You really don't want to get into a fight with a mother seal – or the father, either. Always keep your distance. Never go onto a piece of land that has been sealed off because of land mines. If you are visiting the Falklands as part of an Antarctic expedition, the crew will perform a safety drill at the beginning of the trip, and it is important to pay attention.
Falkland Islands advice from our travellers
At Responsible Travel, we think the best people to advise our travellers are often... other travellers. They always return from our tours with packing tips, weather reports, ideas about what to do – and opinions about what not to.

We have selected some of the most useful Falklands travel tips that our guests have provided over the years to help you make the very most of your holiday – and the space inside your suitcase.

Sitting next to penguins and elephant seals was the most memorable…

"Sitting next to penguins and elephant seals was the most memorable… Hosts at various lodges were very warm and obviously loved what they do and wanted to help with all aspects of our trip." – Gilbert Grant

"Everything was memorable from the penguins on the Falkland Islands to the turtles on Ascension Island. Learning about the very different cultures in these places was something life changing and the welcome we received everywhere was the best I have ever known… The flight from Santiago is very long (14 hours) and as LANChile won't let you book single flights and so charge for return it is better to travel both ways by Airbridge from Brize Norton. This does away with the budget Iberia flight from Heathrow to Madrid and the horrors of Madrid airport." – Di Lammas

Getting up close to nesting albatrosses was a huge thrill.

"The seasickness struck me low as soon as we sailed out of the Beagle Channel into open waters, but it only took a day to reach the outer islands of West Falkland for our first zodiac landings and some amazing wildlife spotting. Getting up close to nesting albatrosses was a huge thrill. I was warned that there isn't much to see or do in Ushuaia (although I found the museums weren't bad, and the food at the Hotel Albatros was excellent) so I took a trip out to the Tierra del Fuego National Park, which is outstanding and made an excellent start to the trip - I'd recommend that side trip when passing through Ushuaia." – Roger Bilder

"These islands all need tourism to boost the economy and it is simply a matter of joining in with their ways of life, so nothing special is being built for tourists, but there is plenty of room, and plenty to see and do." – Di Lammas
More about Falkland Islands