Best time to volunteer abroad with your family
Families are, of course, tied to the hip to term dates and all the politics that go with that, despite the fact that this trip may be the educational highlight of your children's year. But probably best not go there. So, all that taken into account, there are plenty of family volunteering opportunities that fit into all the school holidays. Swap skiing for South Africa in February, turtles over trick-or-treating at Halloween and if you go volunteering at Christmas, you and your family will see what the giving season is really about.
Our Family volunteering Holidays
Christmas
A volunteering holiday with your family isn't just for Christmas, it's for life. And there are plenty of projects out there to become involved with over that long winter break. This is a perfect time to head to Costa Rica, for example, to monitor sea turtle nesting on a quiet, tourist free but turtle rich beach. Volunteering with monkeys at a South African rehabilitation centre, helping to prepare them for release into the wild is a dream come true for many. As is volunteering with elephant conservation projects in either Thailand or Sri Lanka where it may be peak season in mainstream tourism, but the world of conservation is far from the madding crowds.
February half term
This is often a time when families can't quite work out where to go and what to do. It is in between seasons for a lot of places for traditional holidays and so all the more reason to tap into volunteering projects. Thailand's elephant conservation work is ongoing all year round, but temperatures haven't gone through the roof yet, making this a good time to visit. The same is true if you want to help these gentle jumbos in Laos too. Bring your little monkeys to South Africa for a real treat caring for baby monkeys. And Sri Lanka's southeast is perfect at this time, in between both monsoons, with elephant projects always in need of support. You may even catch a sight of blue whales at this time of year if you are lucky on your day off.
Easter
With most schools having a two-week break at Easter, it is worth seeking out some of the projects that recommend a full fortnight's contribution. Such as horse rehabilitation in South Africa, a dream trip for those with a passion for ponies. Namibia's climate is fresher and the landscapes greener during this time too, with a two-week break just perfect for working with elephants in the desert. The Amazon rainforest is also open for conservation projects at this time, albeit a bit hot and humid. These are just a few of our favourites but, as you can see, there is no shortage of Easter eggs.
May half term
Although there are projects the world over that need volunteers all year round, such as elephant and monkey conservation or rehabilitation work, this is also a time to consider some projects a bit closer to home too. In Romania, for example, families can help out at a bear sanctuary in the Carpathian Mountains. In the lush woodlands bears, deer and wolves are all nursed back to health with your help. On your day off, swap bears for bats with a visit to Dracula's Castle.
Summer holidays
The "grandes vacances" are a great time to have the big adventure. You can take a good amount of time off in the summer holidays, meaning you can really get stuck into a project and even combine it with a family adventure holiday. Costa Rica is perfect for this, where turtle conservation projects are always in need of help and where strolling the beaches together en famille, watching mothers nesting and babies emerging, is as spectacular as it gets. Time your visit for the end of August when the babies start to emerge if you can. South Africa has lots to offer during this time, and the temperatures are not high, making it more pleasant to work hard on projects such as monkey rehabilitation and on conservation projects in the game reserves.

This is a great time to get involved in wildlife conservation in the rainforests of Borneo while, back on the other side of the world, the summer months are the only times to work with elephant conservationists in Namibia.
October half term
Those baby turtles are still emerging in Costa Rica at this time, so contributing to these vital conservation projects is an incredible way to put a spring in your step just as our winter starts to close in. You will catch the rainy season then, but the end of it, so river rafting will be something else at this time if you can squeeze that in when you aren't working. If you want to combine some community or wildlife conservation with a safari in Tanzania or Namibia, it is a brilliantly active time for animals, and a lot fewer tourists. A pre-winter win-win all round.
Our top Family volunteering Holiday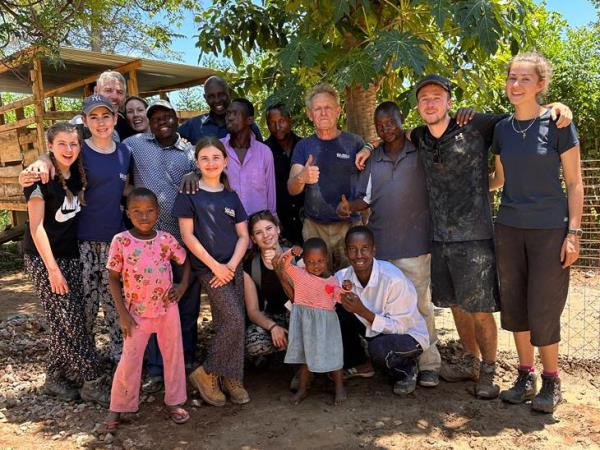 Memorable family holiday which makes a difference
From
£500
14 days
ex flights
Tailor made:
This trip can be tailor made throughout the year to suit your requirements
If you'd like to chat about Family volunteering or need help finding a holiday to suit you we're very happy to help.

What do the experts recommend?
Anne Smellie, from our supplier, Oyster Worldwide, shares her advice on where to go when on a family volunteering holiday: "The turtle nesting season in Costa Rica is only from July until December, and so it does work for school holidays, but the baby turtles start emerging at the end of August so, oh my goodness, the best time to go is not only when the mother turtle comes up to nest, but also when the baby turtles start going down the beach and out into the sea. I'd say anytime from late August to October so you could catch October half term as well. "
"The monkey project in South Africa runs throughout the year, and there is not really a bad time to go. You can even go at Christmas, summer holidays and half term."
More about Family volunteering