Family volunteering abroad travel guide
We are not sure that 'holiday' is the right word, really, when it comes to family volunteering abroad, given that its etymology is 'a day of exemption from labour'. Because although this family volunteering holidays guide will take you on a journey of exciting projects that you can contribute to around the world, the focus is definitely on work.

Sick of Christmas consumerism, we decided to help protect elephants in the wilds of Sri Lanka with our children, and granny, instead. A memory they will have not just for Christmas, but for life.

However, holidaying is also about escaping the norm, and these trips certainly do that. After plenty of hands on experiences working with animals and their habitats, there are relaxation times built in too, of course. But these are trips where you are participants rather than simply guests. You aren't just joining lots of family volunteers either, but a mix of scientists, conservationists, adult travellers and many more. The world of conservation projects abroad is varied and wonderful and you and your family will not only have an exciting and educational adventure by joining it; you will also be conservationist converts for life.
Our Family volunteering Holidays
WHAT WE RATE & WHAT WE DON'T
Sri Lanka
A country where you can do either sea turtle or elephant conservation, work and live with local communities, and yet it is still often upstaged by Thai volunteering projects. The culture and natural heritage here is so rich, the trip is inspiring from beginning to end. And Sri Lankan culture celebrates family, so the welcome is beyond humbling. And, if you have cricket bat and ball for free time, beyond fun.
Animal rescue
Tigers and elephants are all very well, but very little thought is spared for India's street animals. The city of Udaipur, in Rajasthan, is a good base for a family holiday spent in an animal sanctuary, where thousands of dogs, donkeys and cows are brought every year. With the help of Hindi lessons, you can help in the local community, too.
Bears
Head to the Carpathian Mountains of Romania where, if you go into the woods, you are definitely in for a surprise. Not a picnic however, but working to rehabilitate mistreated bears in a sanctuary. Prepare food for over 100 bears and you'll be rewarded with plenty of time to watch them in their leafy surroundings, playing, lolloping, and even swimming.
Horse rehabilitation
Working with horses that have been neglected or mistreated in South Africa involves having to ride them along long beautiful beaches. Tough job, but someone's got to do it. Many people come to South Africa for volunteering projects with monkeys, which are superb, but if your children are obsessed with horses and would work from dawn to dusk just to be with them, this is a dream volunteering holiday.
Elephants
The world's largest land mammal has been used and abused over the years be it through war, for logging or performing for tourists. The result is proliferation of sanctuaries which help rehabilitate and bring them back to the wild. Thailand and Sri Lanka offer contrasting projects in beautiful countries. For something completely different, head to Namibia for time in the desert working with these great beauties.
Turtles in Costa Rica
Costa Rica is already one of the world's most eco and family friendly destinations, making volunteering holidays here so much easier than some other far flung places. Staying in local communities well off the tourist trail, turtle conservation are the leading volunteering projects here. Go on beach patrols, protect nests, and release hatchlings by night. With lagoons and surf to swim in and hammocks to swing in by day.
Little monkeys
This is probably one of the most hands on family volunteering holidays. Working in a monkey rehabilitation centre in South Africa, you and your kids get to spend precious time caring for primates. Bottle feeding baby monkeys and getting them ready to return to the wild, there's not a dry eye in the house. And in country with so many other family adventures on the doorstep when the work is done.
Work ethic
You and your family will be joining real conservation projects, with scientists, naturalists and local experts. There really is work to be done. These aren't holidays with a bit of 'feel good about yourself' tasks thrown into the itinerary, when really all you want to do is get your PADI. For that, you want to go on a diving holiday. It's fun, often life changing work, but it is work.
Orphanage volunteering
We don't feature any orphanage volunteering trips and if you come across any elsewhere, do think very carefully and
read up on it thoroughly first
. The boom in fee paying volunteering travellers has made orphans something of a commodity. In some countries 'orphanages' are suddenly opening, many nothing of the sort. Plus, care of vulnerable children should be carried out by highly trained experts. End of.
Walking with lions
It might feel irresistible to hug a cub or feed one with a bottle, but the chances are that trips advertising such proximity with cubs are working with 'canned hunting' profiteers, the cubs being sold on as adults so that they can be shot by tourists who pay a fortune to do so. The fact is, if the lions are being habituated, they ain't never going back into the wild. Read more about
canned hunting
.
Pushy parents
'It will be brilliant for your personal statement, darling'. This is just the wrong approach. These holidays are all about the project, not preening your little ones for Oxbridge. They are about having a fulfilling family time as a result of working with and living in a community. Leave all pushiness behind and let the conservation experts lead the way. The natural way.
Elephant trekking
Sorry, but it really isn't cool. The sad thing is that some elephant 'sanctuaries' are actually glorified circuses, where elephants paint, perform and carry tourists on their backs. If it is pushing elephant rides, it definitely doesn't have conservation at its heart. Because these elephants have been trained in a very unnatural and often very cruel way to perform. Say no to trekking and read more on
our stance about elephants
.
Our top Family volunteering Holiday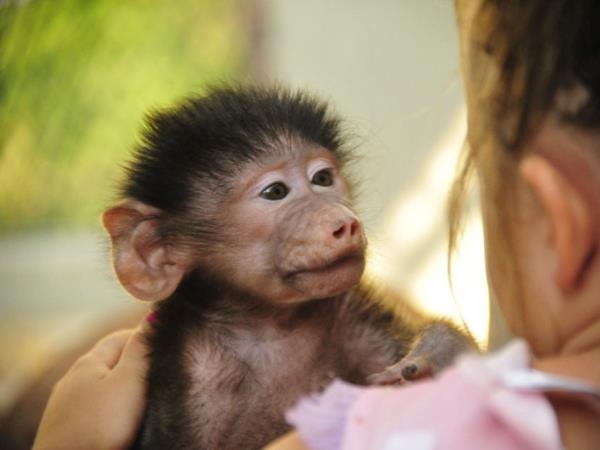 Family volunteering with baboons in South Africa
From
£1269
14 days
ex flights
Tailor made:
This trip can be tailor made throughout the year to suit your requirements
If you'd like to chat about Family volunteering or need help finding a holiday to suit you we're very happy to help.

Why go on a family volunteering holiday?
For most families, in reality, volunteering while on holiday is not simply out of a desire or need to 'give something back' or to put one's skills to good use in an environment or community where they are needed. They are also about introducing children to a completely different world, giving them a chance to learn about wildlife and the environment, and some encouragement to break the moulds of consumer and indeed digitally driven life. As well as becoming involved in wildlife conservation, you will be staying inside a local community and so having to adapt quickly to a new culture and language is a must. This is an added attraction for many families, although not for everyone. So, if you know that resort holidays are your thing, you might want to think again.
Many families also want to spend quality time together contributing to a genuine conservation project, sharing that feeling of achievement when they have spent a night ensuring that all the baby turtles that hatched that night made their way safely to sea. Or that the monkeys you have been bottle feeding in order to rehabilitate them after being mistreated as 'pets', can finally return to the wilds of South Africa. And which family could possibly resist the chance to go camping in the Namibian Desert as part of a project to track and observe elephants? The question is not so much 'why go on a family volunteering holiday?' but more 'why the heck would you not?'
Age ranges vary according to the activity. When tracking elephants in the wilds of Sri Lanka, for example, there is some serious jungle trekking to be done so volunteers should be a minimum of 10 years old. If you want to contribute to horse rehabilitation in South Africa, you need to be 12. But many other projects will welcome much younger children, and are always open to discussion about your children's interests or your concerns about energy levels required.
Anne Smellie from our family volunteering holiday expert, Oyster Worldwide:
"Age ranges depend on the type of volunteering, but most kids get the most out of it if they are 10 years plus. There are some projects where you can get involved if you are younger, but from a personal point of view, I don't know how easy that would be for a family and how easy it would be for the children to remember it. I think one of the important things about family volunteering is that there are lessons learned from it and everyone can understand what they are doing and contributing to, and why it is so important. So, I think to be able to do that, you need to be a little bit older. "
More about Family volunteering