Is family volunteering for you?
The post holiday school gate conversation is often a very good gauge of how the land lies when it comes to travel. And families who have taken their children on a volunteering break are usually met with the same two responses. The first reaction is usually "oh, that is different, and very earthy of you," and the second is, "I'd never get my family to agree to do that!" This will lead the still glowing volunteer to gush with lots of reasons why 'different' is also fun. They'll go to great lengths to explain why they loved spending the summer protecting sea turtles in Costa Rica or their winter in South Africa, helping wounded monkeys prepare for the wild again. We thought we would save them some time at the school gate and, based on a lot of experience and feedback from a wide variety of families, help you decide if a family volunteering holiday really is for you.
Are we that type of family?
In short, there is no 'type' of family that decides to go on a volunteering holiday. They come in all shapes and sizes. You get people of all ages, generation mixes and backgrounds, and a whole range of different income groups.

One myth is that volunteering families are all hippy dippy types who live on some sort of mythical moral high ground – far from it. There are families who have done nothing but all inclusive holidays since the kids were born and have a sudden need for immersion in something other than a swimming pool. There are urban chic families who have spent every Easter in the Trois Vallées and decide, for various reasons, to go off piste and work on a horse rehabilitation project in South Africa. They may never have done a day of camping in their lives. And nearly half of volunteering families are with solo parents. The list is wide and varied.

Anne Smellie from our family volunteering supplier, Oyster Worldwide:
"In Costa Rica I had four out of five family members who went on turtle conservation project and Dad said, nah it's not for me. I'm going to travel around for a bit and catch up with you afterwards"
We just don't have time
It is true that you do have to make some time for a volunteering holiday, but not for the actual break. You could spend a week volunteering at a bear sanctuary in Romania during May half term, or a week working to protect sea turtles hatching in Costa Rica in October. You can of course go for longer during the summer holidays. The time that you will need to put aside, however, is in planning the trip. Although you will be dealing with an expert volunteering organisation where experts handle all the logistics where the project is concerned, the rest will be up to you. These are not 'click once and book' trips. You will need to research flights, organise transport to the volunteering site, insurance and any further travels or adventures within the country after your volunteering time.
A strong unit
Anne Smellie, Oyster Worldwide:
"You do need to be prepared for things to go wrong. Without making it a scare factor, you are going to developing countries, the roads will be bumpy, there might not be air con and if there is it might be broken, local people may work at a different pace than in the UK"

Teamwork is central to a volunteering holiday. Not just when you get there, but also in planning the trip. It is not uncommon for a volunteer organisation to have a conference call with all the family members to explain what the project is all about, and reassure them regarding any concerns. When you get to the project itself, you are allocated daily tasks that contribute to ongoing research, conservation or rehabilitation of wildlife. And in most cases, you will be working as a family team.

Such potentially life changing trips can have a hugely positive impact on families, so you do need to consider whether you are a strong unit before heading out. If there is a fracture in the family unit, it would be a mistake to sign up for a volunteering trip as a way of healing the wounds. Family volunteering holidays are not family counselling sessions because, to be blunt, your role on these trips is to help others. However, in doing so, there is no doubt that you will have a very bonding and wonderful time as a family in the process.
Will we be able to do it?
Anne Smellie, Oyster Worldwide:
"With our family travellers I spend double if not quadruple the amount of time on the phone talking and reassuring them. Which I love, because I see that the end result is a great family experience."

Of course. These volunteering trips are designed to suit families, by experts who know that there is no such thing as one size fits all. In many ways that is exactly why volunteer travel is so popular, because it plays on everybody's strengths and allows each member of the family to contribute in some way. Everybody has something to offer, and actively engaging in a culture and working together, really brings out the bonds. Also, you are so well briefed in advance about the work, accommodation, safety issues, location and so on, that you will be ready to hit the ground running.
Special educational needs
Anyone who signs up to volunteer is special in our books. Children with special educational needs are more than welcome as long as the parents are happy that the facilities and ambience on site will cater for their children. Our responsible volunteering organisations will be open to all questions to assuage any concerns. Or indeed advise that, with a child's particular needs, it might not be suitable.

At the present time, mobility needs can be difficult to cater for on volunteering trips, due to the fact that the terrain is often quite rough, but always double check with the volunteering organisations. Young people with cognitive special needs often love family volunteering holidays, as working with animals and in the outdoors have long been celebrated as having a positive impact for everyone, no matter what their needs are.

Anne Smellie, from Oyster Worldwide:
"We have had a mother and son who had Down's syndrome as well as cognitive issues. The boy was super friendly, loved animals but couldn't talk very well. Working with the mum to see how we could make it work for them was a delight. The son volunteers with an animal shelter at home too, and his mum says that this is when he is at his happiest. They went to the elephant sanctuary in Thailand for a week, to see how he got on. He was so keen to be involved in everything, he just never wanted to stop!"

"We had a young girl who suffered from depression, she was about 10, and she was really struggling with socialisation, confidence and wasn't making friends at school. She went with her family to the monkey rehabilitation centre in South Africa and when they arrived, the owner could tell that the daughter was really unsure about everything. So he gave her a baby monkey and said, "this is your responsibility, this is what you do… now go for it." She just lit up during the two weeks that they were there. The mum was so grateful to the project and said that she had a new daughter at the end of it."
Our top trip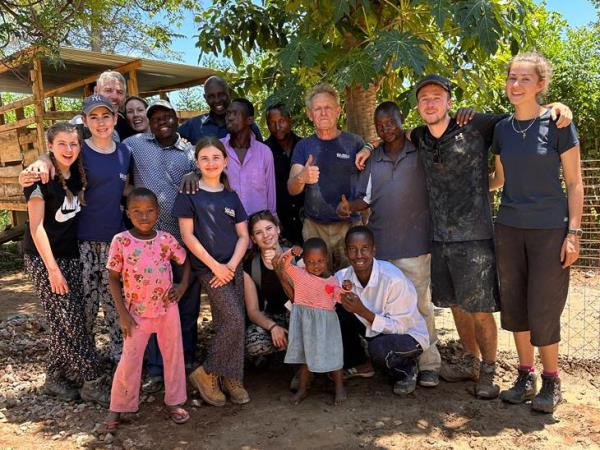 Memorable family holiday which makes a difference
From
£500
14 days
ex flights
Tailor made:
This trip can be tailor made throughout the year to suit your requirements
If you'd like to chat about Family volunteering or need help finding a holiday to suit you we're very happy to help.

Teens & transitions
Family volunteering holidays that are aimed at teenagers who are ready to seek out a bit more independence are superb on so many fronts. First, they are the perfect antidote to academic pressures. Second, they can really influence what young people may choose to do after they leave school. Third, they provide a responsible alternative to some of the extortionate £4K type charity breaks that crop up when you reach sixth form. Fourth, you get to experience a bit of the gap year vibe with your children before they head off and do it themselves, leaving you at home, green with envy. And finally, you get to have a truly memorable time together. A time where the emphasis is not all about what will look great on a CV or UCAS form. It will simply be a great time, giving and sharing as a family.
Family volunteering holidays are also perfect for teenagers who have already flown the nest to go to college or university. They have adjusted to a new life but are still keen to be involved in family holidays in some way. You don't all have to be there at the same time either, of course. Some members of the family could go out for a week and be joined by the older independent sibling for the second week, for example.
Duke of Edinburgh Award residential
Many of our family volunteering organisations also run trips where young people doing their Duke of Edinburgh Gold Award can complete their 'residential' requirements. During this section of the Award they are required to go and contribute to a community project of some sort for a week. Although they have to be independent of friends and family to complete this section, one option for families is to sign your son or daughter up for a week on a project so that they can get their 'residency', then the rest of the family can join him or her afterwards to work together. Always ensure that it is a Duke of Edinburgh approved project first, although many of them are.
I'm too old
Family volunteering holidays usually have a minimum age, depending on the project. For example in Thailand, you need to be 14 to work with elephants at the refuge project and you need to be over 10 to work with bears in Romania. But you only have to be eight to work with monkeys in South Africa. There is no maximum age, however and intergenerational family groups are very popular on volunteering projects. Your son might not want to go and work in the rainforests of Borneo with his little brother, but he might jump at the chance to go with his grandparents. Imagine celebrating a grandfather's 70th birthday with three generations working together to track elephants in the wilds of northern Sri Lanka.
What, no WiFi?
Funnily enough, this is more often than not the question on adults' lips rather than the children's ones. Some adults really do struggle with the concept of a device detox break, usually because of work commitments. They often want their kids to switch off from modern day life but aren't so good at it themselves. It is surprising how many adults want to know where the secret WiFi spot is at the project, but don't want the children to have it. In fact, most places have very limited WiFi, so it really is time to let the devices go. However, there is always a way to get emergency help through the project. They are never totally off grid.
More Family volunteering articles