Types of family volunteering holiday

The wonderful thing about volunteering with your children is that you'll make a difference to the place you visit,
and
have a lasting impact on the way your kids see the world.

Just as families all have their quirks and differences, so do volunteering placements that welcome families into the fold. In one way, your choice is often dictated by the school holidays or the length of time that you can commit to a project. Whatever you choose, you will be immersing yourselves in local life, embracing cultural differences from food to language head on, and learning a lot about wildlife and habitat. You may want to be by the sea, or the deserts and bush may be calling you. You may want to combine your volunteering with more family fun afterwards, in which case somewhere like Costa Rica often ticks the right boxes for family volunteers. No matter what you choose, these are trips that will boost children's confidence levels, open their eyes to different lifestyles and, almost certainly, convert them to conservation for life.
Wildlife conservation
Think Namibian deserts, Sri Lankan jungles, Romanian forests and magnificent mountain ranges and you are starting to enter the world of wildlife conservation volunteering placements. They are really 'out there', with up at dawn trekking to monitor where bears have gone the night before, or where elephants have passed with their young. They are about living with remote communities, such as the Orang Sungai tribe in Borneo, working to preserve habitats for orangutans and other primates, or staying with a Karen hill tribe community in Thailand, assisting with village projects and helping semi-wild elephants.. As well as expert conservationists and scientists who know and love these landscapes and their inhabitants like they are their own family.
Marine conservation
There aren't too many of these that work with young people, but they do exist and so if you have water babies these are trips of a lifetime. You all need to be passionate about the ocean, happy to live a beach life that is very much in keeping with the local community, and be willing to participate in conservation tasks at strange times of the day. In Costa Rica, for example, you may have early starts to avoid the heat of midday, and late night sessions monitoring sea turtles. It won't all be ducking and diving, however. You might be putting data into a computer, talking with local communities about conservation efforts or doing boring old cleaning jobs.
Animal welfare
Animal welfare volunteering differs from wildlife conservation because the focus of the conservation work is on sanctuaries and rehabilitation centres, working with animals that have been orphaned, harmed or mistreated. In most cases these are formerly wild animals, such as bears in Romania that have been forced to perform for tourists, monkeys in South Africa that have been mistreated as pets or orphaned, or elephants in Thailand and Sri Lanka that have been abused through logging or entertaining tourists. In other cases they may be domesticated animals, such as horses in South Africa, which have been neglected and abused. Working with well established rescue centres and sanctuaries, these are also important projects and often suited to younger children who aren't ready to go trekking the wilds all day long yet.
Our top trip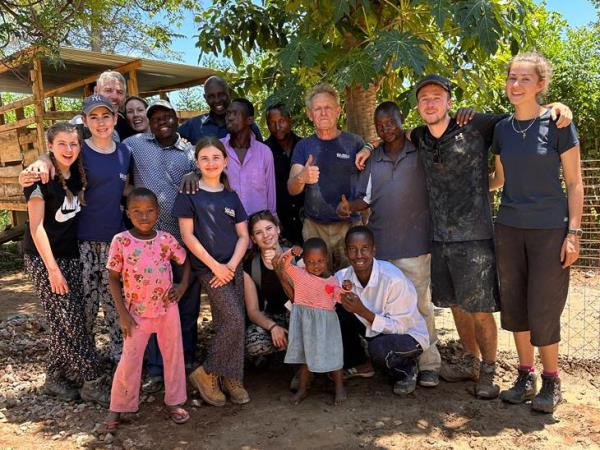 Memorable family holiday which makes a difference
From
£500
14 days
ex flights
Tailor made:
This trip can be tailor made throughout the year to suit your requirements
If you'd like to chat about Family volunteering or need help finding a holiday to suit you we're very happy to help.

Tips from our family volunteer holiday experts
Ellie Petrie, from our supplier Pod Volunteer:
"Our horse rehabilitation project accepts families. It's a lovely project as you can really get involved in the family environment that they have there. It's run by two women originally from Gloucestershire, then they moved over there and set up the project about 20 years ago now. The volunteers get involved with helping out with the horses and helping with the rehabilitation of an individual horse if they're there for over four weeks. But while they're there, they get involved in the local community, in whatever the family's doing, and just mucking in wherever they can. So it's really nice for families to go along and help in all the aspects. We have different minimum ages for each project, and for that project there's a minimum age of 12."
Jon Arnold, from our supplier Oyster Worldwide, offers advice on volunteer holidays for families: "If this is their two week holiday that they're doing over the summer, it's giving the kids much more of a cultural understanding, it's giving them a lesson in how great it is to volunteer, and really making the most of their holiday time. They're not just staying in an all inclusive holiday resort and lying on a beach. They're actually really doing something really worthwhile with those two weeks. And these are projects that we've picked particularly because there are things for the children to do and to contribute to as well – the minimum age is around seven."
More Family volunteering articles