How to choose a Galápagos cruise
Cruises around the wildlife-rich, volcanic Galápagos Islands are a wonderful way to explore, sailing you to celebrated shores and reaching the more remote corners that land-based trips cannot. They have nothing in common with standard cruises, either, so forget the cabaret and casinos; in the Galapagos Islands, it's all about exploration off the boat, to encounter the dazzling biodiversity of this very special part of the world.

The Galápagos National Park is one of the world's most unique and exciting wildlife watching destinations, with many of the creatures that make their home here found nowhere else in the world. With a veritable fleet of fully crewed ships available, from motor yachts with just eight cabins to small ships and mega catamarans, how do you find the trip that's right for you? With our guide, naturally.

Cruise duration
Tailor made, luxury cruises can last anywhere up to two weeks, but a week-long cruise is easily enough, packing in a brilliant mix of popular islands and lesser visited locations, too. In general, the central, larger islands of Isabela, Santa Cruz and San Cristóbal feature on most itineraries, but by travelling overnight, a cruise can reach remoter spots, such as Genovesa in the north and Española and Floreana in the south, all in the space of a week.
Consider the size of the boat
There are pros and cons to both big and small vessels. The maximum number of passengers any Galápagos cruise ship is permitted to carry is 100, but vessels of this size cannot visit certain areas. Smaller ships can explore more of the region, but often offer less luxury onboard.
Larger vessels tend to be steadier, which is helpful if you suffer from seasickness. Many also have excellent credentials when it comes to responsible tourism.

The idea that big is better may seem counterintuitive, but in the Galápagos, larger vessels are constrained by tough ecological regulations, while smaller craft are less tightly regulated. As a result, these larger, modern boats are often the last word in environmentally friendly cruising. They may have their own sewage treatment plants and natural water supplies onboard, as well as a state of the art motor that radically cuts fuel consumption. In this way, bigger, luxury boats can sometimes cause less impact on the environment, despite being twice the size of traditional ships.

Smaller boats, on the other hand, offer a lovely sense of intimacy. When there are just 16 passengers and a small crew, it's easy to get to know your fellow travellers and friendships quickly blossom. Travelling on a small boat also has a sense of old-school romance – you feel like the first pioneers that went to Galápagos – and allows you to get really close to this very special place. Some of that quiet exploration is lost with a larger boat. From a practical point of view, on a small craft you'll also spend less time waiting to get on and off, which can be an issue on bigger ships.
Cruise ship facilities
You'll find larger cabins onboard a luxury ship, some with their own private balcony, while on smaller vessels, cabins are compact. They may be en suite, but are generally deliberately small to maximise living area space. This will include, on even the dinkiest vessels, a lounge, dining area and sun deck, where you can view wildlife or just stretch out and relax. That said, many itineraries are pretty packed, so you'll spend most time off the ship exploring.

Luxury cruise ships have more space and boast better facilities, including treats like hot tubs, a sauna and cabins with private balconies. There may be a library and cinema, too, and the food can be really sophisticated with extensive wine lists. As well as carrying wetsuits and snorkelling gear, luxury vessels may have their own kayaks and a glass-bottomed boat, too.
Our top Galapagos Holiday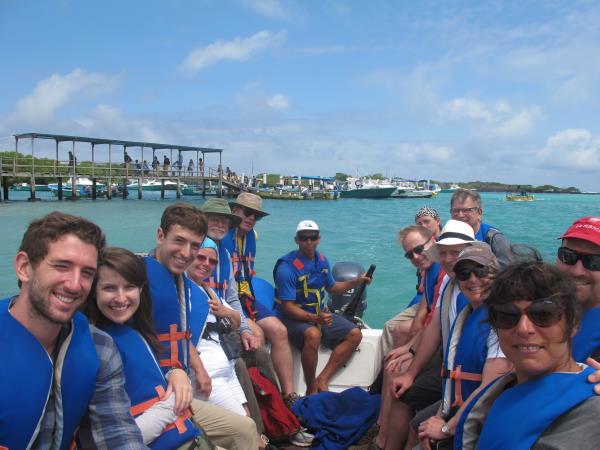 Cruise the Galapagos Islands on sailing boats and yachts
From
£2797
8 days
ex flights
Tailor made:
Daily departures throughout the year.
If you'd like to chat about Galapagos or need help finding a holiday to suit you we're very happy to help.

Your fellow passengers
Unless you're on a cruise specifically designed for families, there probably won't be any children onboard. Most cruises have a minimum age requirement, often 15 or 16 years old. Solo passengers are welcome, but generally pay a single supplement or may have the option to share a cabin with another solo passenger of the same sex.

All ships have to carry a certified naturalist; the Galápagos National Park trains and strictly regulates guides in the islands. Don't assume that all guides speak English, however – they don't, so double check – and be aware that the most experienced guides gravitate to the more luxurious ships. For a really educational and intellectual experience, choose a cruise that has onboard experts, in addition to the guide, in fields such as conservation, ecology or marine biology.

Even small boats with just 16 passengers may have a crew of up to eight people, including a skipper and chef, with more on larger, luxury vessels. Ask if the crew has been recruited from the islands or mainland, and if possible, choose a trip that supports the local economy through employment.
How fit do I need to be for a cruise?
Cruises around the Galápagos can be pretty active, with lots of snorkelling and hiking. You will be using a Zodiac to get you to and from the ship, to snorkelling sites and the islands. Wet landings, where you splash out into shallow water rather than stepping onto a jetty, are common, and when snorkelling you'll simply be jumping in!

Read the itinerary carefully and be honest about your ability to cope with the style of travel offered. Make sure you're comfortable with the included activities, but also with moving around the boat. Many boats have cabins and communal areas spread over several decks, with the steps between the decks often pretty steep.

Seasickness is occasionally an issue in Galápagos. Although the waters are usually calm, there are times when it can get rough and choppy. Steady sea legs (and a sturdy stomach) are needed when walking around the boat during bad weather. Bring seasickness medication if you're concerned.
Check your ship's environmental credentials
All ships cruising around the Galapagos should adhere to the regulations set out by the Directorate of the Galápagos National Park and be authorised to work in the protected areas of the archipelago. Additionally, some boats boast Smart Voyager certification from the Rainforest Alliance, which means they meets tight environmental regulations on issues such as recycling and waste disposal.
Speak to a cruise specialist
Cruises in this spectacular archipelago are usually a once in a lifetime experience, so take your time chatting to our holiday partners to narrow down your options and help you pick your cruise with confidence. They'll have in-depth knowledge of the boats and the areas they operate in, and will be able to answer all your questions. Larger companies will offer a choice of several different craft, ranging from 12 berth yachts and catamarans to 100 passenger cruise ships. If you're feeling flush, they can even help you charter your own boat!