GALÁPAGOS WILDLIFE HOLIDAYS GUIDE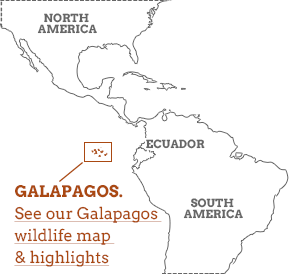 The world is filled with wonderful wildlife – much of it bigger, fiercer or more unusual than that of the Galápagos. But nowhere else are animals as fearless and friendly, and that is what lures people to this isolated archipelago, nearly 1,000km off the coast of Ecuador. It's this extreme isolation that has erased the memories of fear, and shaped the beaks, shells and wings of these unique species, in this living exhibit of evolution.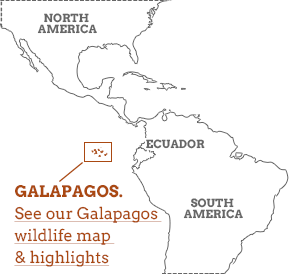 The experience of swimming with sea lions, walking with tortoises and strolling past salt-snorting marine iguanas is indescribably wonderful.

It's a step back in time to the storybooks of childhood, where animals and humans live side by side. Even more phenomenal is that these species have survived and evolved in one of the world's harshest environments – a jumble of lava fields and still-smoking volcanoes, which continue to mould the islands today. The Galápagos' past has been shaped by travellers – including Charles Darwin and fugitive pirates – and modern-day visitors must be mindful that its future, too, is now dependent on them, and that the evolution of Galápagos holidays will be the next big milestone in the islands' unique story.
Galápagos wildlife is…
the inspiration behind Darwin's theory of Evolution.
Galápagos wildlife isn't…
a petting zoo. It may seem friendly, but please keep your distance!
Our Galapagos wildlife Holidays
WHAT WE RATE & WHAT WE DON'T
Blue-footed boobies
Although their name derives from the Spanish word for 'fool' or 'clown' these slightly gawky Galápagos greats are anything but comical in the air, with super speeds seeing them zip over the sea before nose diving into the water in search of unassuming anchovies. Bright blue boots help this bird stand out from red-footed and Nazca boobies; North Seymour Island is the best spot for boobies in summer.
Galápagos finches
Small they may be, but insignificant they certainly aren't. Galápagos finches are partly responsible for Darwin's theory of evolution as he recognised that these land birds had adapted to different island environments to create sub-species ranging from 'cactus' to 'ground' to 'vampire'. Finches can be found all over the Galápagos including on giant tortoises as they pick ticks from loose folds of skin.
Lava lizards
Lava lizards are prevalent on the Galápagos, especially on the volcanic slopes from where they gain their name. They look a bit like little iguanas and like nothing more than sunning themselves in low lying areas and around the coastline without the need for shade. The hotter the better mantra continues into mating season where males can be seen doing 'push ups' to prove their prowess.
Underwater worlds
Island life is only one part of the story; what inhabits the surrounding waters is a very different one. Nowhere else in the world can you snorkel and swim in lava tubes as green turtles paddle nearby, manta rays fly and sea lion pups swim up and look you in the eye. Marine iguanas are on the prowl, Galápagos penguins dive in, and hammerhead and white-tipped sharks lurk in the depths.
Giant tortoises
'Galápago' means 'tortoise' in ancient Spanish, and it's clear why these characteristic creatures were the ones to give the archipelago its name. It's likely that the islands' 20,000 tortoises – that include ten separate sub-species – all descend from a single individual who washed up here thousands of years ago, and it's even possible that some of the hatchlings seen by Darwin in 1835 may still be alive today.
Sea lions
This is the archipelago's most abundant ocean going mammal although more often than not you'll catch sea lions in the Galápagos lounging on the beach or wooden decking, making the most of the sun. Rare migration means that sea lions can be seen all year round in the Galápagos but there's one place to watch them that's just a little bit more special than most, and that's underwater.
Cetaceans
Numerous cetacean species can be found making the most of the marine life around the Galápagos Islands with bottlenose dolphins the most frequent and orcas one of the most deadly, especially to sea lions, penguins and dolphins. Migrating humpback and blue whales tend to appear from June to Sept with the water between Isabela and Fernandina the place to be for whale watching in the Galápagos.
Marine iguanas
You've not lived until you've witnessed a double-barrelled salty sneeze from a marine iguana. Agile in the ocean but not so mobile on land these are the only lizards on the planet that can live underwater. In the Galápagos there are six sub-species to be found on and around the coastlines of Isabela, Floreana and Santa Cruz, with the January to March courting season a colourful affair in every sense.
Two-week cruises
A Galápagos holiday is fascinating, but the tortoises all begin to look the same after a few days and only the most obsessive biologists are going to enjoy more than ten days here. Additionally, cruises leave little space for independent exploration. If you do want to stay longer, consider spending additional onshore days near a beach once your tour has finished.
Oversized ships
The assumption is that large vessels – carrying up to 100 passengers – must be the best equipped and the most stable. However, larger ships cannot dock at all the islands, boarding and departing can involve long queues, and you'll be paying a premium for a slightly more spacious cabin which, in reality, you'll be doing little more than sleeping in during your Galápagos holiday.
Getting up close
Although animals are abundant in the Galápagos this is not an open invitation to get up close to colourful crabs or pose for selfies with unsuspecting sea lions. Stick to designated paths, only explore with a guide and pay attention to signs warning not to disturb marine iguanas or the nesting sites of green turtles. Some creatures are at risk of contracting germs – please don't handle, even with care.
"The Galápagos Islands are a unique place for wildlife. The islands were never connected to the mainland and have always been isolated which allowed the endemic species living there to evolve according to their needs. There are no major predators in the islands and therefore the animals you find there are not afraid of anything. For them even the humans that they encounter do not present a threat, they see them as annoying paparazzi at best and allow humans to come up close." - Andrés Salazar, from our Galápagos wildlife holidays supplier Rebecca Adventure Travel
Eating and drinking
As most of the population are recent immigrants and most ingredients are imported, there are few typical local dishes, though the seafood is exceptional.

Look out for ceviche, which is different to the Peruvian version. It often contains shellfish marinaded in lime, and is served with popcorn.

Lobster is a local delicacy. Fishing is usually permitted from September-December, but do check if it was harvested sustainably.

Sea cucumber is a highly prized delicacy - as the Japanese believe it is a powerful aphrodisiac. Harvesting it contributes considerably to the local economy.

Our top Galapagos wildlife Holiday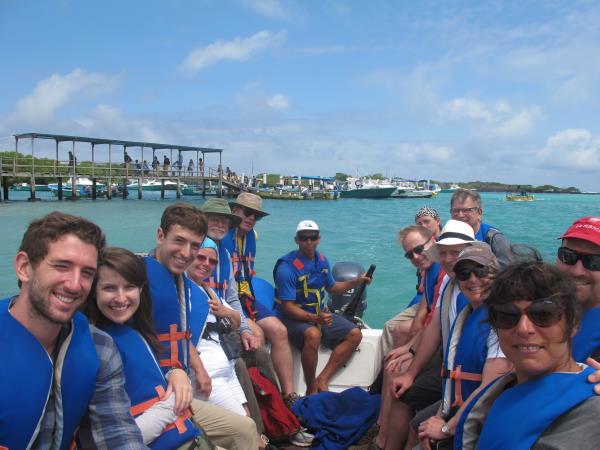 Cruise the Galapagos Islands on sailing boats and yachts
From
£2797
8 days
ex flights
Tailor made:
Daily departures throughout the year.
If you'd like to chat about Galapagos wildlife or need help finding a holiday to suit you we're very happy to help.

People & culture
The Galápagos is cultural melting pot, as people from the Amazon, Andes and coast of Ecuador have migrated here – as well as a small community of researchers and scientists. Spanish is the universal language among the islands' 27,000 inhabitants, and most people are employed in tourism or fishing.
People from the Galápagos are known as Galapagueños (male) and Galapagueñas (female).
Only four of the islands are populated: Santa Cruz, Isabela, Floreana and San Cristobal.
Gifts & shopping
The Galápagos is not the best place to purchase South American souvenirs, but beyond the overpriced "I Love Boobies" t-shirts there are a number of craft stalls and high-end jewellers along the waterfront in Puerto Ayora who are making their name on the island.

Avoid any items made with black coral and turtle or tortoise shell. These are threatened species, and the products are illegal.

All profits from the Research Centre gift shop are returned to its projects, so buy your books here rather than off Amazon when you return home!



The Galápagos Marine Reserve, at 130,000km2, is the second largest marine protected area in the world after Australia's Great Barrier Reef.

How much does it cost?
Carved wooden figures: £5
Bottle of Chilean wine: £4.25
Reduce the cost of your beer – return your bottle to claim your deposit and reduce waste.
A brief history of the Galapágos
For centuries, these inhospitable, lava-encrusted islands were viewed as having little value, other than as a place for pirates to hideout after looting expeditions across South America. The giant tortoises were also valued for their meat, as they could be kept alive on ships during epic journeys, and it is believed that hundreds of thousands may have been removed from the islands. Goats and dogs which were introduced during this period continue to cause some of the most serious environmental damage today.
Read more
More about Galapagos wildlife