WHY IS GALÁPAGOS WILDLIFE SO UNIQUE?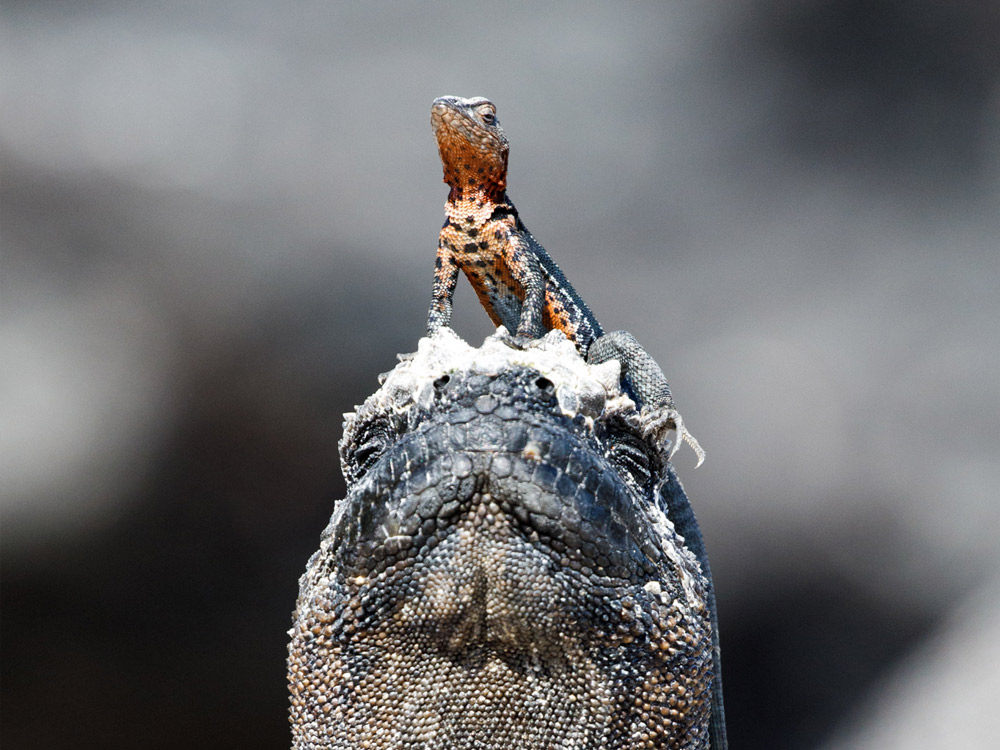 Isolated, inaccessible & untouched
The Galápagos Islands lie around 1,000km west of the mainland Ecuadorian coast. These volcanic islands have never been attached to Ecuador, nor anywhere else for that matter, and have always remained isolated in the Pacific Ocean, straddling the equator. The oldest island, Española, is the furthest south and thought to have been formed around four million years ago. The youngest island, Fernandina, is a mere 500,000 years old, and also an active shield volcano that erupted as recently as 2018. Thanks to their volcanic nature and humidity, the northerly islands are fairly fertile with plentiful vegetation. The islands further south of the equator are more arid with little or no vegetation.

Via numerous known and unknown methods – including floating on vegetation from South America – land animals have made the 21 main islands of the Galápagos their home. Due to the differing island habitats, several species, including tortoises and land iguanas, evolved in a different way to those on neighbouring islands, forming sub-species. This is what Charles Darwin discovered when he visited the islands in 1835. Species of finch, mockingbirds and tortoises, for example, were different from one island to the next. They had evolved to suit their environment and, in so doing, had become unique to the Galápagos. Darwin's book The Origin of the Species was published some 20 years after his visit, and through this work he had, inadvertently, put the untouched islands of the Galápagos, and their inhabitants, firmly on the map.
Protected national park & UNESCO status
The Galápagos National Park was formed in 1959, and it was granted UNESCO World Heritage Site status some 20 years later. Conserving this unique natural environment is a top priority for scientists and conservationists from all over the world, with organisations such as the Charles Darwin Foundation fundamental to monitoring and protecting the islands. Of course, below the water is also incredibly special. The Galápagos Marine Reserve covers more than 130,000km2 and is one of the most biodiverse and unique ecosystems anywhere on earth. Education and sustainable tourism are key elements of conservation here. These islands and their wildlife are unlike anywhere else on earth and everyone from scientists and marine biologists to school children and travellers agree that this should be preserved at all costs.
Our top trip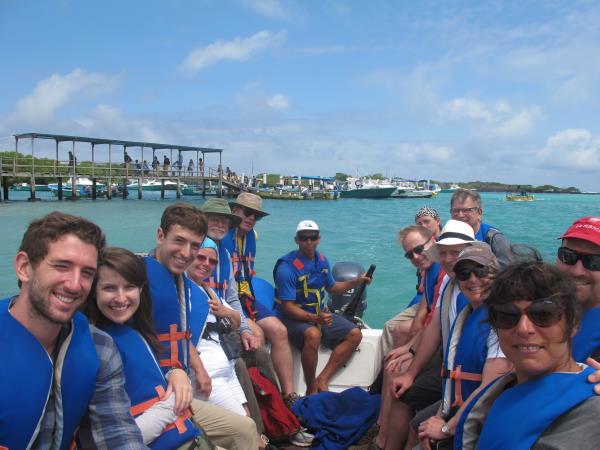 Cruise the Galapagos Islands on sailing boats and yachts
From
£2797
8 days
ex flights
Tailor made:
Daily departures throughout the year.
If you'd like to chat about Galapagos wildlife or need help finding a holiday to suit you we're very happy to help.

What you can expect to see
Setting foot on the Galápagos Islands allows you to become immersed in environments that have remained relatively untouched since being created millions of years ago. Although four of the islands – Santa Cruz, San Cristóbal, Isabela and Floreana – are inhabited, and feature small amounts of tourist accommodation, the rest do not allow overnight stays and as such you'll be treated to a unique opportunity to observe endemic animals in their natural habitat. The Galápagos Islands feature few large predators which means that indigenous animals feel safe and unaware of unnatural dangers, even the presence of humans. This means you can get up very close to animals, although 'look but don't touch' is a message to be strictly adhered to.

You can expect to see a wonderful variety of endemic animals, such as giant tortoises, iguanas and lava lizards, as well as extra special species of penguins, flamingos, and albatross that have either made Galápagos their permanent home or migrate here annually. Underwater there's a whole other world to discover with more than 400 species of marine animals known to inhabit the depths and shallows of the Pacific surrounding the islands. Marine iguanas, green turtles and sea lions are just a few of the species that you should be able to spot out at sea or closer to the shore.
How to see wildlife in the Galapagos
Galápagos
land based tours
and
small ship cruises
feature expert wildlife guides, and many of the tour leaders will have been born and raised on the Galápagos themselves. Guides take great pride in explaining why the wildlife in the Galápagos is unique and will also impart their local knowledge as to the best sites and the safest way to see animals. Land based tours will also include some boat travel so you can stay on different islands. Small ship cruises feature more time at sea and allow you to venture further around the archipelago.
Snorkelling, swimming and kayaking are just some of the ways to explore the marine life here, in the safe hands of a guide. We also recommend bringing along a bird book to help you understand how to recognise one sub-species of Galápagos finch from the next. You'll have ample excuses to get out the binoculars and tick off the types – there are thought to be 14. The wildlife that you'll see on land and underwater are simply unforgettable and visiting the Galápagos as a responsible traveller allows you to become an ambassador for the archipelago, a title not to be taken lightly.
More Galapagos wildlife articles