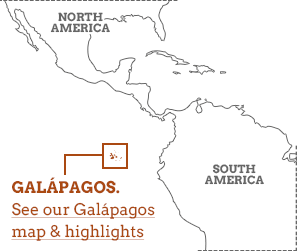 Just one of the many reasons to recommend our Galapagos Islands holidays is their flexibility. You can enjoy island-hopping aboard small ship cruises piloted by local skippers, land-based multi activity holidays (perfect for families), or a combination of the two. What they all have in common is a focus on the wildlife. The Galapagos Islands are a model of ecotourism, and Darwin would probably approve of the efforts that go into protecting their natural heritage. Our partners follow strict rules to ensure that the tortoises, sea lions and iguanas remain as friendly and fearless of humans as ever.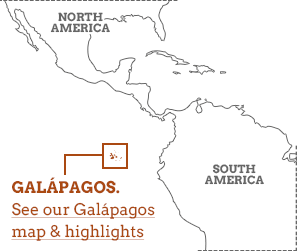 Our top Galapagos Islands holidays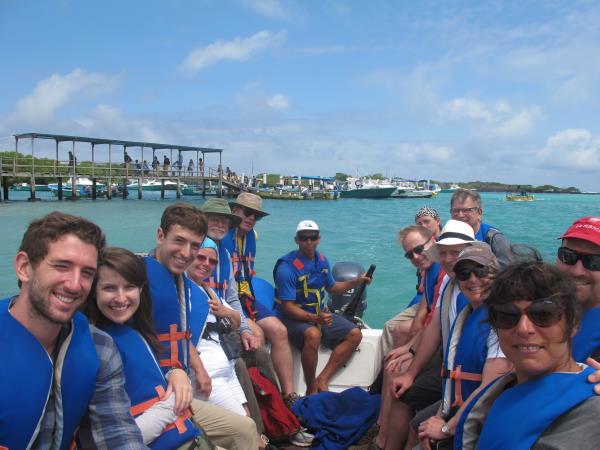 8 days
ex flights
Cruise the Galapagos Islands on sailing boats and yachts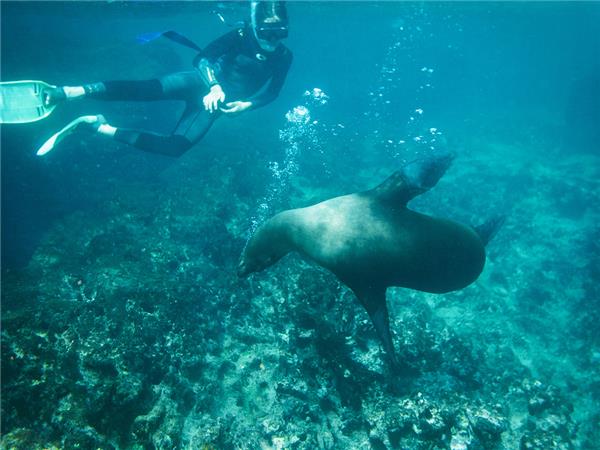 10 days
ex flights
Amazing wildlife, both on land and underwater
Small group
Two or three departure dates each week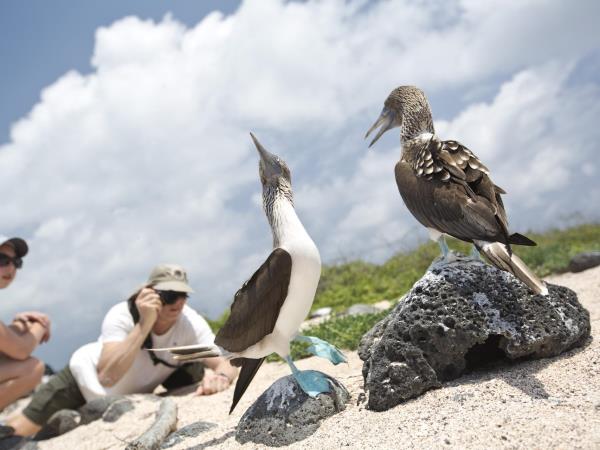 10 days
ex flights
A fantastic, in-depth Galapagos experience
About our Galapagos holidays
Wildlife holidays in the Galapagos
Galapagos comes from the word 'giant tortoise' in Spanish – and these gentle animals have become the symbol for the island's friendly, easy-going wildlife. But there is a wider cast of strange beasts on the islands: a belligerent chorus of sea lions and fantastically coloured iguanas on the beaches, and birdlife – from the world's only nocturnal gull to the charming albatross and flightless cormorants. Charles Darwin realised the significance of the wildlife here when he arrived in 1835, but it was 100 years later, in 1934, that the islands' wildlife was officially protected – and they remain remarkably free of invasive species.
How to choose a Galapagos cruise
If you're taking the time and effort to make the great leap to the Galapagos, then you're likely to be agonising over
how to choose a cruise
. First thing to know is that passenger numbers are small: by law, the maximum capacity for a vessel is 100 passengers, and you can find really small, boutique trips in eight-cabin motor yachts and little catamarans. Most cruises visit the central islands of Isabela, Santa Cruz and San Cristóbal. Then you need to decide whether you want to add on remoter islands in the north, like Genovesa, or south, like Española and Floreana.
Land based tours in the Galapagos
Less popular than going by boat, but really worth considering,
land based tours
can be great if you don't want to confine your family to a cabin. You might find locally owned accommodation is a lot cheaper than a boat, and you'll get home cooking and a taste of the area – something you can miss out on when you're anchoring at night. Staying on shore doesn't mean never leaving dry land – in fact, there are plenty of speed boat excursions and snorkelling trips and it's a great way to have a more adventurous, activity-based holiday of hiking and biking.
Family holidays in the Galapagos
There's the joy of watching your kids discover something for the first time. Then there's the very special joy of discovering the world together – and on a
Galapagos family holiday
, you get just that. These safe, friendly islands are amazing for children. Whilst many wildlife holidays require a good deal of patience and quiet – frustrating and boring for kids – Galapagos wildlife is more likely to be found right at their feet posing for a photograph. Congratulations: your children will now be spoilt for life. You can go on a specialised family cruise, or opt for land based accommodation.
Where to go in the Galapagos Islands
You're likely to plan to visit more than one island on your Galapagos holiday, and there around 50 to choose between. If you choose to
cruise
on a small ship or yacht, you can see a different island every day, including smaller islands like Bartolomé, famous for penguins, or Santa Fe, with its strange forests of cacti. Most people will make stops in Santa Cruz for the Charles Darwin Research Station, and to see giant tortoises. If you choose to be
land based
, staying on Isabela, the largest island, means you can hike volcanoes and enjoy fantastic snorkelling from the shore.
Types of cruises & holidays to Galapagos
The standout reason for stopping in the Galapagos is for a
wildlife holiday
. Like Darwin before you, you can study unique animals – though the baby sea lions are far too playful to sit still for long.
Small ship cruises
visit a different island every day, but for a
family holiday
you may prefer land based accommodation so you all have a bit more space. Being land based also works well for
multi activity holidays
. Discover all the different ways you can get up close to nature – by hiking and kayaking, or by diving in the marine reserve.
If you'd like to chat about Galapagos or need help finding a holiday to suit you we're very happy to help.