Galapagos multi activity holidays map & highlights

Lying almost 1,000km off land in the Pacific, the Galapagos Islands are a living laboratory and a natural amphitheatre where the stage is set for adventure.

Lying far off the coast of Ecuador, the Galapagos Islands form a volcanic archipelago teeming with unique wildlife. The 'Islands of the Tortoises' were once a common stop off for pirates and whalers who found on them a source of tasty meat useful for trans Pacific voyages, though Charles Darwin himself was said to be indifferent to the taste of tortoise flesh. Multi activity holidays here focus on the three most inhabited islands: Isabela, San Cristóbal and Santa Cruz, with transfers between them by boat or small plane. There are no direct international flights to the Galapagos Islands, so visitors typically fly in either from Quito or Guayaquil in Ecuador, and from there on to San Cristóbal.
El Chato Reserve, Santa Cruz
1. El Chato Reserve, Santa Cruz
Located in the Santa Cruz Highlands, the El Chato Reserve is one of the best places to observe giant tortoises. These gentle creatures can live to 175 years old, and while they may not do a great deal beyond plodding slowly through the pastures on their way to the coast, they're full of character, especially when they stretch out their long necks to feed. Darwin finches and short eared owls are also often seen hereabouts.
2. Isabela
Shaped like a seahorse, Isabela is the largest of the islands, created by the joining of six shield volcanoes, five of which remain active today. The island boasts several exceptional dive sites, and is the best place in the archipelago for whale watching between June and October. Key sites include the Wall of Tears, an impressive structure built by residents of a former penal colony, the tortoise breeding centre, Tagus Cove and the lagoons of Moreno Point.
3. Kicker Rock
The remains of an underwater volcano jutting out of the sea off San Cristóbal, the massifs of Kicker Rock are divided by a channel that is one of the best places for snorkelling and diving in the Galapagos Islands. Swimming through the transparent waters you might encounter manta rays, turtles and several species of shark including hammerheads.
4. North Seymour
Uninhabited by humans, but with large populations of sweet blue footed boobies, frigate birds and marine iguanas, North Seymour has several excellent dive sites off its coast. The nearby islet of Mosquera is a fantastic place to observe sea lion behaviours, with a substantial and noisy population.
5. San Cristóbal 
San Cristóbal is the island where Darwin first came ashore, so it's fitting that this is where the Interpretation Centre is located, a superb introduction to the archipelago's ecosystems, wildlife and history. There is a large sea lion rookery here, and plenty of hiking and mountain biking routes. Tijeretas, otherwise known as Frigate Bird Hill, is a famous lookout with great views over the island.
6. Santa Cruz
The most populated of the Galapagos Islands, and the main tourism hub, Santa Cruz is where you'll find the renowned Charles Darwin Research Station. Popular activities on Santa Cruz range from kayaking to Tortuga Bay, mountain biking and horse riding to hiking old lava tunnels where legend has it pirates of centuries past hid their Incan gold.
7. Sierra Negra
The Galapagos Islands are one of the most volcanically active places on Earth, and nowhere better illustrates this than Sierra Negra on Isabela. A dramatic hiking route takes you up to a caldera that's 10km in diameter, where you'll see wondrous lava formations and smoking fumaroles.
8. Tortuga Bay
A short, forested hike on Santa Cruz brings you to this magnificent beach. Sharks can frequently be spotted gathering in the turquoise waters, the rocks are lined with colourful marine iguanas and Galapagos crabs, and giant tortoises making their way across the soft white sands are a common sight.
Galapagos multi activity advice
Tom Shearman from our supplier Andean Trails on getting the most from a Galapagos multi activity holiday:
How fit do I need to be?
"This is an active tour so being in good shape means you will enjoy it more. While none of the activities are overly strenuous or require previous experience, fitness is relative and a 4-6 hour hike is great for some but not for others. The idea is to be up, out and about as much as we can during the day, making the most of where we are, and the fitter you are the more time spent looking at wildlife and less thinking about 'when will this activity end'. Practice snorkelling before you go. Marine wildlife is half the fun and enjoyment in Galapagos and so the better you are at snorkelling, the more you will enjoy it. Being used to using snorkels and wetsuits is a real plus."
Reconnecting with nature
"The mix of activities to entertain kids (and tire them out!), plus free time to burn off any excess energy on beaches or sunbathe, mean that parents also get to relax. Teenagers and children tend to love the sea lions, iguanas, sharks and beaches plus the freedom to be able to explore safely. They also love the chance to disconnect (WiFi is slow/non-existent) after the first hour or two with no internet."
Our Galapagos multi activity Holidays
If you'd like to chat about Galapagos multi activity or need help finding a holiday to suit you we're very happy to help.

At Responsible Travel, we think the best people to advise our travellers are often... other travellers. They always return from our tours with packing tips, weather reports, ideas about what to do – and opinions about what not to.

We have selected some of the most useful Galapagos multi activity holidays travel advice that our guests have provided over the years to help you make the very most of your holiday – and the space inside your suitcase.

We learnt a lot from our guides not only about the animals, but also about the flora and fauna and geology.

"Be flexible -nature (i.e. the weather) determines your rhythm and activities and not your itinerary. Our guides daily words: always carry sunscreen, drinking water, your camera and a rain jacket...It was a fantastic holiday in great company with a lot of varying, fun and interesting activities, in a fascinating, unique ecosystem, leaving me with many amazing and unforgettable impressions but also greater awareness and knowledge about the evolution of our planet. Everything was extremely well organized and smooth." – Pamela Krueger on a Galapagos adventure holiday

"As old folks (ages 74 and 83) we chose to pass or go slowly on some of the more strenuous aerobic activities but it was so well organized that we felt perfectly free to do what we felt appropriate, had support staff to hike more slowly and not go quite as far as some, and neither our doing less or most others doing more interfered with anyone else's holiday. We were pleasantly surprised by how well they were able to help us fulfill individual special requests." – Robert Coifman on a Galapagos adventure holiday



always carry sunscreen, drinking water, your camera and a rain jacket...It was a fantastic holiday in great company with a lot of varying, fun and interesting activities

"Exceeded all expectations. Arrangements worked well. The contrasts in landscape, flora, fauna, people, buildings, wealth, weather, food, transport and so forth were just extraordinary in the true sense of the word in the Galapagos. So glad we did such a variety of activities too and stayed on land to have the flexibility to do our own thing at other times." – Doug Cramond on a Galapagos activity holiday

"It was a dream to one day get to the Galapagos and I am delighted I chose this holiday. The activities are great and probably manageable for everyone with a modicum of fitness. We learnt a lot from our guides not only about the animals, but also about the flora and fauna and geology." – Sue McNuff on a Galapagos multi activity holiday
More about Galapagos multi activity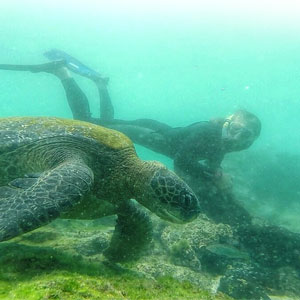 Galapagos multi activity holidays are typically land based, enabling you to explore parts of this spectacular archipelago and see wildlife that most cruise holidays miss.