Honeymoon ideas travel guide
Where you go on honeymoon might well say just as much about you as how many tiers you have on your wedding cake or which music you choose for your first dance but, who cares? Sod the stress, forget traditions and go for something, anything, that you both really, really, want to do.

A honeymoon is a once in a lifetime opportunity to do something remarkable and forge memories to share for the rest of your married life.

This is your chance to upgrade, splurge, discover, learn, hide, hug, love, eat, pray – whoa there! Anyway, you get the picture. If you're a responsible traveller and want to find honeymoon ideas that strike the right balance of romance, relaxation and enjoyable things to do, then read on and don't hold back when it comes to adding all the bells and whistles. Safaris in Kenya, trekking in Thailand, cycling in India; whatever you want to do: cogitate, collaborate and celebrate, as this may well be the last chance you get before reality bites.
Our Honeymoon ideas Holidays
What we rate & what we don't
Adventure
Swap bridal veils for hiking trails and wedding cakes for ice covered lakes as you kick start your honeymoon adventure holiday in style. From volcanoes and rainforests in Costa Rica to husky safaris and the Northern Lights in Finland, if you love your adventurous other half then now's the time to get down to business. Vietnamese jungles, Inca ruins, Indian waterways; marriage is an adventure and your honeymoon is just the start.
Travelling
Although it can be tempting to stay in just one place whilst on honeymoon, the truth of the matter is, getting out and exploring is way more worthwhile. There's nothing like travelling to get to know each other, and if travel was your first love then why not build a few different destinations into a honeymoon to rekindle that eternal flame? This is a once in a lifetime trip so get out there and dare to be different.
Get active
Why stare wistfully over an ocean when you can dive in, snorkel or surf some swells? What's the point of going for a sunset stroll when you could be going on a nocturnal nature hike or heading into downtown Buenos Aires to learn the Tango? Adding activities to a honeymoon will get your pulses racing and if the thought of sun loungers and beach towels leave you cold then speak up before it's too late.
Wilderness
Lots of honeymooners fancy 'getting away from it all' but what about escaping just that little bit further? Trekking in Kathmandu Valley, canoeing in Thailand's Khao Sok National Park or snorkelling around coral cays in Belize; whatever gets you into the wilds and as far as possible from that best man's speech, the better. There's nothing more romantic than waking up in the middle of God only knows where!
Nature & wildlife
What with all the formality of a wedding, sometimes getting back to nature during a honeymoon is exactly what you need. Imagine starting the day on the hunt for proboscis monkeys in Borneo, looking for lemurs in Madagascar, swimming with whales in Tonga or experiencing the ecosystems and cloud forests reserves of Costa Rica? Don't even get us started on safaris in South Africa or turtles in...
Culinary delights
If your aunt's attempts at a three-tiered wedding cake were more akin to the leaning tower of Pisa and you've just about had your fill of vol-au-vents, then why not pep up your honeymoon with a dash of culinary excellence? Cooking and food holidays could be the answer to all your dreams and if you fancy rustic gastronomy in Italy or spicing things up a bit in Thailand then you'll never have to worry about leftovers ever again.
Cosy cabins
Seriously, can you imagine anything more fitting for a honeymoon other than cotching up beside an open log fire with nothing but a white woollen rug between you and your newly betrothed? Converted water mills in Cornwall, woodland cabins in the Dordogne, ancient stone cottages overlooking a Turkish valley; if you're not tingling with delight at the prospect of getting all warm and cosy indoors then what gives?
The WOW factor
Most couples wish for a little bit of WOW on their big day; however, try as they might, it often turns into a blur of hugs, tears, camera flashes and handshakes. Thankfully, a honeymoon lets you take things in over a longer period of time. Cruise the Galapagos, trek to Machu Picchu, big game drives in the Serengeti – if you want to put the 'oo' into honeymoon we've got loads of ideas to get you started.
All-inclusive resorts
Having everything paid for in advance can seem like a great idea but the reality is that all-inclusive resorts can offer a rather sterile existence with little or no contact with the country that you're visiting. Spending honeymoon funds in locally-owned restaurants, guest houses, rural markets and beachside bars is always going to be much more memorable – and shares the love just a little bit more with local communities.
Traditional romance
Billowing blouses whilst cantering through surf might be alright for some but if you prefer your romance with a touch of realism then choosing a honeymoon that's more fun than fiction is the best way forward. Expensive restaurants, cheesy serenades, huge hotels; screw that! Bring on the white-water rafting, camp fires, jungle lodges, tiger safaris and zip-lining! This is your honeymoon so write your own romance.
Purpose built 'holiday villages'
Being able to switch between a choice of restaurants, swimming pools and lounge bars can be, for some, the ultimate in holiday happiness. For others, it's closer to living life in a zoo. Honeymoons should be about experiencing something special and if you want to immerse yourselves in the cultural discoveries and friendly people that lie beyond the perimeter then avoid this sort of resort like the plague.
Dubai
Hey, you either love purpose-built, air-conditioned, 10-star opulence, or you don't. For our mind, we don't. All-inclusive and completely unnatural, if Dubai is your idea of honeymoon heaven then please feel free to be our guest – just don't expect to discover anything too insightful other than a hole in your bank balance. Come on, check out our honeymoon travel ideas before UAE regret it.
Our top Honeymoon ideas Holiday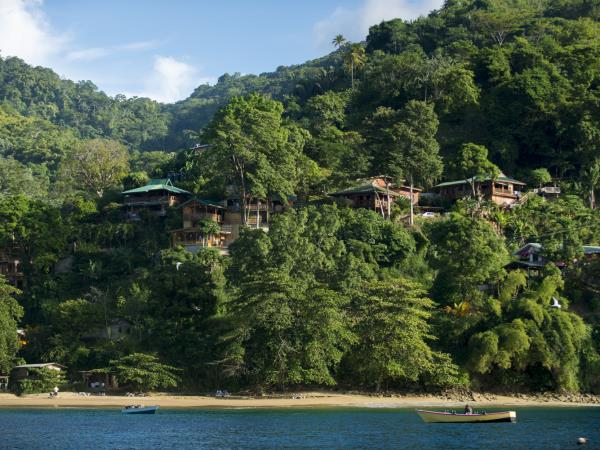 17 beautiful accommodations in unique eco resort
From
£117

to

£390
per accommodation per night
Accommodation
If you'd like to chat about Honeymoon ideas or need help finding a holiday to suit you we're very happy to help.

What makes a holiday a honeymoon?
A honeymoon is less about a destination or a posh hotel and much more about experiences and corresponding memories. Honeymoon ideas also add the extra special twists that come from a tailor made tour and raise the bar on what would otherwise be a typical holiday. The phrase 'trip of a lifetime' is perhaps over-quoted but if you're heading on safari in Tanzania or sailing in the Caribbean or watching the Northern Lights from the back of a husky drawn sled, what else are you going to call it? Tobago, Bali, the Galapagos, Portugal, Wales - where you go doesn't matter, it's what you do when you get there that counts.
Laura Martin, specialist at Audley Travel, shares her honeymoon recommendations and extra special experiences: "It's the little luxuries and upgrades that turn a holiday into a honeymoon. That's why booking with a tour operator is a really good idea as we've already established a good relationship with the very best properties so can make sure perks and treats are part and parcel of the overall experience.

Some things to avoid when booking a honeymoon are the school holidays, loud and noisy resorts, and hotels that have way too many rooms and facilities. We find honeymooners want peace and quiet as well as privacy so placing yourself amongst families and crowds is probably not going to tick the right boxes."
More about Honeymoon ideas