Things to do along the Danube
The Danube is the second longest river in Europe, waltzing diagonally from the Black Forest of Germany to the Black Sea. On its 2,850km path, it breezes through 10 countries. If you follow it – be that by bike, train or boat – then so can you.

Towns and cities dot the Danube like pearls on a necklace. You'll soon find that Magyar villages and floodplain nature reserves reveal just as much about Hungary as grand old Budapest.

This is your chance to see countries tied together by shared – and often warring – histories. You get to see all angles of the many-sided coin: pre-Roman tracks; grand Ottoman and Austro-Hungarian cities; World War II concentration camps turned museums; gorgeous tug-of-war border towns still shaking off the trauma of the violent breakup of Yugoslavia. You'll discover how those upheavals have changed the countries you go through – and how some border regions are so akin that there might as well not be a border separating them at all.
Keep reading to find out the best way to explore the Danube and the towns it's shaped in Hungary – and beyond.
Hungary is surrounded by seven countries, and the Danube flows through six of them. Most holidays start or finish in
Budapest
, whose 'Pearl of the Danube' moniker is cheesy but actually pretty accurate. Buda, the original HQ of the Kingdom of Hungary, partnered up with easterly Pest in the 19th century, creating a city that spans the Danube. Castle Hill and the Buda Hills perch on the west bank; St Stephen's Cathedral, Dohany Street Synagogue and Hungarian Parliament on the east.
But don't think you have to hop on a boat to explore the Hungarian slice of the Danube. Ditch the big river cruise ships – it's getting congested enough on the river these days – and join a self guided or small group tour that uses the Danube Cycle Path or top-notch Hungarian train network. This way, you're able to explore fragile landscapes and towns in a low-impact – and really, really fun – way. Out here, in the wide underexplored world outside Budapest, you'll find fewer tourist cruises and more in the way of castle towns, plains and vineyards, fishing villages and bird-packed national parks.
By heading out on a cycling or train tour of a week or more you'll have plenty of time to dip in and out of castle-tipped towns like Visegrad or the cobbled artist colony of Szentendre. Unknown Szigetkoz, cupped between the Austrian and Slovakian borders, splatters over 500 islands across the countless creeks of Western Transdanubia. Forested hills knock the river south towards Budapest, forming the Danube Bend.
The cities that prop up the Danube are largely unknown outside Hungary. Gyor lays out baroque churches and palaces in the Hungarian lowlands. Esztergom snoozes in the shadow of Hungary's biggest cathedral; root around the honeycomb crypt or clamber inside the acoustically astounding dome.

Small group tours of the Danube range from two to 16 people – a counterbalance to the mass tourism that sometimes collides with Budapest and Danube Bend in high season. You'll stay in small B&Bs that really benefit from your presence – and get a side of honest Hungarian hospitality to go with it. That's usually palinka toasts, filling breakfasts, and – if you're up for a chat – stories about anything from vineyard recommendations to stories about the 1956 Hungarian Revolution.

The Danube is 2,850km long from source to delta, but the best river holidays don't have an internal flight in sight. That's down to the railways and cycle paths that put planes to shame. The journey is half the pleasure, breezing past sunflower fields and detouring to vineyard hills, all using existing infrastructure that's used by everyday Hungarians. Without realising it, you're investing in public transport that benefits all and produces minimal carbon. What's not to like?
Our top trip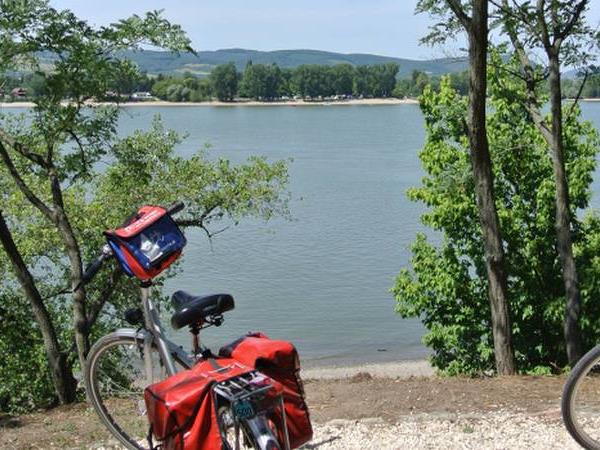 Discove the compelling history of the Danube
From
£1790
14 days
ex flights
Tailor made:
Every Saturday, Sunday and Monday from 15 Apr to 7 Oct (except 15 to 27 Apr and 29 Sep to 7 Oct - only on Sunday)
If you'd like to chat about Hungary or need help finding a holiday to suit you we're very happy to help.

The Danube knows no borders, so most Hungary river holidays don't either. They just keep on keeping on north towards Austria and Germany or south to Croatia and Romania. Along the way, you'll encounter river cities that have largely escaped overtourism: Bratislava, Belgrade, Passau and Tulcea, for instance. These are working cities filled with bakers, office workers, tram drivers and students going about their everyday lives, undeterred by mass tourism.

Travelling with a local guide along the Danube dispels myths around places like Vukovar in Croatia, which was only seen by the outside world in war reports during the break up of former Yugoslavia. It'll also show you the perks of slow travel, taking the time to take in the shared and conflicting histories of Central and Eastern European countries, and engaging with the rural landscapes and vineyards around you. The guiding hand of a specialist tour operator will make sure this is hassle-free, supplying you with a guide or annotated maps and walking tours.

Keep reading to find out which of the countries beyond Hungary you might see on a holiday down the Danube.
Austria
Follow the Danube north out of Hungary, and you'll find yourself in Austria. All roads lead to the riverside imperial palaces and opera houses of Vienna – but not before popping by the abbeys, monasteries and churches that pin towns like Engelhartszell, Melk, Wachau and Aschach. Grein pops out a couple of castles, too. Above the Danube, meanwhile, the Mauthausen Nazi concentration camp has metamorphosed into a memorial and museum.

As the Danube meanders so can you, following its tributaries through paths of wheat, corn and sunflowers. The Wachau region is patched by vineyards that supply the Heuriger wine taverns that sidle up to the Danube Cycle Path. Donau-Auen National Park is another good excuse for a picnic; it protects the biodiverse Danube floodplains.
Croatia
The Danube chases the Croatia-Hungary border south – an inland zigzag of Croatia rarely glimpsed by tourists stuck to its coastline like it's flypaper. Watch out for eagles and egrets in Kopacki Rit Nature Park and climb Batia Hill to glimpse both Hungary and Serbia across the wide Danube.

The ruined water tower in Vukovar doubles as a shell-shattered memorial to the biggest battle in Europe since World War II. It was under siege for almost three months in 1991, during the Croatia War of Independence. Osijek is a short skip down the Drava tributary. Its medieval citadel tells of older wars; some trips offer you the chance to stay in a citadel-side guesthouse that puts your money directly into the restoration of the crumbling monument. Peace and quiet comes courtesy of Ilok, where family-run vineyards come with wine cellars half a century old. Traminac is best tasted with seafood paprika stew or spicy kulen sausages.
Romania
The Danube peters out on the Romanian coast, feeding the lily-pad reed islands, lagoons, pastures, forested channels, marshes and sand dunes of the Danube Delta. One of the biggest wetlands in the world, it's up there with the Galapagos Islands and Great Barrier Reef in terms of biodiversity, with 30 different ecosystems reeling in 300 species of birds. Around 16,000 people also live here, cast adrift. Take a boat ride through to meet the people who fish for a living.

Tulcea reveals another side of the Romanian Danube: the provincial working city side. It's been a vital harbour for a few thousand years, showing glimpses of the Byzantine, Genoese, Ottoman and Romanian rulers that have dealt out mosques and monuments beside the river.
Serbia
Belgrade – one of oldest capital cities in Europe – perches on the branch of the Sava and Danube rivers. It's been a culturally rich outpost between Eastern and Western Europe for at least a millennium – and it has the wide boulevards and squares, multi-domed St Sava Church, and the boho Skadarlija quarter to prove it. Cruise along the Danube beneath the heavy gaze of Kalemegdan Fortress, pick up Turkish Delight-like ratluk at Zeleni Venac market, climb 36m-tall Gardos Tower for sweeping views, or retreat to one of the several – oh, excuse us – several hundred floating bars and restaurants that popped up after the Yugoslav Wars.

Some trips take you from Belgrade to Novi Sad by train. This riverside city has an altogether different vibe, clasped between vineyards and farms. Everything from the food to the architecture tells stories of its centuries-long tug of war between Serbian, Ottoman, Austrian and Hungarian troops. Get your river views courtesy of Petrovardin Fortress.
Slovakia
The Danube curls and kicks along the Slovakia-Hungary border, squeezing between the Hainburg HIlls and Small Carpathian Mountains. Border town Komarno bizarrely frames its main square with 45 buildings that each represent a European country's architectural style. Bratislava, on the other hand, might just be one of the most underrated (as well as the youngest) capital cities in Europe. It's well off the tourist trail, tucking in between the Danube River and Danube Plain's hills and vineyards. Skinny cobbled streets and medieval city walls tell tales of its time as the economic, political and cultural centre of Central Europe.