Cycling holidays in Hungary
Some of the best travel advice a Hungarian can give you is to turn your back on the tourist buses and boats and swap the cities for the countryside – but travellers rarely do it. Hungary cycling holidays, however, draw you out of Budapest and open your eyes to the Hungary beyond the (admittedly gorgeous) capital city. Hungary is alive and well along the Danube.

Cycling in Hungary is a wake-up call. You'll feel the chill of a mountain breeze, be warmed by the sun on your face, smell ripening blossom trees, and hear the chattering of café terraces and church bells.

Most cycling trips follow the Danube Cycle Path, with its ever-changing backdrop of riverside towns and villages, Roman forts, mountain-lined pathways and Ottoman-flavoured cities. You'll shadow the Danube south from the Slovakian border to Budapest – a corner of Hungary that far-flung tourists rarely get to see.
You don't kick back in a vehicle and wait for the Hungarian backcountry to be delivered to you, either. You ride out to meet Hungary and its people at your own pace, free of the cage of a vehicle. You'll join a whole cast of cyclists, too – flocks of families, Lycra-clad long-distance racers, shoppers just nipping from the bakery to their mama's house, and wobbly first-timers of every age.

Keep reading to find out why you should ditch planes and buses and go on a cycling holiday in Hungary.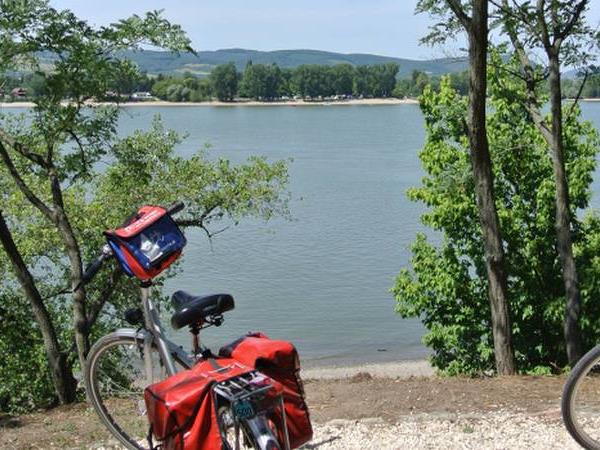 Discove the compelling history of the Danube
From
£1790
14 days
ex flights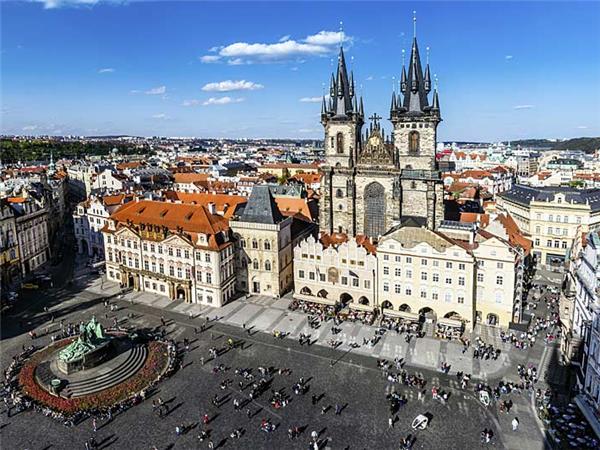 A wonderfully contrasting ride through the heart of Europe
From
£3449

to

£3649
11 days
inc UK flights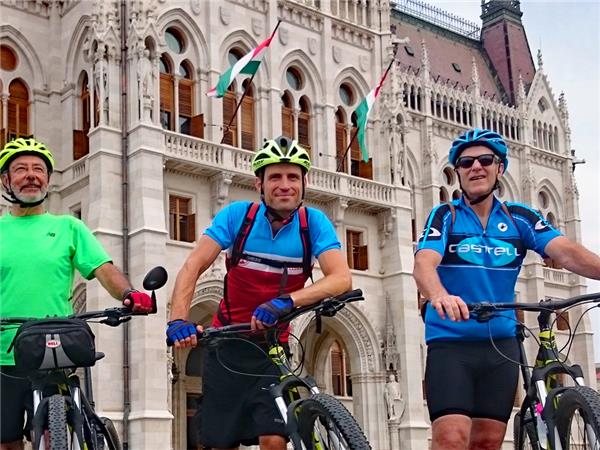 Cycling dventure along the mighty Danube River
From
£1394

to

£1775
8 days
ex flights
Get your kicks on Route 6
Hungary cycling holidays usually take on the Danube Cycle Path. It's a sliver of the 2,600km EuroVelo 6 – one of the most beloved cycle routes in Europe. Entering Hungary in the north-west, it chases the Slovakian border east before taking a sharp right turn around the Danube Bend towards Budapest.
The Hungarian and Austrian sections of the cycle path are Route 6 at its most developed, encased in smooth tarmac and pitted with only the occasional pothole. In fact, it's downright easy, which leaves you to get stuck into what you're here for: exploring Ottoman towns like Mosonmagyarovar, Danube Bend vineyards, and unexpected island reserves.
Vivien Urban, a Hungarian activity specialist at our partners Exodus Travels, rates cycling: "Cycling in Hungary is easy, especially while cycling along the Danube River, as this is flat terrain. The scenery is nice, particularly following the Danube Bend. You can see and experience more on a bike, and cycling through villages is a great experience."
It's surprise after surprise along the way. The fish-rich Szigetkozi region places storks and farming villages in the cradle of over 500 ink spot islands and creeks. Further south, hills push the Danube towards Budapest – and so the Danube Bend region was born. Esztergom was once the throne of Catholicism in Hungary (must-see: the sprawling crypts and acoustically amazing dome of the Basilica), but it also spent 150 years under Ottoman rule, so you'll see a mosque-cum-granary too. Gallery-packed Szentendre has roots in Serbian, Slovakian and Danube Swabian culture. It's more touristy here, as day-trippers arrive from Budapest.

All in all, it's enough to make you realise that the world's got it horribly wrong by placing Budapest at the be all and end all of things to do in Hungary.

A great cycling holiday will take you a little off-piste. Bump along the country lanes to Gyor, a lowland city piled with baroque churches and palaces (and, more importantly, the capital of 'dental tourism' for bargain-hunting Austrians). Or swing by Tata. One: its wooden clock tower and terracotta-tiled castle are postcard Renaissance. Two: its vineyards produce an underappreciated Olaszrizling. These breathers are a great chance to engage with the Hungary off the well-worn Danube Cycle Path.
Eventually you'll wind up in Budapest. Choose to cycle in or put your feet up and catch the ferry or train. Breezing into the city on an open-air ferry will make you wonder why you'd ever consider flying. Instead of facing the gauntlet of the airport, you'll glide past the oak-cracked Magdalene Island and Chain Bridge. Along the shore, it's like a beauty pageant: Castle Hill, Fisherman's Bastion, the Hungarian Parliament Building, and the basilica of St Stephen's peeking out above. You can even cycle straight into the city centre, thanks to new car-free zones that ease pedestrians and cyclists away from congested roads.
What are cycling holidays to Hungary like?
You'll usually spend 2-3 days cycling in Hungary as part of a larger Central and Eastern European holiday. Vienna to Budapest via the Danube is a popular route, or you might hop across to Slovakian border towns, too. Hungary – specifically, Budapest – will often be the last hurrah. Don't worry about the multiple border crossings; cycling in the largely border check-free Schengen Area is as easy as pedalling over county lines.

William Counsell from UTracks, cycling specialists at our partner World Expeditions Travel, says: "You'll be tracing history. One of our routes visits Bratislava, the capital of Slovakia. This sleepy city is actually the former capital of the Hungarian Kingdom, way back in the 18th century. It's interesting to witness the differences between Bratislava and Budapest... I'll never get tired of how simple it is to cross from one country to another in Europe – in medieval Komarom you simply cross an iron bridge and you've left Slovakia and entered Hungary."

Tailor made cycling trips are self guided. You'll get expertly crafted maps packed with tips and local info (including emergency numbers, in case you get turned around) and take off at your own pace. All you have to do is get to the next B&B by the end of the day. Families lean towards tailor made, as the itinerary can be tweaked for your brood's needs, and you can travel year-round.

Small group cycling holidays are great for solo travellers or people who'd like to travel with a guide and other cyclists. You'll be among kindred spirits – cyclists who love their bike and have endless curiosity about the villages and vineyards around you. A guide will be on hand to explain any curiosities en route and troubleshoot any bike blips. Most run from May to October.

Whichever you choose, accommodation is included – usually comfy family-owned hotels and inns that lay on cyclist-friendly, energy-boosting breakfasts with fresh bread, cheeses, meats and kakaos csiga (like cinnamon rolls, but chocolate – yum). Luggage is always transferred ahead of you, so you don't have to lug around your growing collection of Hungarian wines.

You'll cycle up to 55km a day on pancake-flat terrain, and might swap some parts of the route for a train – for instance, travelling into Budapest. That's no bad thing, giving you the chance to see another side of Hungary. And when you travel with a cycling holiday specialist, your bike will come from expert hire companies that'll adapt your bike's number of gears (seven or 21?), add panniers, throw in children's trailers and offer electric bikes for a supplement.

So when to go? Most small group cycling holidays to Hungary run from May to October, and May is often best in terms of weather and crowds. Lots of families make a beeline for the Danube Cycle Path in July and August, upping the summer holiday vibe. It can also offer camaraderie if you're on a self guided trip, as you usually end up sharing picnic spots along the river. Although there's plenty of room on the path for all, the busy summer will inevitably slow down cyclists wanting to Froome along for a bit. It's also worth noting that Hungary sizzles in 25°C-plus heat in July and August.

There's criticism that Hungary hasn't spent as much time and money investing in its cycle paths as it should. They're mostly good quality paths – just not quite up to the squeaky-clean standards of neighbouring Slovakia and Austria. You'll cycle some unpaved rural roads on the detours and might need to read a map if you're self guiding. Plus, sections along the dam walls don't always have views of the Danube. With luck, the more people that ride the path, the more likely it is that the Hungarian government will see the need to preserve and protect it – for Hungarians as well as tourists.

Will Counsell, from our cycling adventure specialists World Expeditions, says the challenge isn't a bad thing: "Cycling in Hungary is not as straightforward as its neighbours in Austria with their better developed infrastructure. However, this does not mean any less exciting! There are more unpaved country roads to pedal along and there are some basic map reading skills needed, which is why we class the route as moderate grade. I for one am all about this as I like a little challenge that pushes your comfort zones and encourages you to interact with locals and discover off the beaten track destinations."
Cycling lifts the veil between you and everyday Hungary – especially when you travel on a small group or tailor made holiday that doesn't disturb people's way of life. Pick up your fruit pastries and salami sandwiches at the local deli. Detour to tiny towns and use ferries that rarely see tourist money. Stop off at a vineyard to taste the hugely underrated wines of the Neszmely region. (A big ask, we know.) When you engage with the landscape and people around you like this, your experience of Hungary will be improved and your impact on the towns you cycle through positive. Fork out entry money for that castle or church. One: it's Hungary, so it'll be as cheap as chips. Two: your forints will support their conservation. There are drinking fountains all along the Danube Cycle Path, in Hungary and beyond. The tap water is perfectly drinkable, so reduce your plastic waste by bringing a two-litre refillable water bottle. Travel with a tour operator that encourages you to stay in small hotels and inns where possible. These are often owned by families and staffed by locals. By supporting small establishments that can't (or prefer not to) benefit from the coach and river cruise crowds, you're supporting small businesses and boosting the local economy all at once.
Going on a guided cycling holiday? Watch out for trips that use guides from Central Europe. They'll show you how to look beyond Budapest's city limits and learn about Hungary as a whole, not just its tourist-friendly capital city. The difference between Budapest and rural Hungary is like the difference between New York City and the Appalachians.
Cycling holidays have a very low impact on the environment and people in Hungary, it's true. But, thanks to someone helpfully transferring your luggage from hotel to hotel, they're probably not as low carbon as you think. Think of other ways you can decarbonise your holiday: eat Hungarian foods; travel by train to your holiday's starting line; err on the side of spending more rather than less time in the country. Read more about how to reduce your CO2 emissions while on holiday.
High season along the Danube Cycle Path is July and August; towns on the river cruise route (especially between Budapest and Szentendre) can be busy from May to August. Avoid travelling then, if possible. If it's not possible, don't avoid Budapest & co. – just make sure you visit the churches and bath houses that aren't on every Instagrammer's bucket list. You'll have a better time when you're not battling through the selfie sticks, anyway.
You'll be knees-deep in rural Hungary – exciting. Keep cash and a Hungarian phrasebook in your back pocket; English won't be spoken as widely as in the cities and card machines aren't a given. An open mind and a sense of humour are essential packing. As Will Counsell, from our cycling adventure specialists World Expeditions, says, "It's these local, authentic interactions that will make an active travel experience unforgettable." That's a whole lot of advice, we know. But don't worry – when you travel with a responsible tour operator they'll actively try to maximise the positive effects of tourism, not just minimise the negative stuff. Travel with them, and they'll have most of these bases covered.
Our top trip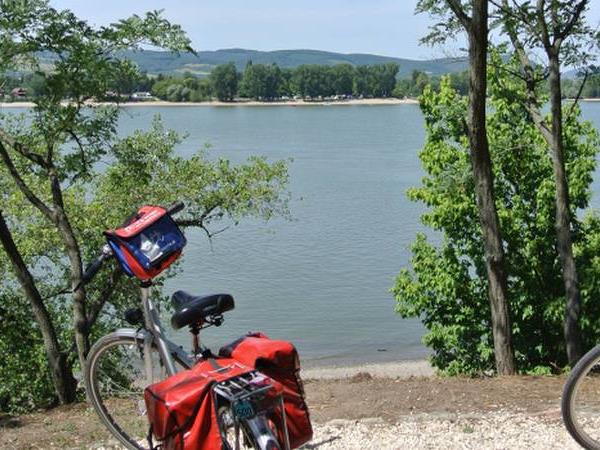 Discove the compelling history of the Danube
From
£1790
14 days
ex flights
Tailor made:
Every Saturday, Sunday and Monday from 15 Apr to 7 Oct (except 15 to 27 Apr and 29 Sep to 7 Oct - only on Sunday)
If you'd like to chat about Hungary or need help finding a holiday to suit you we're very happy to help.

"Read the instructions through before you start – in some cases the extension detour miles are written after you've reached your destination. Ferries are easy to use, but plan your cycling to arrive in good time – they mainly operate hourly. Learn a few words in the language – they really appreciate the effort. Cafés are few and far between...pack yourself a snack and drink and stop where you like the view. If you find coffee en route it's often served in a takeaway cup – so not ideal. Lots of bikers en route – of all levels." – Sue McNuff on a self guided Vienna to Budapest cycling holiday

"Besides a small positive economic impact, the ability to interact with locals and share instances was great. It takes a lot to help shape a trip...and that includes daily shifting from cycling to necessary hot showers to walking tours and explainers. And it was done terrifically: interests in cycling and history and friendships were more than satisfied. It lays the groundwork and a strong desire for more travel!" – Peter Perlmutter went on a small group cycling trip from Prague to Budapest