Hungary travel guide
---
2 MINUTE SUMMARY
In a word association game, when you say Hungary, most people reply Budapest. Fair enough. The country's capital is a big, exciting hub, bestriding the Danube and combining contemporary culture, buzzing nightlight, striking architecture and history as rich as goulash. A few nights here is a treat, but the rest of Hungary can get overlooked, which is a shame. Architecturally, it's diverse, with everything from Roman ruins and medieval townhouses to baroque churches and art nouveau bathhouses. The landscape is gentle rather than dramatic, but there are 10 national parks boasting mountains, wetlands, forests and grasslands, making Hungary a bird watching heaven. Until 100 years ago, it was also one of Europe's key wine producers, until disease, world wars and 40 years of communist collectivisation interfered. Now, though, Hungary's wine industry is thriving, a complement to its distinctive Magyar cuisine. Anyone who fancies a silky white and a plate of chicken paprikash will be well catered for!

Read our Hungary travel guide for more details.
Hungary is...
more than just Budapest. The capital pulls in the crowds, but
beyond is a big country with a big heart.
Hungary isn't...
hard to reach.
Bordering seven countries,
it's at the core of central Europe.

Hello.
If you'd like to chat about Hungary or need help finding a holiday to suit you we're very happy to help.
Rosy & team.
01273 823 700
Hungary map & highlights
---
MAKE THE MOST OF YOUR TIME
With seven countries bordering Hungary, it's easy to enter the country by road. Small group tours and cycling holidays typically cross the border from Austria or Slovakia, while trains can whisk you between Budapest and far flung capitals such as London and Istanbul. Follow the Danube to see some of Hungary's most beautiful towns and cities which line its banks or, in the case of Komárom, also straddle the border with Slovakia. In Budapest, explore on foot, bus or by tram. Anyone keen to spot birds and see some Hungarian countryside should head northeast of Budapest, for the national parks around Eger.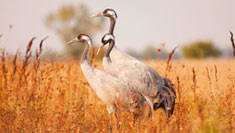 Bird watching
Hungary's a popular destination for twitchers. Guided birding holidays are often based at Eger, which has a huge variety of habitats and birds on its doorstep. Bükk National Park is mainly deciduous forest, Lake Tisza and Heves Plain are home to storks, warblers and sea eagles, while Hortobagy National Park, Bodrogzug and the Tisza Floodplains teem with wetland birds and the raptors that prey on them.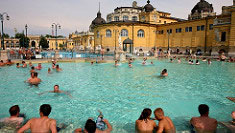 Budapest
A city of two halves – Buda and Pest – taken as a whole, Budapest packs great architecture, hip bars and wide boulevards like Andrassáy Avenue into its Danube-straddling footprint. Catch a funicular to the Castle Hill Palace for spectacular views of the gothic-revival Parliament building and enjoy a soak at Széchenyi Medicinal Bath, the largest in Europe, a vision of yellow baroque architecture with 18 pools.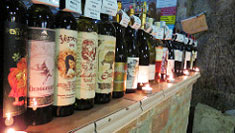 Eger
In the hills of the Bükk Mountains, Eger is famed for its castle and wine. Try some Egri Bikaver – Bull's Blood – before (or maybe after) climbing the 40m-high minaret and relaxing in one of the thermal baths, all a legacy of Turkey's 91-year rule of the city from the late 16th century. Move over Liverpool – there's also Egri Road Beatles Múzeum here!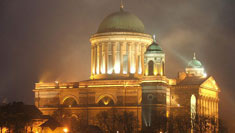 Esztergom
The former capital city of Hungary, Esztergom is the seat of the Hungarian Catholic Church and is chock-ful of architectural gems such as the Royal Castle Palace, and Víziváros – or Watertown – so named for its hot springs. The must-see and can't-miss sight, though, is the Basilica, the third largest church in Europe, on the banks of the Danube overlooking Slovakia on the other side.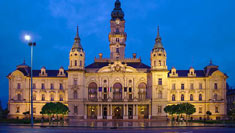 Győr
Halfway between Budapest and Vienna, the baroque city of Győr sits at the confluence of three rivers including, you've guessed it, the Danube. The city's ancient core is Káptalan Hill, but don't miss the impressive Town Hall, Bécsi Kapu Square, and picturesque Király Street. Cycling holidays typically cruise through here on route to Esztergom and Budapest.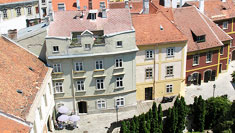 Sopron
This beautiful town near the Austrian border is where the Hungarian composer Franz Liszt lived. He had good taste. Its medieval inner town is intact, with lovely cobbled streets and red-tiled buildings, and it's surrounded by wine producing country. Visit the Harrer chocolate factory, Firewatch Tower and Fidelity Gate, which celebrates the town rejecting becoming part of Austria in a referendum of 1921.