A cycling holiday in Iran takes you into an exciting modern-meets-ancient world, to discover Persian ruins, deserts, bazaars, thriving cities and exquisite gardens.

You could spend one day delving into Iran's past as you explore ancient mosques and palaces, and the next taking to little known trails in the wild mountains north of Tehran. Along the way, you could stay in hotels, mountain cabins and local homes – allowing you to spend time with Iranian families, sharing their homes, their delicious meals and their stories. While other travellers stick to heritage sites and major cities, you could discover wild mountain landscapes, rural villages, and the sweeping coastline of the Caspian Sea. And with tour leaders always on hand to repair punctures, translate and offer encouragement, hopping into the saddle is one of the most rewarding ways to explore Iran.
Where will I cycle?
Most trips head south and cycle between Tehran and Shiraz, taking in big name highlights as well as lush countryside, desert landscapes and out-of-the-way towns and villages. Heading south from Tehran you'll see how quickly the metropolis turns to barren desert, visiting Qom, Esfahan, Shiraz and Persepolis but also joining up the lesser-visited dots between them, including cities such as Kashan and Abadeh, as you get a well-rounded insight into Iranian life.

You could also choose to spend your time in the ruggedly beautiful Alborz Mountains north of Tehran. Rising up from the Caspian Sea, they're a world away from the deserts and cities, and offer a glimpse into a quieter, greener and more traditional side of Iran. The slopes are sprinkled with Alamut – 'assassins'' castles – named after the secretive medieval sect that was based here. In this region you might also come across the nomadic Shahsava people, pastoralists who have brought their herds to these high pastures for millennia.
How tough are the tours?
Cycle tours in Iran are not for inexperienced riders, as the terrain can be challenging, with steep climbs, plenty of rough gravel or dirt roads, and long days in the saddle involved, and a daily distance of between 30 to 70km. This means you'll need to be pretty physically fit, and you'll get more out of it if you do some preparatory long rides at home before heading off on your tour.
The hectic traffic and cavalier driving style in Iran can be shock, and for the most part you'll be transferred out of cities to quieter stretches before getting in the saddle. You'll be fully briefed before any particularly challenging sections, however, and a support vehicle is always on hand should things get a bit too much.
What style are the tours?
All our cycling holidays in Iran are run as small group breaks, with a maximum of 16 people, and they combine cycling with cultural and culinary exploration, with free time built in too. Small groups are ideal for cyclists who like to make friends along the trail and you'll have the added bonus of cultural and historical knowledge from an expert tour leader as well as a dedicated cycling guide to keep you safe. One of our Iran cycling trips uses a local female guide to lead the expedition.
Our top Iran Holiday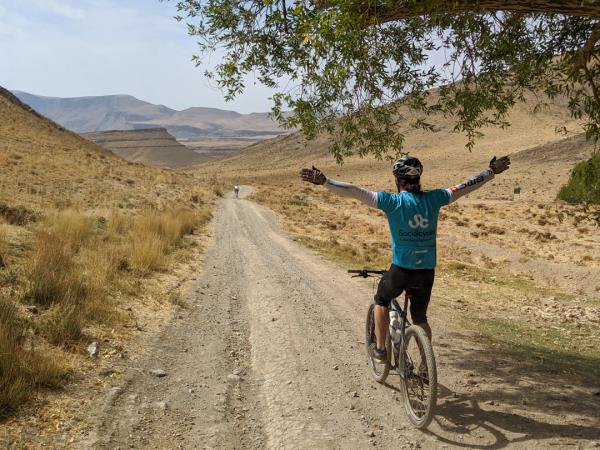 Cycle Across Iran- Tehran to Shiraz
From
AU $4150
12 days
ex flights
Small group travel:
2023: 15 Apr, 23 Sep
If you'd like to chat about Iran or need help finding a holiday to suit you we're very happy to help.

Where will I stay?
You'll stay in a mixture of hotels, mountain cabins, and most interesting of all – rural, local homestays. Accommodation will be simple, but will provide wonderful insight into local life as well as the chance to sample home cooked Iranian food.
When to go cycling in Iran
Our cycling holidays run from spring to autumn (usually April to October). Due to the sheer size of Iran temperatures can vary greatly depending on which region you are in. Days can be very hot between May and October, particularly in the desert and Gulf Coast regions, while the mountains in the north can be considerably cooler, especially as you'll be cycling at high elevations, with snow and fog possible even in July.
What to wear
Even if the temperatures are soaring, you'll need to be a lot more 'covered up' than you are used to at home, both to show respect to locals and to ensure that you're treated with respect in return. Both men and women should wear long trousers (loose fitting for the women) and closed toes shoes. Women need to wear loose fitting, long sleeved tops and a hijab, even under their helmets while cycling.