Iranians have a saying that goes
'Esfahan nesf-e jahan'
meaning Esfahan is half the world; and if you make it here it's easy to see why.

The most popular tourist destination in Iran, Esfahan is considered by many to be its most beautiful city, brimming with palaces, historic mosques, sweeping, tree lined boulevards and elegant traditional gardens, as well as being home to an ancient bazaar and the huge Naghsh-e Jahan Square, one of the largest in the world.
Not only that, it's also an important cultural and artistic centre, where the country's most talented craftspeople can be found practicing their ancient trades including carpet weaving, metalwork, woodwork and ceramics. According to UNESCO, at least 9,000 craft and folk art workshops and enterprises contribute to Esfahan's economy.
Grand Bazaar
A maze of vaulted corridors and alleyways, this sprawling covered market is one of the country's oldest and most fascinating, with some parts dating back over a 1,000 years. This means that there's plenty of architectural note inside, including elegant domed ceilings perforated with small holes, shedding light on the crowds below. The bazaar is set right in the centre of the action, accessed by a grand and intricately tiled main gateway and linking Naqsh-e Jahan Square with the Jameh Mosque. This is a fine place to pick up some wares from the city's celebrated artisans, and you'll find weavers, iron workers and artists among the enticing displays of spices, nuts and sweet goods.
Naghsh-e Jahan Square
A vast space stuffed full of architectural wonders and centered around a series of gardens and elegant fountains, this is one of the largest squares in the world, at 512m long and 163m wide. Designed in the 17th century under the supervision of Safavid ruler, Shah Abbas the Great, it was built to demonstrate Esfahan's might and cultural superiority at a time when the city reigned as the capital of the Persian Empire. It contains some of the country's finest buildings, including the unparalleled Shah Mosque. The square is pedestrianised, so the only transport to disturb you is that of horse-drawn carriages, bicycles and the odd electric cart, leaving you free to soak up the square's atmosphere – most magical at sunset when the minarets and domes are lit up by the dying sun.
Shah Mosque
Looming over the southern borders of Naghsh-e Jahan Square is the Shah Mosque (or Imam Mosque). Completed in 1629, the last year of the reign of Shah Abbas, this UNESCO world heritage site is considered a masterpiece of Islamic architecture and one of the most beautiful mosques in the world. Its famous blue and turquoise tile mosaics, soaring minarets, vaulted ceilings and grand arches are perhaps the ultimate example of Iran's incredible Islamic architecture.
Jameh Mosque
Located to the north of the Grand Bazaar, and dating back to the 8th Century, Jameh has undergone several remodels over the years, and showcases the best of Islamic architecture and design from the Seljuks to the Safavids – all delicate glazed mosaics, finely carved columns, and geometric perfection. Still functioning as a place of worship, this is the biggest mosque in Iran and it's crowned by two Seljuk brick domes which have survived intact from the 11th century.
Si o Seh Pol
Built at the beginning of the 17th century under the Safavid era, the Si o Seh Pol Bridge is one of Esfahan's most recognisable landmarks. It's name means '33', after the 33 perfectly symmetrical arches that stretch 300m across the Zayandeh River. You can appreciate the bridge's beauty from one of the riverside teahouses – it's especially magical when lit up after dark.
Our top Iran Holiday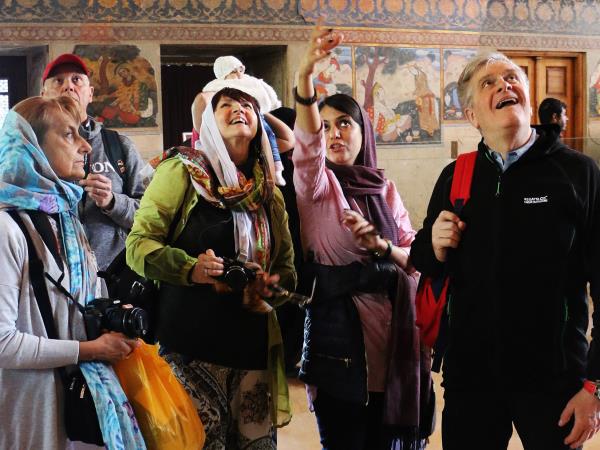 Join us to discover Iran's rich culture and history
From
€960
7 days
ex flights
Small group travel:
2023: 6 Oct, 5 Nov, 30 Dec
2024: 7 Jan, 3 Feb, 2 Mar, 13 Apr, 6 May, 9 Jun, 1 Jul, 13 Aug, 15 Sep, 4 Oct, 2 Nov, 7 Dec, 24 Dec
If you'd like to chat about Iran or need help finding a holiday to suit you we're very happy to help.

Best time to visit Esfahan
During April and May, and September to early November, the weather is pleasantly mild, while the summers can bring sweltering temperatures that make sightseeing uncomfortable. It's best to steer clear of the bitter months of December and January, as well as the New Year Nowruz celebrations around 21 March. At this time prices are high and much booked up in advance.
How to get there
Esfahan is 430km south of Tehran and can be reached by train or bus, or you can fly into Esfahan's international airport, with a connecting flight in Istanbul. You'll most likely arrive as part of a tailor made or small group tour around the country, however. Women can opt for a
solo female holiday
if they want to see another side to Iran (and Esfahan) that wouldn't be available to a mixed-gender group.