WHERE TO GO ON A FAMILY HOLIDAY IN ITALY
It's really easy to get around Italy by train. Trips from Rome to Sorrento on the Bay of Naples, or Venice to Rome via Cinque Terre and Pisa, are classic family holiday ideas that allow everyone to relax and enjoy the ride. If you fancy staying put then there are plenty of options in Abruzzo, in the east of Italy, or rural Tuscany, in the west. Lakes Como and Garda allow families to make the most of the north, whilst family activity holidays in Sicily encourage explorations down south. Be realistic: will young kids really appreciate being cooped up in a hire car en route to yet another medieval city, or is this an option that's best saved for a break senza bambini? It's meant to be a family holiday, after all.
1. Abruzzo
This is one of the greenest areas of Europe, with practically half of Abruzzo's countryside protected within nature reserves. Stay in a restored, stone-built mountain retreat, on the outskirts of Majella National Park, and prepare your family for wild swimming in the Aventino River, walks through walnut groves and untouched Adriatic beaches, just 30 minutes from your front door.
2. Bay of Naples
Explore the ancient architecture of Rome before heading to the lemon scented scenery of Sorrento and you'll instantly 'get' why the Bay of Naples is one of Italy's favourite family holiday destinations. This southwestern stretch features the statuesque city of Pompeii as well as the Amalfi Coast towns of Minori, Ravello, and the island of Capri. Spring break on the Bay of Naples is a lot less busy than summer hols.
3. Italy's lakes
Walking around the shores of Lake Como in Italy's Lombardy region is one thing, looking over the lake from the mountain meadows and traditional inns on the Triangolo Lariano, is quite something else. Another of Italy's lovely lakes is Lake Garda, which is ideal for families hoping to combine time in Verona and Venice with a wonderful world of waterfalls, woods and walks in regional nature parks.
4. Sicily
Cycle through pine forests and past the villages of the Alcantara Valley; kayak and snorkel along the coastline of Isola Bella Marine Park; hop on a hydrofoil for cooking classes and mud pools on the Aeolian island of Vulcano – Sicily is simply sensational for active family holidays. From flatulent great aunt Etna to crumbling cousin Syracuse, this is your chance to meet your family's favourite friends and relations.
5. Tuscany
Florence is fun, and Siena is sensational, however, escape to an organic farm in rural Tuscany and you'll be immersed in an authentic, rural, side to the region that many tour groups miss. Learn how to make fresh bread and pasta after strolling under olive groves or playing in the pool or by the lake. Family holidays in Tuscany combine Renaissance with rustic to allow Italian encounters to evolve as nature intended.
6. Venice
This is a city that's as unique as it's unmissable although, you won't be the first or the last family to think so, especially in the school summer holidays. A great idea is to discover the Doge's Palace, Saint Mark's Square and the Ponte dei Sospiri (Bridge of Sighs) in December. Winter markets, mask and mosaic making workshops, ice skating and Verona decorated in lights – wherefore art thou school Christmas holidays?
Our Italy family Holidays
If you'd like to chat about Italy family or need help finding a holiday to suit you we're very happy to help.

ITALY FAMILY HOLIDAYS TRAVEL ADVICE
Keep kids busy
Marta Marinelli from our small group holiday specialists, Exodus: "We make sure we go beyond the traditional sightseeing experience and keep children and adults always entertained. 'Get involved' activities like pizza and pasta making, arts and craft lessons, and group walks or bike rides allow families to get together, have fun, and bring home some fabulous memories. And our expert leaders and organisation on the ground makes sure all the difficult parts of family holidays are taken care of. We want a no-stress experience for all!"
Happy families
Elena Doria at our tailor made Italian holiday company, Wanderjack, shares how to create a successful, stress-free family holiday: "It doesn't matter where you go in Italy. I believe a successful family holiday depends on choosing a holiday company that can tailor a tour that includes family-friendly accommodation, child-orientated local guides and experiences that suit the needs of all the family, including kids and teens. All around Italy there are a lot of local businesses that provide these kinds of services - my job is to find them and create the right travel experiences for family travellers."
Just one cornetto
Dyan Mckie is product manager at our Italian family holiday experts, Intrepid Travel: "Staying in Venice as a family can be expensive. It can also get very crowded in the summer. We recommend choosing a hotel that isn't in the hub of things. We stay in one of the oldest and best preserved Jewish ghettos in Europe. It is within walking distance of all the most important sites, but away from the crowded streets. This is also the best way to avoid expensive ice creams – steer clear of sellers working in the busy tourist districts; just one street over you'll find significant price drops!"
TIPS FROM OUR ITALY FAMILY HOLIDAY REVIEWS
At Responsible Travel, we think the best people to advise our travellers are often... other travellers. They always return from our tours with packing tips, weather reports, ideas about what to do, and opinions about what not to.

We have selected some of the most useful Italy family travel tips that our guests have provided over the years to help you make the very most of your holiday, and the space inside your suitcase.

We opted to have breakfast each morning and were surprised to find a different home made bread, tart or whatever had been made the night before, every day.

"Three of us went walking around Lake Como in August with a 10 year old child – and it was fantastic. The longer routes were all well within the ability of our 10 year old. You definitely need hiking boots as some parts of the trail are steep and rocky. It's definitely worth climbing up to all the summits - to see the amazing views. You may want decent waterproofs, we walked our last day in a terrific thunderstorm with lightning, hail and torrential rain (still great)." – Anne Kinderlerer

"We opted to have breakfast each morning and were surprised to find a different home made bread, tart or whatever had been made the night before, every day. Francesca also invited us to have dinner with her family our first night and she served us products from her farm as well as products from local farmers. Yummy! Also, the eggs for breakfast come from her chickens who roam her farm and live off the land. Francesca even provided us with fresh vegetables from her garden to have for our own meals. Not only was her farm very family friendly, it was a comfortable, warm and relaxed environment. We will be back for sure!" – Paula Boyles, on a Tuscan organic farmstay

"There were lots of great memories – stunning scenery, friendly people we met along the way, easy walking through natural woodland with lots of flowers and butterflies, the sound of cow bells, great places to stay at the end of a day's walking, with welcoming hosts and delicious local food. Bellagio was charming, and on the boat trip back to Como we saw the places we'd walked from a different perspective. We stayed in small places – a bit 'off the beaten track' – run by local people, and travelled on foot or by public transport all the way from Malpensa airport. Fantastic! It was everything we hoped, and more. Our daughters are 13 and 11 years old, and we all had a great time." – Paul Arkle

easy walking through natural woodland with lots of flowers and butterflies, the sound of cow bells, great places to stay at the end of a day's walking, with welcoming hosts and delicious local food.

More about Italy family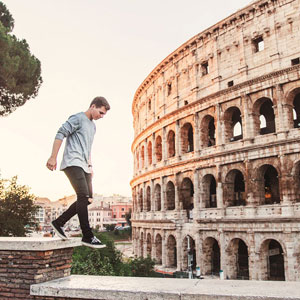 Our family holidays in Italy are all about turning cappuccino cloud dreams into practical ideas and options.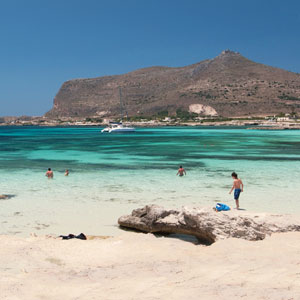 Mediterranean islands come in all shapes and sizes, and Sicily, the largest of them all, also has its fair share of surprises.