Our walking holidays in Italy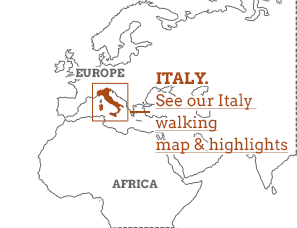 Our Italy walking holidays explore some of the most treasured regions of bella Italia without ever contributing to the tourist crush some places can experience. Climb away from the crowds on the Amalfi Coast by visiting tiny mozzarella producers and picnicking under lemon groves. Winemakers will happily reveal all about the grapes they grow in Tuscany as you wind your way between vineyards, before snoozing in country villas and eating at rural restaurants. And you can learn why mountain folk live for winter in the Dolomites, where local snowshoeing guides lead the way to forests heaped with snow – far more fulfilling than blink-and-you'll-miss-it downhill skiing.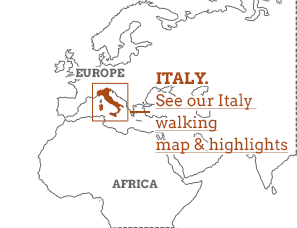 Our top Walking holidays in Italy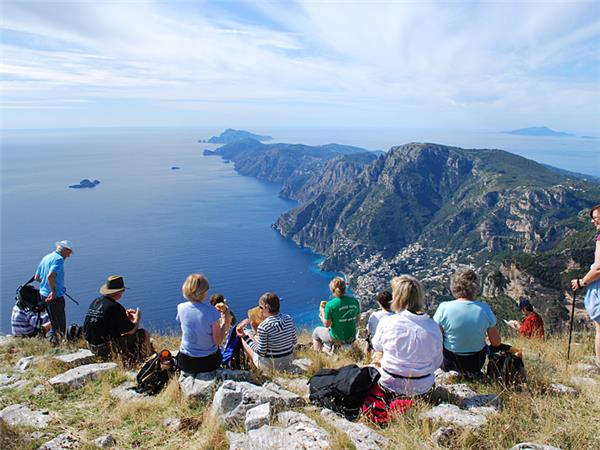 8 days
inc UK flights
Walk in lemon groves and hillside villages
Small group
2022: 19 Feb, 26 Feb, 5 Mar, 12 Mar, 19 Mar, 26 Mar, 2 Apr, 9 Apr, 16 Apr, 14 May, 4 Jun, 11 Jun, 18 Jun, 2 Jul, 9 Jul, 16 Jul, 23 Jul, 30 Jul, 6 Aug, 13 Aug, 20 Aug, 27 Aug, 3 Sep, 10 Sep, 17 Sep, 24 Sep, 1 Oct, 8 Oct, 15 Oct, 22 Oct, 29 Oct, 5 Nov, 12 Nov, 19 Nov, 24 Dec, 31 Dec, 2023: 11 Feb, 18 Feb, 25 Feb, 4 Mar, 11 Mar, 18 Mar, 25 Mar, 1 Apr, 8 Apr, 15 Apr, 22 Apr, 29 Apr, 6 May, 13 May, 20 May, 27 May, 3 Jun, 10 Jun ...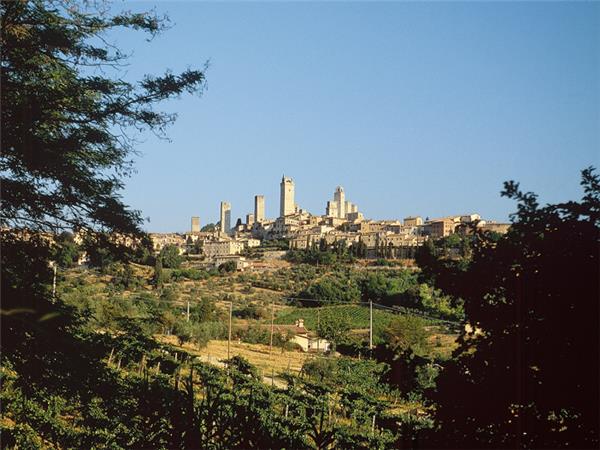 8 days
inc UK flights
Walking and wine tasting in Tuscany
Small group
2022: 9 Apr, 16 Apr, 23 Apr, 30 Apr, 7 May, 14 May, 21 May, 28 May, 11 Jun, 18 Jun, 20 Aug, 27 Aug, 3 Sep, 10 Sep, 17 Sep, 1 Oct, 8 Oct, 15 Oct, 2023: 8 Apr, 15 Apr, 22 Apr, 29 Apr, 6 May, 13 May, 20 May, 27 May, 3 Jun, 10 Jun, 17 Jun, 19 Aug, 26 Aug, 2 Sep, 9 Sep, 16 Sep, 23 Sep, 30 Sep, 7 Oct, 14 Oct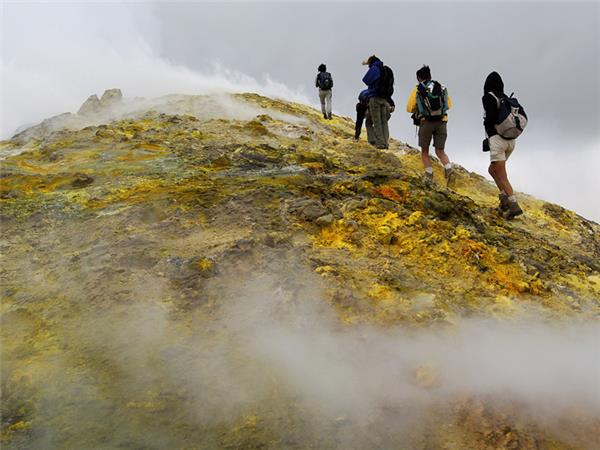 8 days
inc UK flights
Discover Mt Etna and the beautiful volcanic achipelago
Small group
2022: 10 Apr, 24 Apr, 8 May, 15 May, 22 May, 5 Jun, 19 Jun, 10 Jul, 4 Sep, 11 Sep, 18 Sep, 25 Sep, 2 Oct, 9 Oct, 2023: 9 Apr, 23 Apr, 7 May, 14 May, 21 May, 4 Jun, 18 Jun, 9 Jul, 3 Sep, 10 Sep, 17 Sep, 24 Sep, 1 Oct, 8 Oct
Map & highlights
Step inland from the chic Amalfi Coast to find rural tranquillity that's just as beautiful as the coast, but with a fraction of the footfall. Much the same argument goes for walking between the iconic Cinque Terre, but in this case head upwards to lesser-known paths. Few mountain ranges can rival the Dolomites for their drama and pinkish beauty – heavenly walking terrain. For mountain scenery with less of a challenge, Lake Como is sublime, especially for families. You can follow ancient mule trails between beaches on wild Sardinia, and summit-seekers will find the enchanting landscape of Tuscany perhaps surprisingly satisfying.
1. Amalfi Coast
A 50km stretch of coastline dominating Italy's Sorrentine peninsula. It is glamorous and chic, but just step metres off the red carpet to discover a world of orchid- filled meadows, ancient lemon groves, tiny fishing villages and remote shepherds' paths. Which is why hiking is the best way to discover it. From the Path of the Gods to the island of Capri, Amalfi is just stupidly beautiful.
Cinque Terre National Park
2. Cinque Terre National Park
A coastal gem that is up there with Amalfi but not as well known internationally. Although Italians have it sussed in summer, so it gets crowded. With five (cinque) clifftop villages, hiking its coastal "Via dell'Amore" allows you dip in and out of coves. There are also trails into the rocky foothills of the Ligurian Maritime Alps. The Spezia-Levanto rail line that follows the coast is great way to get around.
3. Dolomites
There are higher, remoter and more pyrotechnic ranges but few rival the sheer beauty of the jagged rose-tinted Dolomites – peaks that dazzle poets and hikers alike. Several national parks highlight stunning wilderness, alpine meadows and bucolic valleys dotted by wooden houses and vineyards. And feel the vibrant cultural mix of Italy and Austria in charming Bolzano and Merano.
4. Lake Como
A family walking favourite with the drama of the Alps as a background, but without the extremities. Take on the sub-Alpine peaks of the Triangolo Lariano, or aim for the region's highest at San Primo enjoying rural 'Rifugi' mountain inns for rambles that are replete. And bask in luxurious lakeside towns such as Bellagio or the city of Como itself, with its walled centre, dramatic duomo and people watching on lakeside passeggiata.
5. Sardinia
Famous for its beaches, with one at the end of many a hike, this is also one of Europe's wildest walking islands. Base yourself in one of its maritime mountain mecca's small hotels, and explore ancient mule trails up to the likes of Monte Tului, or routes such as the Gorroppu Gorge , with river pools to dip into en route. Ancient culture such as Bronze Age ruins and cave villages abound too.
6. Tuscany
Forget the rolling hills of Tuscan period dramas; enter the drama unfolding between the Alpi Apuane and Apennine mountain ranges: a summit seeker's delight. In Orechiella Park, walk up mule trails through ancient villages to Pania di Corfino summit. Or trek high in the Alpi Apuane all the way to the imposing face of Monte Sumbra. For less challenging, enjoy the "Enchanted Forest" of Garfagnana.
Self guided or small group?
Many people, especially those new to walking holidays or travelling solo, prefer the ease and sociability that comes with joining a small group tour. You'll be accompanied by up to around 14 other hikers, and follow carefully designed routes led by an expert guide. No need for a map. No need for anything, in fact, except to enjoy the exercise, views and fun of making new friends. There are plenty of self guided Italy walking holidays too. These not only give you the flexibility of choosing your own travel dates and accommodation, but let you make routes more or less challenging.
Amalfi Coast walking holidays in Italy
The
Amalfi Coast
– as chic as it is beautiful – stretches 50km along the Sorrentine peninsula. Come summer, crowds flock here like paparazzi in search of a red carpet event. But step just a little inland, and you'll find rural tranquillity, with trails linking tiny mountain villages past waterfalls, lemon groves and meadows of wildflowers. The Path of the Gods is one of the world's most beautiful walking routes, but Monti Lattari Regional Park and Valle delle Ferrier Nature Reserve are both showstoppers in their own right. Capri, too, has many lovely hiking routes taking you beyond the glitz.
Tuscany walking holidays in Italy
Tuscany needs little introduction, but it may surprise you how varied walking holidays here can be. It's not simply a choice between joining a small group or plotting your own self guided route. You might mix walking with wine tasting or beachcombing on stretches of sand that are virtually deserted outside summer. Well-marked trails in Maremma Regional Park have restricted access, letting you explore Etruscan beauty without the crowds. For those wanting a little more rigour, head to Northern
Tuscany
and more mountainous terrain. Even here the trekking is mostly moderate, and regular hikers will take the ascents in their stride.
More about walking holidays in Italy
Prosecco Hills walking holidays in Italy
Swathed in vineyards, the
Prosecco Hills
in Italy's Veneto region are as pleasant to walk as the fizz is to drink. Close to the Dolomites, and under an hour from Venice, the hills and valleys are criss-crossed with easy-going trails that allow plenty of time to explore the area's gastronomy, culture and history. You're never far from a little village where you can refuel with a wild mushroom risotto or a plate of gnocchi. Walking holidays run from spring through to autumn, with September and October the time to come for lower temperatures and to watch the grape harvest.
Via ferrata walking holidays in Italy
A
via ferrata
is a network of ladders and metal cables clamped securely to the rocks, enabling walkers to access routes and viewpoints that would previously have been available only to mountaineers. Expert guides escort small groups on what are often physically demanding and precarious routes, with the Dolomites being one of the most popular destinations. You will need to be in good physical condition – upper body strength is key for pulling yourself up some sections and walking days are long. If you don't have a head for heights, a via ferrata walking holiday is not for you.
Top 10 walking holidays in Italy
We could quite easily list 50, but after much hard work and debating we've narrowed down our
top 10 walking holidays in Italy
. From gentle hikes between vineyards in the Prosecco Hills and peaceful rural trails around the Amalfi Coast, to otherworldly landscapes on volcanic Sicily and the jagged Dolomites that take on a beguiling pinkish hue at sunset – you'll find plenty of inspiration here. We take you through what to expect from the Italian Lakes, classic Mont Blanc route and foodie paradise of Piedmont, as well as letting you know the best time to go walking in Italy.
If you'd like to chat about Italy walking or need help finding a holiday to suit you we're very happy to help.