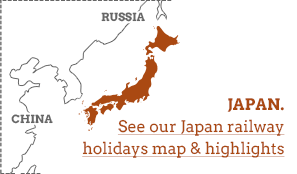 With super-fast, super-efficient shinkansen bullet trains connecting practically every major city, and the potential to head up into the mountains too, travelling by train in Japan makes perfect sense for those who want to see as much of the country as possible in a short space of time.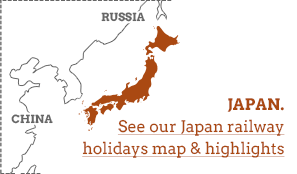 Tokyo's neon glamour, Kyoto's ancient temples, Osaka's legendary street food scene and the idyllic Japanese Alps – all easily and quickly accessible by rail.

Then there are the trams of Hiroshima, and the famously punctual Tokyo subway, both of which, like the commuter-laden bullet trains, provide no end of opportunities to speak with local people. There is little point in taking internal flights in Japan, when you can be whisked between the must-see destinations in speed and comfort by rail.

Find out more in our Japan railway holidays travel guide.
What does a Japan railway holiday entail?
A typical Japan railway holiday lasts around two weeks, during which you can cover a lot of ground, certainly if you stick to the main island, Honshu, where the most well-known cities such as Tokyo, Kyoto and Osaka are located. That would allow for at least a couple of days exploring each destination, as well as getting a little off the beaten track - heading into the countryside around the iconic Mt. Fuji for instance, and up into the beautiful Japanese Alps around Kamikochi National Park and Takayama where you can enjoy traditional hospitality in a ryokan inn , with multi-course meals and the option to soak in an onsen.
These are small group tours with numbers capped at 14, and led by professional tour leaders to ensure you meet all connections and have no difficulties in getting around. There may be a few included activities and tours, such as an introduction to the ancient art of tea ceremonies with a geisha in Kyoto, or a visit to a samurai castle in Matsumoto on the return to Tokyo. But for the most part in each location you will be free to explore on your own initiative. For instance, while in Osaka you might take an easy train journey for a day-trip to Hiroshima.

Highlights are bound to include the aforementioned tea ceremony; the opportunity to climb Japan's most iconic peak, Mt. Fuji (in July or August); diving into the eclectic food culture of Osaka; the whole experience of riding the bullet train network but perhaps most of all, a few days in the Japanese Alps. Here you can try the sublime Hida beef, soak in a hot spring (not for the shy), hike out to look for wild monkeys, and wander the craft shops, sake breweries and markets of Takayama.
Bullet trains
Japan's bullet trains, or shinkansen (new trunkline) to give them their actual name, travel at speeds of up to 320km/hour. An actual bullet travels at around 2700km/hour but still, these are some of the speediest trains in the world. You can get from Tokyo to Osaka, 500km to the west, in two and a half hours. This is life in the fast lane. The bullet train network extends throughout Japan, connecting major cities, and running through the Hida Mountains – the 'Japanese Alps'. They are clean, spacious and amazingly punctual – the railway companies sometimes produce a 'delay certificate' if a train is five minutes late, so rare is it . A Japan Rail Pass will be included and arranged on your behalf by the tour operator.
Our Japan railway Holidays
If you'd like to chat about Japan railway or need help finding a holiday to suit you we're very happy to help.

Is a Japan railway holiday for you?
Go on a Japan railway holiday if…
...you'd like a gentle introduction to navigating the Japanese public transport network. Signage is usually in Japanese and English, and you'll grasp getting around after a few days.
...you prefer a structured itinerary but one that allows you plenty of freedom to do your own thing in each destination as well.
...you want to see as much as you can in a limited space of time. Japanese trains are some of the fastest and most punctual in the world.
Don't  go on a Japan railway holiday if…
...you're shy of sushi. It's standard practise for long distance travellers to purchase a box on the platform for a snack on the way. ...you enjoy the slow pace of old-fashioned rail travel. Riding in a bullet train is like being on a plane in many respects, super-fast and efficient. ...you find it impossible to pack light. As you'll be getting off and on again repeatedly, it's most convenient to travel with just a few small bags.

Catch the last of the cherry blossom in May, or travel in autumn for the extravagant colours of the leaf change after the heat of summer.

Japan railway holidays usually operate between May and October, experiencing the best of the weather, with daytime temperatures averaging around 26°C in Tokyo in August. Cabins on the shinkansen bullet trains are air-conditioned so you'll be comfortable getting between cities. Up in the Japanese Alps, around Kamikochi National Park and Takayama, it tends to be several degrees cooler - spring and autumn can be on the chilly side. Visit July or August if you want to climb Mt. Fuji, but avoid Golden Week in early May and the Obon Festival in August, when Japanese people travel en masse and trains get very busy. The best time to go on a Japan railway holiday is around September and October, at the turn of the seasons, when the autumnal colours are stunning.
More about Japan railway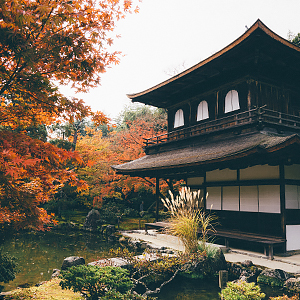 Take a peek at our interactive Japan railway holidays map and highlights to see where you can get to on the main island of Honshu with just a sense of adventure.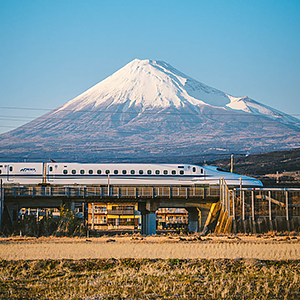 Japan's Shinkansen trains provide peace, safety and comfort for passengers travelling north, south and west.